printer friendly version
Affordable quality surveillance solutions
August 2018 Editor's Choice, CCTV, Surveillance & Remote Monitoring, News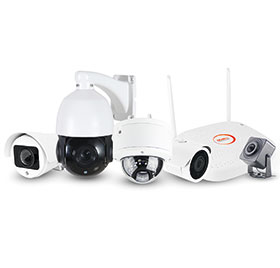 Last month Hi-Tech Security Solutions ran a piece online announcing the launch of Longse Distribution in South Africa, the company appointed as the sole local distributor of Longse Technology. To find out more about the company, launched into what many would call a saturated market as well as a dodgy economy, Hi-Tech Security Solutions asked Danny Pringle, MD of Longse Distribution (a Secutel company) for some insights into the new company.
As to the motivation behind the launch, Pringle says that when Secutel made the decision to enter the surveillance market in the region, it wanted to be sure it would become a leading player and not just another camera brand. The two factors considered before deciding on what brand to support were the price categories and target market sectors, as well as brand maturity and recognition in the local market.
To compete in the upper end of the market would be a complex job as this is a well-represented and established market. Unless the company focused on highly specialised features and functionality, it would be a tough job to break into this market. On the other hand, Pringle says the more affordable brands have already established their local channels with many distributors, making it hard to differentiate yourself while you would always operate under margin pressure.
Additionally, he says, "As the two most dominant brands in terms of volumes in South Africa are manufactured in China, it proves that the market has moved beyond the perception that products from China are of inferior quality purely because they are less expensive. This presented a great oportunity for us to introduce a new quality brand with a clear pricing and distribution policy, backed by comprehensive local support and backup."
Longse the differentiator
After looking around and doing their homework, Pringle says Longse was selected. This company is one of the largest CCTV equipment manufacturers in China and was already active in the global market, as well as South Africa (mainly through its OEM business, which is being phased out globally in favour of the Longse brand). The existing OEM market in the country will still be able to trade with Longse in China until end of March 2019, but they will not be able to purchase all the new Longse models as OEM products anymore.
The products passed all the quality and comparative test they were put through and Longse Distribution was born with Pringle as MD and Ricky Niemandt as general manager for business development. The company is the sole and exclusive distributor for South Africa, meaning it is the only company authorised to sell Longse products under the Longse brand in the country.
Pringle says Longse Distribution will differentiate itself from the masses in a number of areas:
• The company has a clear sales strategy of only selling through approved resellers.
• It will not compete with its resellers at all and will support them in their sales and marketing efforts.
• The company has also established clear pricing policies in order to avoid price being the main differentiator.
• Pringle adds that Longse's product warranties are not ambiguous: "We offer a 3-year swap-out warranty; the only exceptions will be malicious, water, fire and/or lightning damage. Existing Longse users that purchased their products from other suppliers will be supported, but they will naturally not be able to take advantage of the 3-year swap-out warranty.
Already up and running
Not letting the grass grow under their feet, Longse Distribution is already delivering products from its warehouse in Johannesburg, and will adjust stock levels as the market demands. There are also offices in Cape Town, Durban, Bloemfontein and Port Elizabeth, and Pringle expects to be shipping products from those warehouses before the end of September 2018.
"We have a very strong team of sales account managers who all have extensive experience in the CCTV market on board. They are backed up by our technical team who have already been trained by Longse and can therefore assist our resellers with any technical issues."
While the focus is on the South African market at the moment, the company plans to expand into other parts of Africa and especially the SADEC region in the near future.
Addressing the go-to-market strategy of the company, Pringle stresses: "Longse Distribution will only be selling through the indirect channel and will not be selling directly to end users. To this end, we are actively seeking new channel partners and are happy to say that we already have some installers and integration partners who have come on board since we launched Longse at Securex in May 2018."
For more information, contact Longse Distribution, +27 10 015 1430, sales@longse.africa, www.longse.africa
Credit(s)
Further reading:
TAPA: The role of an effective treasury function in business risk management
June 2019, Technews Publishing , News
Neil Le Roux, the Founder of Diligent Advisors will speak at the TAPA SA (Transported Asset Protection Association) annual conference on 26 July 2019.
Read more...
---
Platforms are us
September 2019, Technews Publishing , News
A conversation I had at the recent Residential Estate Security Conference Hi-Tech Security Solutions hosted in August (which will be reviewed in the October issue) got me to thinking about the security ...
Read more...
---
Shorten your checkout lines to enhance customer experience
September 2019, Hikvision South Africa , Retail (Industry), CCTV, Surveillance & Remote Monitoring
Hikvision's queue detection technology is purpose-built to offer cutting-edge flow analysis to retail outlets and any situation where waiting to pay is required.
Read more...
---
Constructive CCTV contributions to research
September 2019, Leaderware , Editor's Choice, CCTV, Surveillance & Remote Monitoring
Study leads to understanding that we need more recognition and reward for constructive participation in society.
Read more...
---
TAPA conference 2019 explores layered approach to security
September 2019, Technews Publishing, TAPA (Transported Asset Protection Association) , News, Transport (Industry)
The Transported Asset Protection Association (TAPA) held its annual South African conference at Emperors Palace in Johannesburg on 26 July 2019.
Read more...
---
Ensuring a seamless ultra-wideband ecosystem
September 2019 , Editor's Choice, IT infrastructure
FiRa consortium ensures an interoperable ultra-wideband technology ecosystem across chipset, device and service infrastructure through standards and certifications.
Read more...
---
New Africa sales manager for Axis Communications
September 2019, Axis Communications SA , News, CCTV, Surveillance & Remote Monitoring
Axis Communications has appointed Brendon Hall, previously the founder and MD of Pentagon, as its new sales manager, Africa.
Read more...
---
Hikvision helps secure African Union Summit
September 2019, Hikvision South Africa , News, CCTV, Surveillance & Remote Monitoring
Hikvision established a complete intelligent video solution to ensure the security of the thirty-third African Union (AU) Summit held on 7 July in Niamey, the capital of Niger.
Read more...
---
The hunt for the Carbanak group
September 2019 , Editor's Choice, Cyber Security, News
Tomorrow Unlocked has released a free four-part documentary that tells the story of the notorious Carbanak APT group and its $1 billion bank heist.
Read more...
---
Genetec to integrate CylancePROTECT
September 2019, Genetec , Editor's Choice, CCTV, Surveillance & Remote Monitoring, News
Genetec has announced it is partnering with Cylance, a business unit of Blackberry, to bring AI-based antivirus protection to its appliance customers.
Read more...
---