printer friendly version
Suprema does data protection
July 2018 Access Control & Identity Management, Security Services & Risk Management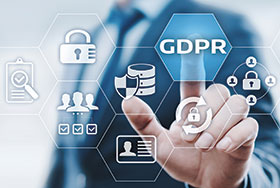 The General Data Protection Regulation (GDPR) is a regulation in EU law on data protection and privacy for all individuals within the European Union as well as the export of personal data outside the EU. As an EU provider of biometric access control solutions, Suprema has anticipated the regulation by providing key technical features to comply with GDPR.
Recently showcased at IFSEC 2018 in London, Suprema provided a full demonstration of its GDPR-ready solution to help systems integrators and customers understand trusted best practices to keep people and organisations safe and secure.
When it comes to access control, GDPR requires that organisations implement appropriate technical and regulatory measures to provide security against certain risks. Suprema's latest access control security solution now offers comprehensive GDPR-compliant features including:
• Secure biometric data protection through templates: Raw images of the fingerprints/faces are never stored in the device or server. All data is stored in templates, which are encrypted by 128 bit AES, 256bit AES, or DES/3DES depending on the designated storage location (i.e. device, server and/or smartcard).
• Protection against transactions, malware and data breaches: TCP communication of data within the system is secured using TLS 1.2 (including SSL/HTTPS). This ensures that no sensitive data is compromised during the communication between the devices and the central server.
• Physical protection of privacy data on edge devices: All Suprema devices are equipped with a secure tamper feature, which ensures the security of data stored in the devices. If the device is removed from the wall and tampered with, the secure data (biometric templates, user ID, logs) within the device will automatically be deleted.
• Personal data protection by 'access on card': With Access on Card (AoC) technology, Suprema provides system designers with the option to store personal data only on smartcards. All personal data and credentials are not stored on servers or devices, but only on his/her smartcard.
• Management of personal data lifecycle: In accordance with GDPR, Suprema makes it possible in BioStar 2 for event logs and data stored in the server to be automatically deleted after a certain period of time (set by the administrator). This is in line with the 'right to be forgotten' requirement in the GDPR.
• Authentication for data access: With the latest update of BioStar 2, Suprema's open-architecture security platform, system administrators can fully customise an individual's access rights, to personal data information, according to their organisational requirements.
• Providing proof of compliance: BioStar 2 delivers comprehensive audit logs.
For more information, contact Suprema, +27 11 784 3952, [email protected], www.suprema.co.za
Credit(s)
Further reading:
Paxton opens first experience centre in South Africa
Paxton News Access Control & Identity Management
The new Paxton Experience Centre in Johannesburg is now open and welcoming security installers and end users who want to see Paxton's products in action.
Read more...
---
Is AI the game-changer for streamlining anti-money laundering compliance?
Financial (Industry) Security Services & Risk Management
In the aftermath of South Africa's recent grey listing, companies are now confronted with the imperative to address eight identified strategic deficiencies, while simultaneously reducing their financial crime risk through anti-money laundering compliance processes.
Read more...
---
Client satisfaction boosted by 85% at Thungela Mine
Thorburn Security Solutions News Security Services & Risk Management Mining (Industry)
Thorburn Security, a division of Tsebo Solutions Group, has announced its recent collaboration with Kwa-Zulu Natal security company, Ithuba Protection Services, as part of its Enterprise Supplier Development (ESD) initiatives across Africa.
Read more...
---
Securing a luxurious residential estate
Turnstar Systems Residential Estate (Industry) Access Control & Identity Management
Turnstar Systems recently partnered with Balwin Munyaka Residential Estate to secure the entrance to its Crystal Lagoon, ensuring only authorised residents and guests can access the site.
Read more...
---
Migrating to the cloud? Beware the many hurdles
IT infrastructure Security Services & Risk Management
While there are undoubtedly many benefits, there are also numerous hurdles to cloud adoption. Some of the biggest challenges revolve around managing cloud spend, understanding the cost components of cloud infrastructure, and how those costs can scale.
Read more...
---
Visitor management via QR code
ATG Digital Access Control & Identity Management Products
ATG Digital has launched its QR Code Reader to enhance access control's security and efficiency. The new QR Code Reader enables seamless, contactless access control, creating an efficient user journey.
Read more...
---
Key strategies for businesses in the face of cyber threats
Cyber Security Security Services & Risk Management
Businesses face severe financial and reputational consequences due to data breaches and daily website hacks, and not all organisations are adequately prepared to combat these escalating threats.
Read more...
---
District secures activity centre
Paxton Access Control & Identity Management Products
Paxton's Net2 access control solution is a user-friendly and flexible networked access control system, which made installing and managing access control security at an activity centre straightforward.
Read more...
---
Protecting South African systems through XDR cybersecurity
Cyber Security Security Services & Risk Management
Carlo Bolzonello, Country Lead for Trellix South Africa, discusses how the country can protect its valuable digital assets through the artificial intelligence-enabled Extended Detection and Response (XDR) cybersecurity approach.
Read more...
---
[Sponsored] Protecting Against Ransomware Attacks: Lessons from Recent POPIA Fine
Cyber Security Security Services & Risk Management
According to Sophos' most recent ransomware report, an alarming 78% of the South African organisations that Sophos surveyed experienced ransomware attacks in the past year.
Read more...
---