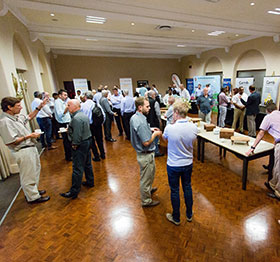 Residential Estate Security Conference 2018
June 2018, Conferences & Events, News
The days of security meaning a guard at the gate and one or more on patrol are long gone. Secure estates today employ a mix of human and technology resources in their security solutions, opting to integrate the best of both worlds for effective security.
Today's secure estates often run into the problem that when one part of the security system needs to be upgraded or replaced, there can be significant issues with making sure older technology and the new solutions are effectively integrated. And integration is key to optimal security as it provides layers of protection that communicate with each other and the security control centre.
Similarly, estates also find that when they upgrade to new technology, their staff are left unsure as to how the new products work and how they should be interacting with the technology. A technical upgrade will most often also require a skills upgrade.
The Residential Estate Security Conference 2018, to be held at the Indaba Hotel in Fourways on the 14th of August 2018, will address these issues and more. Rob Anderson will provide the keynote presentation, setting the scene for the day by highlighting the above issues and more, as well as the best ways in which estates can prepare for them and ensure technical issues are prevented and security malfunctions and their resultant vulnerabilities avoided.
The conference will also look at how to ensure your installation is run properly to ensure the solution is installed and running on time and according to specification – and how to ensure your maintenance contract ensures you get good performance for the lifetime of the system. And should a crime occur on your estate, a representative from SAPS will be on hand to guide security operators in the best practices in dealing with a crime scene and the associated evidence. She will also advise on CCTV installation techniques to ensure your video footage is admissible as evidence in court.
Other speakers will further highlight the importance and benefits of integrated solutions, as well as new artificial intelligence solutions (such as Deep Learning) and how these will change the way video surveillance operates and performs. These solutions will not replace human resources, but take over the drudge work, allowing you to make better use of your staff for more complex work. And as we will be heading into lightning season, the conference will also provide the latest tips and techniques to provide the best lightning protection for estate's sensitive electronic equipment.
Two local case studies will also be presented at the conference, highlighting the process by which different estates have designed, implemented and integrated their security solutions, the issues faced, lessons learned as well as future plans. This will include a short presentation on how radar technology can dramatically transform and improve perimeter protection.
If security is a key foundation of your estate, you need to be at the Residential Estate Security Conference 2018. Attendees will leave with new ideas and strategies for more effective estate protection, as well as having enjoyed the opportunity to meet and converse with other people responsible for estate security and risk management.
For more information or to register, go to www.resc.co.za or contact Dominique on 011 543 5800 or dominique@technews.co.za