printer friendly version
Integrated visitor management
June 2018 Access Control & Identity Management, Integrated Solutions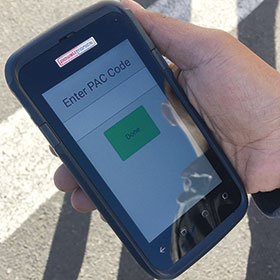 It is apparent that visitor management has become an expanding market due to the eruption of a multitude of residential estates and business parks throughout South Africa. What is not so obvious to the untrained eye is the huge variance between what can be considered a high-quality, all-inclusive system, versus a disparate, lacklustre system on the other end of the scale.
According to Mike Austen of Powell Tronics, ensuring the solution you end up with is going to bring you a satisfactory return on investment and actually do the job it is intended for, starts with the installer you choose to align yourself with, as well as the versatility of the solution you choose.
He suggests that the management of ­business parks and the homeowners ­associations (HOA) of residential estates ask for certification to ensure that the installer has received appropriate training in the products they are installing and that they have networking knowledge and experience. In addition, a comprehensive list of previous clients, particularly in the estate visitor management space, should be supplied.
The latter will ensure that the installer is able to identify, discuss and mitigate risks in a cost-effective and application-specific manner.
"In our experience, the installer often works for the same company that provides a guarding service to the estate. In this way, there is an unequivocal accountability and reduces finger pointing if issues arise. We would suggest that end-users ask well-known and recognised hardware and software ­suppliers for their recommendations," says Austen.
Another source of valuable information for residential estate managers is ARC (Association of Residential Communities) who believe that: 'since 80% of HOAs share similar issues and challenges there is a great opportunity for increasing efficiencies through sharing information and collective networking.'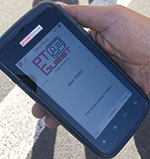 The right solution and service provider
Just as important is the choice of technology provider. Austen says that while the flooding of the local market with low-cost wannabe visitor management and access control products may seem to tick the boxes for the budget-constrained estate manager, the negative backlash of product failure down the line is really not worth the initial cost savings.
Visitor management is not just a single-product solution, but rather the integration of a number of elements that can work seamlessly together with minimum intervention if the correct solution is chosen. This means that one needs to carefully select technologies that are based on similar functionality and that can be managed via a common platform.
Because the security officer receiving ­visitors at the entrance to an estate needs to be mobile, so too does the technology he uses to capture driver's licence, identity card and vehicle registration data. Easy-to-use mobile apps written to be used on smart devices as well as dedicated readers are therefore a good choice, but ultimately the best and most secure solutions are those that are fully integrated to maximise linking of relevant data.
Any integrated solutions should have comprehensive reporting facilities. This goes hand-in-glove with the provision of a reliable Wi-Fi network which will allow reports to be sent in real-time should that be required. Furthermore, strong encryption tools should form part of the technology to ensure that data cannot be stolen or misused.
"With regard to portable devices, aligned with these capabilities is a lock-down facility which prevents the security officer from tampering with the device's settings. And it goes without saying that any device should be rugged and durable and able to withstand the knocks that form part of the environment in which the technology operates," Austen points out.
Effective integration
With regard to integration of various visitor management technologies, the individual APIs (Application Programming Interfaces) of each technology should be shared by all suppliers to ensure that the technologies are able to communicate, without any functionality of the individual elements being lost in translation. Austen cautions that not only should integratability be a given, but that each element by its nature, should be able to operate independently to ensure that the entire system does not fail if one element in the chain becomes inoperable.
Austen says that other factors to be considered when selecting an integrated visitor management solution is a strong support structure that begins with the risk assessment and continues after the installation is complete, for the duration of the solution's life. Similarly, training is vital to ensure that all users of the system are completely familiar with the technology, its functions and purpose. On-site training of end-users and offsite training of installers is considered the norm, he adds.
Further reading:
Gallagher to showcase new Controller 7000 single door
Technews Publishing Access Control & Identity Management Products
Gallagher will be showcasing its latest access control innovation, the Controller 7000 Single Door on its stand at Intersec Dubai from 17-19 January 2023.
Read more...
---
31 percent of all IoT SIMs managed with third-party IoT CMPs
News Integrated Solutions
Berg Insight recently released new findings about the market for IoT connectivity management platforms (CMPs), a standard component in the value proposition from mobile operators and IoT MVNOs around the world.
Read more...
---
Smart car parking solution eases traffic flow
Dahua Technology South Africa CCTV, Surveillance & Remote Monitoring Integrated Solutions Products
Ethiopia's first smart parking lot, designed to improve traffic flow and management efficiency, has been built and installed using Dahua Technology's smart parking solutions.
Read more...
---
VMS 7.2 supports the investigation process and adds cloud capabilities
CCTV, Surveillance & Remote Monitoring Integrated Solutions Products
Qognify has launched the second release of its VMS, including extended support for body-worn video, additional functionalities to support investigations, and a new web client architecture. VMS 7.2 addresses the increasing use of body-worn video (BWV) across many sectors.
Read more...
---
Hytera and KZN Police Service roll out digital call handling system
Government and Parastatal (Industry) Asset Management, EAS, RFID Integrated Solutions
Hytera Communications announced that the municipality of Ray Nkonyeni in the KwaZulu-Natal province of South Africa is now using its digital call handling system for the reporting and recording of crimes.
Read more...
---
Smart parking management platform
Access Control & Identity Management Asset Management, EAS, RFID
Parket builds a seamless bridge between supply and the ever-increasing, but fluid – and often temporary – demand for parking bays.
Read more...
---
Visible-light facial recognition terminal
ZKTeco Access Control & Identity Management Products
The SpeedFace-V5L [P] is a visible-light facial recognition terminal using intelligently engineered facial recognition algorithms and the latest computer vision technology.
Read more...
---
Facial and palm verification
ZKTeco Access Control & Identity Management Products
The ProFace X [P] supports both facial and palm verification, with a large capacity and rapid recognition.
Read more...
---
Glide Master High Security 90° Sliding Gate
BoomGate Systems Access Control & Identity Management Products
Boomgate Systems was asked to make a sliding gate that can turn 90 degrees. The gate had to offer high security and be vandal-proof.
Read more...
---
Informing, entertaining and communicating across your landscape
Evolving Management Solutions Access Control & Identity Management
For the first time, the attraction of large shopping malls with many stores, entertainment and food courts no longer offers enough appeal to attract customers.
Read more...
---