printer friendly version
New version of EVIM released
April 2018 Access Control & Identity Management, Products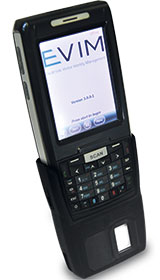 After a 10-year track record of the original EVIM system, which has processed over 12 million visitors to date, Ideco is launching its new, enhanced EVIM system with additional features and advanced new functionality.
The new Ideco EVIM system brings to market new third-generation terminals, as well as an entry-level option using smartphone technology. The cloud-based system also automates compliance and eliminates the risks inherent in traditional visitor management systems.
"Visitor identity management is a requirement in terms of the Occupational Health and Safety Act," says Ideco CEO, Marius Coetzee. "It is important from a safety perspective at residential estates, but is also crucial at sites requiring stringent security, and higher risk sites such as construction areas, where a detailed log of all visitors must be kept and stored for as long as 30 years. However, many estates, office blocks and other facilities still rely on outdated access technologies or even on paper-based visitors' books – the bane of visitors everywhere."
The paper-based visitors' book, often dirty and inconvenient to fill in, can cause delays at the boom and can put visitors' personal information at risk of being copied. This presents major compliance risks in terms of the Protection of Personal Information (PoPI) Act and in some cases is used in identity fraud.
Ideco's new EVIM solution puts secure and efficient visitor access management into the hands of sites of all sizes: from a 'Bring Your Own Device (BYOD) version, using a smartphone to process information, to a new terminal with embedded biometric fingerprint reader, to the high-end tablet version with embedded fingerprint reader. The EVIM system connects directly to the cloud, so that all data is securely recorded and accessible only by authorised personnel.
"Our return on investment assessments on live sites have indicated that the costs of the paper-based visitors' book system, if managed responsibly and stored correctly, is equivalent to the costs of investing in our EVIM digital system," says Coetzee. "There is, however no comparison regarding the quality of the data recorded.
The new EVIM systems offers four key benefits:
• Improved security and protection of personal information: Once the visitor's entrance has been authorised, the terminal will open the gate or boom, limiting control by the security guard. With no visitor data stored on-site, personal information is fully protected and stored securely in the cloud, in line with national regulations and site requirements.
• Improved visitor experience: Using unique QR codes generated by the EVIM system, sports facilities, event organisers and individual hosts can supply guests with personalised access tags directly to their mobile phones, allowing for risk-free and effortless access to the site.
• Improved efficiency: With visitors' lanes considered costly real estate, the speed at which visitors can be processed at entrances is ­critical. In addition to reducing the time needed to authorise access through QR codes and fingerprint scanners, the Ideco EVIM system allows for the registration of certain categories of visitors – such as contractors working on site, for example – to speed up processing their access.
• Cost savings: The cost of maintaining electronic systems dependent on unique access codes or PINs, as well as telephonic confirmation between the guardhouse and host, can amount to hundreds of thousands of rands per month in a large residential estate. Because Ideco's new EVIM system is fully app-based, the costs of SMSs and calls between guard house and host can be eliminated.
"The new EVIM system is Ideco's latest identity and access management innovation, offering targeted next-generation solutions designed to meet the unique needs of the South African market," says Coetzee.
For more information contact Ideco Biometric Security Solutions, 086 104 3326, contact@ideco.co.za, www.ideco.co.za
Credit(s)
Further reading:
HID addresses identification challenges at ID4Africa
August 2019 , News, Access Control & Identity Management, Government and Parastatal (Industry)
Being able to verify people's identities is critical for a nation's growth and prosperity and yet HID says nearly half of all African citizens can't prove who they are to vote, travel freely and receive government benefits and services.
Read more...
---
Emergency lighting and fire detection combination
August 2019 , Fire & Safety, Products
Hochiki Europe has launched FIREscape+, a system which combines emergency lighting, fire detection and wayfinding technology.
Read more...
---
Came acquires Turkish company Özak
August 2019, CAME BPT South Africa , News, Access Control & Identity Management
Came broadens its market horizons and signals growth and consolidation in the Middle East.
Read more...
---
The benefits of electronic visitor management
August 2019, Powell Tronics , Access Control & Identity Management, Residential Estate (Industry)
Access control is a critical aspect of estate security as it represents the controls put in place to restrict entry (and possibly exit) along the outer boundary of the location.
Read more...
---
Addressing risks by means of access control layout and design
August 2019 , Access Control & Identity Management, Security Services & Risk Management
In order to develop a suitable, practical and appropriate security system for any organisation, it is essential to first develop a master security and life safety plan strategy.
Read more...
---
Secure hands-free access
August 2019, Suprema , Access Control & Identity Management, Residential Estate (Industry)
Suprema's facial biometric terminals bring no-touch access into secure residential estates, high-rise apartments and luxury homes providing fast, easy and intuitive user authentication with the added benefit of hygiene.
Read more...
---
Extended two-way radio communications
August 2019 , Security Services & Risk Management, Residential Estate (Industry), Products
The two-way radio communication industry has been enhanced by the introduction of Halo PTT radio networks, which are GSM based.
Read more...
---
MorphoAccess Sigma Extreme
August 2019, IDEMIA , Products, Access Control & Identity Management
MorphoAccess Sigma Extreme from IDEMIA is a touchscreen device with multiple recognition device interfaces (NFC chip reader, PIN and BioPIN codes, contactless card readers).
Read more...
---
Outdoor access terminals
August 2019, Suprema , Access Control & Identity Management, Residential Estate (Industry), Products
Rugged, dust- and weather-proof access control solutions that provide exceptional durability in extreme conditions is a strong requirement for many residential estates.
Read more...
---
MorphoWave Compact
August 2019, IDEMIA , Products, Access Control & Identity Management
The MorphoWave Compact captures and matches four fingerprints on either the right or left hand in any direction. It is robust to environmental factors such as extreme light or dust.
Read more...
---