printer friendly version
New version of EVIM released
April 2018 Access Control & Identity Management, Products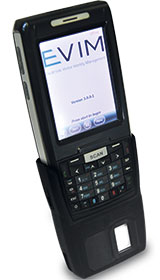 After a 10-year track record of the original EVIM system, which has processed over 12 million visitors to date, Ideco is launching its new, enhanced EVIM system with additional features and advanced new functionality.
The new Ideco EVIM system brings to market new third-generation terminals, as well as an entry-level option using smartphone technology. The cloud-based system also automates compliance and eliminates the risks inherent in traditional visitor management systems.
"Visitor identity management is a requirement in terms of the Occupational Health and Safety Act," says Ideco CEO, Marius Coetzee. "It is important from a safety perspective at residential estates, but is also crucial at sites requiring stringent security, and higher risk sites such as construction areas, where a detailed log of all visitors must be kept and stored for as long as 30 years. However, many estates, office blocks and other facilities still rely on outdated access technologies or even on paper-based visitors' books – the bane of visitors everywhere."
The paper-based visitors' book, often dirty and inconvenient to fill in, can cause delays at the boom and can put visitors' personal information at risk of being copied. This presents major compliance risks in terms of the Protection of Personal Information (PoPI) Act and in some cases is used in identity fraud.
Ideco's new EVIM solution puts secure and efficient visitor access management into the hands of sites of all sizes: from a 'Bring Your Own Device (BYOD) version, using a smartphone to process information, to a new terminal with embedded biometric fingerprint reader, to the high-end tablet version with embedded fingerprint reader. The EVIM system connects directly to the cloud, so that all data is securely recorded and accessible only by authorised personnel.
"Our return on investment assessments on live sites have indicated that the costs of the paper-based visitors' book system, if managed responsibly and stored correctly, is equivalent to the costs of investing in our EVIM digital system," says Coetzee. "There is, however no comparison regarding the quality of the data recorded.
The new EVIM systems offers four key benefits:
• Improved security and protection of personal information: Once the visitor's entrance has been authorised, the terminal will open the gate or boom, limiting control by the security guard. With no visitor data stored on-site, personal information is fully protected and stored securely in the cloud, in line with national regulations and site requirements.
• Improved visitor experience: Using unique QR codes generated by the EVIM system, sports facilities, event organisers and individual hosts can supply guests with personalised access tags directly to their mobile phones, allowing for risk-free and effortless access to the site.
• Improved efficiency: With visitors' lanes considered costly real estate, the speed at which visitors can be processed at entrances is ­critical. In addition to reducing the time needed to authorise access through QR codes and fingerprint scanners, the Ideco EVIM system allows for the registration of certain categories of visitors – such as contractors working on site, for example – to speed up processing their access.
• Cost savings: The cost of maintaining electronic systems dependent on unique access codes or PINs, as well as telephonic confirmation between the guardhouse and host, can amount to hundreds of thousands of rands per month in a large residential estate. Because Ideco's new EVIM system is fully app-based, the costs of SMSs and calls between guard house and host can be eliminated.
"The new EVIM system is Ideco's latest identity and access management innovation, offering targeted next-generation solutions designed to meet the unique needs of the South African market," says Coetzee.
For more information contact Ideco Biometric Security Solutions, 086 104 3326, contact@ideco.co.za, www.ideco.co.za
Credit(s)
Further reading:
Access control for enterprises
Issue 7 2020, LD Africa , Access Control & Identity Management
Access control has always played a vital role in any organisation with the main objective being to protect physical, IP and human assets.
Read more...
---
A contact-free hotel experience
Issue 7 2020, Technews Publishing , Access Control & Identity Management
Check-in and go straight to your room without stopping at the reception desk at Hotel Sky in Sandton and Cape Town.
Read more...
---
AI digitises coronavirus management
Issue 7 2020, NEC XON , Access Control & Identity Management
NEC XON is using NeoFace Watch and specialised thermography cameras to measure temperature and identify employees and visitors.
Read more...
---
Combining visual and IR face recognition
Issue 7 2020, Suprema , Access Control & Identity Management
The FaceStation F2 offers face recognition and anti-spoofing performance.
Read more...
---
Anviz unveils FaceDeep5
Issue 7 2020, ANVIZ SA , Access Control & Identity Management
Anviz Global has unveiled its new touchless facial recognition identity management and IoT biometric device.
Read more...
---
Delta Scientific introduces new 'Open Frame' vehicle barrier
Issue 7 2020 , Access Control & Identity Management
Delta Scientific has announced the new shallow foundation Open Frame vehicle barrier built on a foundation of only 61 cm.
Read more...
---
Traffic booms for test track
Issue 7 2020, Turnstar Systems , Access Control & Identity Management
Three Turnstar Velocity traffic booms enhance safety and security at Nissan's Tshwane test track facilities.
Read more...
---
Touchless biometric options
Issue 6 2020, Entry Pro , Access Control & Identity Management
When it comes to estate access control management, the foremost topic of conversation at the moment seems to be the importance of touchless biometrics.
Read more...
---
Fast access to Kevro production facilities
Issue 6 2020, Turnstar Systems , Access Control & Identity Management
Employee and visitor access at Kevro's Linbro Park premises in Gauteng is controlled through eight Dynamic Drop Arm Barriers from Turnstar.
Read more...
---
Know your facial recognition temperature scanner
Issue 6 2020, ViRDI Distribution SA , Access Control & Identity Management
Facial recognition with temperature measurement is, for the most part, available in one of two technologies – thermopile and thermography/IRT.
Read more...
---