printer friendly version
Key control in the mountains
April 2018
Access Control & Identity Management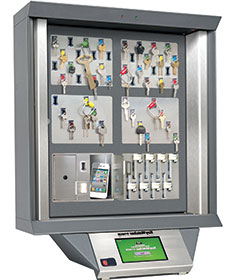 Stowe Mountain Lodge is a mountain resort located in Stowe, Vermont. Established in 2008, the lodge oversees a variety of properties, including private house sites, mountain cabins, restaurants, private clubs, retail venues and two golf courses. Stowe is located between the slopes of Mt. Mansfield and Spruce Peak, offering alpine vacations and accommodation with a wide variety of entertainment and amenities for winter travellers, from families to powder-hounds. Over 350 keys are utilised daily on the lodge property alone, to provide for the lodge's wide-ranging needs.
A major issue for Stowe during the construction and design process was the vast number of keys that required consistent management. Employees require both hard (physical) and soft (programmable) keys for access to areas of the facility where they work. Restricting access to certain areas of the facility helps security management provide accountability within the hotel's key hierarchy, ensuring that keys are only used by their proper users. Should a sensitive key get into the wrong hands, that person would have access to a plethora of hotel areas – potentially putting the lodge at risk for liability.
As part of the lodge's operating supplies and equipment (OS&E) package and with high recommendation from parent company, Two Roads Hospitality, Stowe decided on Morse Watchman's KeyWatcher key control system to not only manage hotel keys across the entire facility but also to audit key usage and location as needed. The lodge installed KeyWatcher during the building's initial construction and started using the system immediately upon opening in June 2008.
"It's a really valuable system for us," explained Dan Rich, chief engineer at Stowe Mountain Lodge. "Without key control, our keys would very quickly be 'out of control'. Now, we always know if someone hasn't turned their keys back in on time – and we always know who has them out."
The Lodge uses four, six-module KeyWatcher units, each holding over 90 keys, which are networked for convenience across the large facility and campus. As the Lodge expanded, additional units were added to accommodate satellite buildings and ensure all of the many keys were accounted for properly.
One of the most important features that this key control system provides for Stowe Mountain Lodge is the ability to audit key locations and removal during day-to-day operations, as well as upon the departure of regular employees and seasonal hires. The assurance that no one has removed a key from the premises is an absolute top priority – if keys go missing, there may be risks for guests and employees. Email and SMS notifications allow management at Stowe Mountain Lodge to know if, when, and where any one of their over 300 keys has been removed or returned.
KeyWatcher's reporting feature also helps to make sure Stowe Mountain Lodge employees have access to the right keys. In a large hotel environment, it may be ­difficult to ensure that both hourly and salaried workers receive proper access to the areas in which they work. With KeyWatcher's reports, it's simple to run key removal reports for the essential keys that employees require to perform their jobs and obtain access to relevant secure areas. Additionally, KeyWatcher's timestamped documentation helps to keep a secondary attendance record to be referenced if hourly workers forget to clock in or out.
In the rare instance where something is reported missing in the hotel, KeyWatcher makes it simple for Stowe Mountain Lodge to perform lock interrogations. Should, for example, an asset in a guest room go missing, it's simple to pull up the data for the relevant key and investigate who had access to it and when. Also, the rugged design of the KeyWatcher cabinet itself ensures that keys cannot be removed by force. While the cabinet itself is low maintenance, it remains robust in the face of the surprisingly high-impact hotel environment, where (for example) inadvertent repeated impacts from linen carts might damage other brands of key boxes.
"Earlier this year we took over a number of satellite properties and one of the first things I was charged with was coming up with a new keying hierarchy," said Rich. "To come in and find an uncontrolled key system, and know that I could bring order to it with KeyWatcher… it's pretty hard to put a value on that."
Stowe Mountain Lodge provides memorable experiences for hundreds of visitors, epitomising the New England experience with resort and spa facilities to create the perfect getaway. Morse Watchmans' KeyWatcher key control system throughout the Stowe Mountain Lodge facility ensures that, even with the large turnover of seasonal employees, every key in the multi-building facility is accounted for, auditable, and only accessible by authorised users.
For more information, contact Morse Watchmans, +1 203 264 4949, morse@morsewatchman.com, www.morsewatchmans.com
Further reading:
Turnstar ramps up countermeasures
Turnstar Systems Editor's Choice Access Control & Identity Management News Products
Turnstar has developed and patented an early warning and deterrent system which will alert security, and anyone nearby, of any attempt to place ramps over the raised spikes.
Read more...
---
Suprema integrates biometric access control with Genetec
Suprema News CCTV, Surveillance & Remote Monitoring Access Control & Identity Management
Suprema has announced the successful integration of its biometric access control products with Genetec Security Center, a unified security platform that connects security systems, sensors and data in a single intuitive interface.
Read more...
---
IDEMIA South Africa achieves level 1 B-BBEE status
IDEMIA News Access Control & Identity Management
As part of the action plan to improve its status to Level 1, IDEMIA now works with over 40 black-owned local suppliers, representing over 30% of IDEMIA's local suppliers.
Read more...
---
Suprema no. 1 in the global biometric market excluding China
Suprema News Access Control & Identity Management
According to the latest report by Omdia, a global market research firm, Suprema ranks first in global market share, excluding China, in the field of biometric readers.
Read more...
---
Dahua and Yeastar PBX-intercom integration
Dahua Technology South Africa News Access Control & Identity Management
Dahua Technology and Yeastar announced their new ECO partnership on PBX-intercom integration to provide a comprehensive and unified communication solution for small- and medium-sized enterprises.
Read more...
---
Traka launches experience centres
News Access Control & Identity Management
Traka launches inaugural Experience Centres in Australia and South Africa; aims to drive continuous collaboration and innovation.
Read more...
---
New platform for keyless access
Access Control & Identity Management
The new ABLOY CUMULUS platform for keyless access combines locking hardware with secure access and management applications in a single ecosystem with a risk-free, integrated cloud service.
Read more...
---
The importance of staying up to date
Access Control & Identity Management Government and Parastatal (Industry)
Africa's cyber threat landscape is constantly evolving, with government's facing a range of digital threats from espionage, critical infrastructure sabotage, organised crime and combat innovation.
Read more...
---
Dynamic Drop Arm Barrier
Turnstar Systems Access Control & Identity Management
Suited to medium-volume access and medium-level security applications such as office reception areas, health clubs, universities and libraries, the Dynamic Drop Arm Barrier also allows special needs access.
Read more...
---
Automatic tyre spike industrial vehicle barrier
Turnstar Systems Access Control & Identity Management
The Turnstar Velocity Raptor automatic tyre spike industrial barrier, with SwiftDrive technology, is aimed at high-volume and high-security access applications such as parkades, shopping centres, residential estates and airports.
Read more...
---