printer friendly version
Sensor Security expanding into wireless broadband
April 2018 Editor's Choice, News, IT infrastructure, Products
Sensor Security is expanding into a new product class: wireless, or more specifically, ultra-fast wireless broadband. This move means that Sensor's clients will be able to transfer video, sound and data over long distances via a wireless product solution without relying on third-party data networks.
Marco Della Peruta, head of technical services at Sensor Security, explains, "Video surveillance cameras typically transfer information using third-party networks, which can be limiting. And this is where we see data transfer technology, which can deliver fast, stable and reliable connectivity in high interference applications, playing a vital role."
With this thinking in mind, Sensor set about finding the right partner brand to help it achieve its goal. "LigoWave is a US-based company that matches our commitment to quality. It produces a carrier-class product, which means that there is a strong emphasis on durability and cost efficiency. In short, we feel that LigoWave is the ideal choice for the African market."
Della Peruta explains, "The way these products work is that data is sent via a sender and receiver. This in itself is not new, but what is exciting is that there is zero reliance on civil hardware – and zero red tape. What is also exciting is the carrier's ability to handle high throughput (up to 700 Mbps over a proprietary protocol) of triple-stream services, which is of key importance when it comes to heavy duty, real-time video surveillance."
Overcoming physical challenges
"Another advantage," he continues, "is that this new technology provides a solution to the challenge of covering rugged terrain. In South Africa, for example, remote locations or testing physical environments means that there is often no – or very little – existing cable infrastructure to make use of. The LigoWave point to multipoint network can also cover great distances.
"The intelligence behind the LigoWave product range is highly appealing too. The units are specifically designed to be easy to deploy and easy to configure. The hardware carries an IP67 weather rating and has integrated surge protection. And given the increase of noise in the unlicensed band, a reliable and stable connection is increasingly difficult to achieve, which is why metal enclosures work as a deflector eliminating interference caused by backlobes and rejecting noise when multiple base-stations are co-located on a single tower.
Apart from radio frequency (RF) shielding, the metal housing works as a heatsink, allowing better RF performance by dissipating the heat generated by the radio. What's more, units like the Integrated RapidFire have a 45 degree rotation option of the mounting bracket, which enables installers to change the polarity of the radio frequency put out by the units, which reduces interference even more."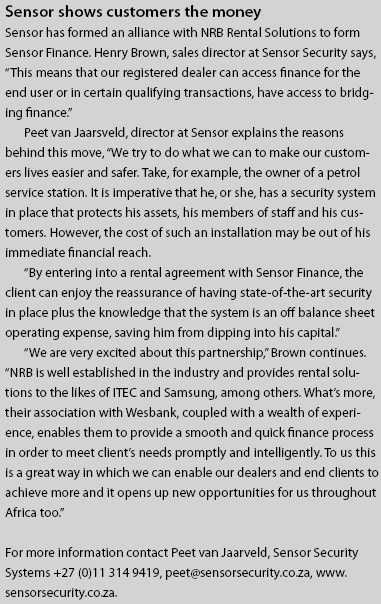 For more information, contact Marco Della Peruta, Sensor Security Systems, +27 (0)11 314 9419, marco@sensorsecurity.co.za, www.sensorsecurity.co.za
Credit(s)
Further reading:
Taking a hands-on approach to community security
Issue 7 2020 , Editor's Choice
Taking a more hands-on approach to community security is definitely paying dividends for Gallo Manor residents.
Read more...
---
Adaptors can be a danger to the South African consumer
Issue 7 2020 , Editor's Choice
The increased use of devices and appliances has resulted in the increased use of adaptors as well as adaptors-on-adaptors in South Africa.
Read more...
---
Secure cloud VMS in an app
CCTV Handbook 2020, Mobotix , CCTV, Surveillance & Remote Monitoring, News
Mobotix has launched a new cyber-secure cloud video management system that enables complete video management of local cameras via an app.
Read more...
---
The future of open standards
CCTV Handbook 2020, Milestone Systems, Technews Publishing, Avigilon , Editor's Choice
Despite the many benefits of open standards, some companies still produce proprietary solutions. Are the surveillance and broader security markets still committed to open standards?
Read more...
---
The impact of AI on surveillance
CCTV Handbook 2020, Technews Publishing, Axis Communications SA, Hikvision South Africa, Cathexis Technologies, Dahua Technology South Africa , Editor's Choice
Artificial intelligence is a popular buzzword in the security industry that has us expecting real-life science fiction, but what is its real impact?
Read more...
---
Evaluating AI technologies for control room operations
CCTV Handbook 2020, Leaderware , Editor's Choice
Can AI systems improve the performance of control room operators, or even replace them completely? Maybe one day they will, but not today.
Read more...
---
The future of the VMS
CCTV Handbook 2020, Technews Publishing, Cathexis Technologies, Arteco Global, XtraVision , Editor's Choice, CCTV, Surveillance & Remote Monitoring, Integrated Solutions
Will AI-enhanced video analytic apps that can be downloaded and installed directly onto cameras take business away from the VMS market?
Read more...
---
A fresh look at TCO
CCTV Handbook 2020, Axis Communications SA , Editor's Choice
Total Cost of Ownership is a way for strategic buyers to move beyond looking at the upfront price to understanding all costs associated with procuring, deploying and operating a system.
Read more...
---
Surveillance in the cloud
CCTV Handbook 2020, Gentech Services, Vox Telecom, Technews Publishing , Editor's Choice
The cloud, despite inherent bandwidth limitations in Africa and mistrust by some, has become an integral part of the surveillance industry.
Read more...
---
The same security assessment for different reasons
Issue 7 2020, Alwinco , Editor's Choice
Like everything else in life, a security risk assessment also has two sides: one is the proactive approach, and the other is the approach taken 'after the fact'.
Read more...
---