printer friendly version
Sensor Security expanding into wireless broadband
April 2018 Editor's Choice, News, IT infrastructure, Products
Sensor Security is expanding into a new product class: wireless, or more specifically, ultra-fast wireless broadband. This move means that Sensor's clients will be able to transfer video, sound and data over long distances via a wireless product solution without relying on third-party data networks.
Marco Della Peruta, head of technical services at Sensor Security, explains, "Video surveillance cameras typically transfer information using third-party networks, which can be limiting. And this is where we see data transfer technology, which can deliver fast, stable and reliable connectivity in high interference applications, playing a vital role."
With this thinking in mind, Sensor set about finding the right partner brand to help it achieve its goal. "LigoWave is a US-based company that matches our commitment to quality. It produces a carrier-class product, which means that there is a strong emphasis on durability and cost efficiency. In short, we feel that LigoWave is the ideal choice for the African market."
Della Peruta explains, "The way these products work is that data is sent via a sender and receiver. This in itself is not new, but what is exciting is that there is zero reliance on civil hardware – and zero red tape. What is also exciting is the carrier's ability to handle high throughput (up to 700 Mbps over a proprietary protocol) of triple-stream services, which is of key importance when it comes to heavy duty, real-time video surveillance."
Overcoming physical challenges
"Another advantage," he continues, "is that this new technology provides a solution to the challenge of covering rugged terrain. In South Africa, for example, remote locations or testing physical environments means that there is often no – or very little – existing cable infrastructure to make use of. The LigoWave point to multipoint network can also cover great distances.
"The intelligence behind the LigoWave product range is highly appealing too. The units are specifically designed to be easy to deploy and easy to configure. The hardware carries an IP67 weather rating and has integrated surge protection. And given the increase of noise in the unlicensed band, a reliable and stable connection is increasingly difficult to achieve, which is why metal enclosures work as a deflector eliminating interference caused by backlobes and rejecting noise when multiple base-stations are co-located on a single tower.
Apart from radio frequency (RF) shielding, the metal housing works as a heatsink, allowing better RF performance by dissipating the heat generated by the radio. What's more, units like the Integrated RapidFire have a 45 degree rotation option of the mounting bracket, which enables installers to change the polarity of the radio frequency put out by the units, which reduces interference even more."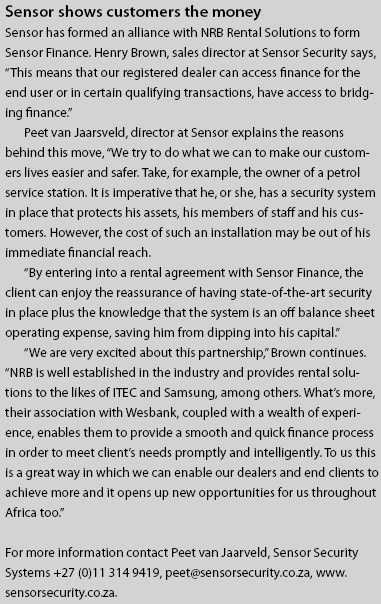 For more information, contact Marco Della Peruta, Sensor Security Systems, +27 (0)11 314 9419, [email protected], www.sensorsecurity.co.za
Credit(s)
Further reading:
Cyber resilience is more than cybersecurity
Technews Publishing Cyber Security Integrated Solutions IT infrastructure
Hi-Tech Security Solutions held a round-table discussion focusing on cyber resilience and found that while the resilience discipline includes cybersecurity, it also goes much further.
Read more...
---
Avoiding human error at ports
LD Africa Transport (Industry) CCTV, Surveillance & Remote Monitoring Products Logistics (Industry)
LD Africa introduced a local port to the AxxonSoft Port Security System ,a solution that helps overcome the element of human error and eliminate paperwork.
Read more...
---
Hikvision aims for solutions
Technews Publishing Hikvision South Africa Editor's Choice CCTV, Surveillance & Remote Monitoring News Integrated Solutions Conferences & Events
Hikvision recently held a roadshow titled Industry X, where the company highlighted its latest products and solutions, supported by partners and distributors.
Read more...
---
Olarm launches PRO 4G communicator
Olarm News Perimeter Security, Alarms & Intruder Detection Products
Olarm has announced an additional 4G/LTE version of its Olarm PRO smart communicator. It is aimed at areas suffering from poor connectivity by providing support for 4G, 2G and Wi-Fi networks.
Read more...
---
Reliable, low-maintenance video appliances
Technews Publishing Editor's Choice CCTV, Surveillance & Remote Monitoring News IT infrastructure Products
Symetrix, part of the Agera Group, has added the AES range of video recording servers, storage appliances and workstations to its portfolio.
Read more...
---
ZYTEQ Fire Engineering Summit 2022
ZYTEQ Fire Fire & Safety News
Cape Town-based ZYTEQ Fire hosted its inaugural Engineering Summit at the Commodore Hotel in Cape Town and the Leonardo Hotel in Sandton, Johannesburg.
Read more...
---
Technology and the future of security installation in South Africa
Editor's Choice Integrated Solutions Security Services & Risk Management
What are the technologies and trends shaping installation, service and maintenance teams globally, and how will they shape South African businesses today and in the future?
Read more...
---
Upgraded security and AI monitoring at upmarket estate
Watcher Surveillance Solutions Editor's Choice CCTV, Surveillance & Remote Monitoring Integrated Solutions Residential Estate (Industry)
Estate upgrades and enhances its security through a partnership between surveillance specialist Watcher and the incumbent guarding company.
Read more...
---
The technology wave implications for staff mismatches in control rooms
Leaderware Editor's Choice Security Services & Risk Management
An industry habit of looking at control rooms through a physical security lens has increasingly left clients and staff at a disadvantage in keeping up with control room technology and demands.
Read more...
---
Infinidat a leader in ransomware protection
IT infrastructure Products
InfiniSafe brings together the key foundational requirements essential for delivering comprehensive cyber-recovery capabilities with immutable snapshots, logical air-gapped protection, a fenced forensic network, and near-instantaneous recovery of backups of any repository size.
Read more...
---