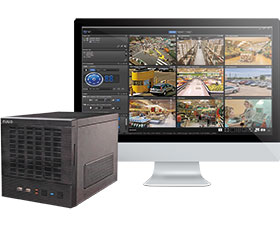 NUUO exclusive from Forbatt SA
March 2018, News, CCTV, Surveillance & Remote Monitoring
NUUO technology has made the move to Forbatt SA. Forbatt will now be the exclusive supplier of NUUO products throughout the country via its network of nationwide distributors.
Google is the leader when it comes to online traffic analytics. They have revolutionised just about every industry by providing robust data metrics that the smart marketer can use to understand their clients' needs better and position their products and services more accurately. NUUO is a leader in real-world data metrics. Marketers now have a sophisticated tool to help them improve their customers' experience.
Beyond people counters
One of the tools in the NUUO toolbox is VZiii. VZiii is a cloud-based service that integrates with existing surveillance technology systems platforms. The system goes beyond simple people counters, heat maps and dwell zones. It generates useful, actionable data throughout a retail store.
The system has the ability to measure first-time customers, repeat customers and cross-store customers. This data can be used as an A/B test for marketing campaigns, determine effective dates for specials, etc. before spending your whole budget on a potential flop. The people counting function provide statistics for new and return visitors, as well as average visit duration.
The system's tagging ability allows you to group customers into categories such as VIP customers, staff, etc., just like eCommerce analytics systems. Smart facial recognition tools combined with machine learning will estimate the age and gender of customers.
Actionable dashboards designed for marketers
The intuitive actionable dashboards provide data that can be acted on immediately and data that can be used to adjust business strategy. Basics such as in-store staff to customer ratios, dwell counters, entry count can be connected to sales data to give more accurate return on investment calculation for campaigns, and other promotional activities.
Analytics in the digital world revolutionised the way we do business. Digital businesses used it to understand their customers so effectively that they grew faster and more prominent than established bricks and mortar businesses. NUUO's ability to work hand-in-hand with existing surveillance technology to replicate digital analytics bring the marketer and business strategist more power.
NUUO is now exclusive to Forbatt SA and available to you.
For more information, white papers or a demonstration, contact Forbatt SA, +27 (0)11 469 3598, sales@forbatt.co, www.forbatt.co