ContinuityMauritius opens new facility
March 2018, News, Security Services & Risk Management
ContinuityMauritius has been delivering business continuity services to the island of Mauritius for the past decade and has announced the inauguration of new improved and larger recovery facilities. The new ContinuityMauritius recovery facility is housed in the Birger Technology Centre in Phoenix, Port Louis. Birger is a joint shareholder in ContinuityMauritius and with ContinuitySA.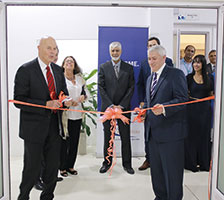 Michael Davies, CEO of ContinuitySA opens the new facility in Mauritius.
"ContinuityMauritius has already built up a good client base in the financial services sector particularly. This move will enable us to service our existing clients better, and provide a basis for growing our client base," comments Michael Davies, CEO of ContinuitySA. "Mauritius is emerging as an important pan-African financial hub, and demonstrable resilience and the ability to recover quickly from a disaster is an important factor in building trust and securing a bigger market."
The new facility offers clients better cyber defence capabilities and greater capacity, says Davies. It is also better located close to a main road and offers more parking – important considerations if clients have to relocate all or part of their operations as the result of their own premises being unusable.
"The move makes great sense because it cements the close working relationship between ContinuitySA and Birger in the ContinuityMauritius business," concludes Davies. "The partnership between a strong local ICT professional services company and a business continuity specialist with many decades of experience will provide ContinuityMauritius with added impetus in the coming years."
For more information contact ContinuitySA, +27 (0)11 554 8050, cindy.bodenstein@continuitysa.co.za, www.continuitysa.co.za