printer friendly version
Pharmaceutical security in Turkey
February 2018
Access Control & Identity Management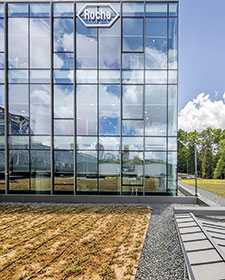 Roche Mustahzarlari Sanayi AS operates as a subsidiary of Roche Holding AG in Istanbul, Turkey. The company's new management facility in Istanbul was designed to improve employee productivity. The facility, which has a floor space of 2000 m², includes meeting rooms, free activity areas, common activity areas and offices, spread over three floors.
Roche was facing a challenge due to the sensitivity of its pharmaceutical product marketing, a diverse level of employee attendance and access control permissions, and parking management. They were looking for a tailor-made access control solution with sophisticated readers, yet a company with flexibility and a good service track record.
Rosslare was selected as the service provider and offered a solution including the following:
• AC-825IP advanced scalable networked access platform controllers, including R/S/D/P-805 expansion panels per each network of controllers.
• 2 AY-U900 UHF long-range readers.
• 55 AY-K12.
• 1 AYCB7661.
• 48 IP cameras.
In addition, the solution uses the following software:
• ViTrax PC DVR/surveillance client/server management software.
• AxTraxNG server-client access control management software, with new sophisticated reporting module.
The engineering design plan aimed to achieve three major goals:
1. Supply the most secure access control.
2. Centrally manage all security applications: CCTV, access, intruder alarms.
3. To reduce expenses and save electricity.
The decision was to integrate magnetic sensors with the readers to monitor the management building's access control, along with advanced UHF readers intended to manage car parking concerns. Everything was connected to the AC-825IP networked access controllers, with AxTraxNG providing advanced settings to meet the customer demands.
With a single credential, the employees can park in the parking lot and gain access to various areas according to their specific permissions. With regard to security monitoring on a real-time basis, the system features various surveillance camera options to monitor sensitive areas and enable/disable doors.
The second goal of the solution was saving electricity power by monitoring human presence to shutdown lights and air-conditioning when not needed. The system supplies the flexibility that Roche was looking for in the best response time without jeopardising high-security requirements for all zones at all times.
Further reading:
Improved security health check tool
Gallagher Access Control & Identity Management Products
Gallagher Security has streamlined its free Security Health Check tool, making it easier than ever to protect against potential system risks and improve business efficiencies.
Read more...
---
Suprema showcases integrated security solutions
Suprema Access Control & Identity Management Products
Apart from being an access terminal that supports multiple credentials such as facial recognition, RFID, mobile and QR codes, the BioStation 3 also supports VoIP Intercom and real-time video monitoring features to make it a truly multi-functional reader.
Read more...
---
Local electronic locks
Access Control & Identity Management
YeboTech is an electronics manufacturing company, founded in 2005, which designs, markets and sells an electronic key and locking systems, aimed at replacing all conventional mechanical locks.
Read more...
---
Selecting the correct access control system
Enkulu Technologies Access Control & Identity Management
Frazer Matchett, Managing Director of Enkulu Technologies, suggests the right questions to ask when selecting an access control solution; not just the access system, but the integrated solution that fits your requirements.
Read more...
---
Integrated guarding services
XtraVision Integrated Solutions Access Control & Identity Management Industrial (Industry)
XtraVision offers a few tips on how to go about planning and setting up an integrated approach to sustainable and successful security services, from the initial risk assessment to the technology and people required.
Read more...
---
Paxton secures multi-tenant office in Cape Town
Paxton Integrated Solutions Access Control & Identity Management Products
Cecilia Square in Paarl, Cape Town is an office building from where several businesses operate. The multi-tenant site has recently undergone a full refurbishment, including a complete upgrade of its security system for access control.
Read more...
---
AI face recognition OEM module
Suprema News Access Control & Identity Management Products
Suprema AI, a company specialized in artificial intelligence–based integrated security solutions, recently launched its high-performance face recognition OEM module called 'Q-Face Pro' in response to the growing need for contactless security solutions.
Read more...
---
KWAL raises a glass to security upgrade
Turnstar Systems Access Control & Identity Management Products
The Kenya Wine Agencies Limited (KWAL) was in need of an integrated security upgrade. This is where Turnstar came into the picture to provide a solution that would keep KWAL secure and efficient.
Read more...
---
Dahua Insider Series for touchless access
Dahua Technology South Africa Access Control & Identity Management Products
The Insider Series Access Control Solution offers touchless access (via Bluetooth) using the DMSS mobile app; it has three distance modes and two trigger modes (normal and shake).
Read more...
---
Time and attendance with a difference
Access Control & Identity Management
The Platinum Mobile app allows employers to track employees work hours, location, leave and more, when employees do not have access to the office clocking terminal, are onsite or out in the field visiting clients.
Read more...
---