printer friendly version
Pharmaceutical security in Turkey
February 2018
Access Control & Identity Management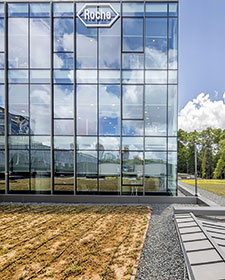 Roche Mustahzarlari Sanayi AS operates as a subsidiary of Roche Holding AG in Istanbul, Turkey. The company's new management facility in Istanbul was designed to improve employee productivity. The facility, which has a floor space of 2000 m², includes meeting rooms, free activity areas, common activity areas and offices, spread over three floors.
Roche was facing a challenge due to the sensitivity of its pharmaceutical product marketing, a diverse level of employee attendance and access control permissions, and parking management. They were looking for a tailor-made access control solution with sophisticated readers, yet a company with flexibility and a good service track record.
Rosslare was selected as the service provider and offered a solution including the following:
• AC-825IP advanced scalable networked access platform controllers, including R/S/D/P-805 expansion panels per each network of controllers.
• 2 AY-U900 UHF long-range readers.
• 55 AY-K12.
• 1 AYCB7661.
• 48 IP cameras.
In addition, the solution uses the following software:
• ViTrax PC DVR/surveillance client/server management software.
• AxTraxNG server-client access control management software, with new sophisticated reporting module.
The engineering design plan aimed to achieve three major goals:
1. Supply the most secure access control.
2. Centrally manage all security applications: CCTV, access, intruder alarms.
3. To reduce expenses and save electricity.
The decision was to integrate magnetic sensors with the readers to monitor the management building's access control, along with advanced UHF readers intended to manage car parking concerns. Everything was connected to the AC-825IP networked access controllers, with AxTraxNG providing advanced settings to meet the customer demands.
With a single credential, the employees can park in the parking lot and gain access to various areas according to their specific permissions. With regard to security monitoring on a real-time basis, the system features various surveillance camera options to monitor sensitive areas and enable/disable doors.
The second goal of the solution was saving electricity power by monitoring human presence to shutdown lights and air-conditioning when not needed. The system supplies the flexibility that Roche was looking for in the best response time without jeopardising high-security requirements for all zones at all times.
Further reading:
Paxton opens first experience centre in South Africa
Paxton News Access Control & Identity Management
The new Paxton Experience Centre in Johannesburg is now open and welcoming security installers and end users who want to see Paxton's products in action.
Read more...
---
Securing a luxurious residential estate
Turnstar Systems Residential Estate (Industry) Access Control & Identity Management
Turnstar Systems recently partnered with Balwin Munyaka Residential Estate to secure the entrance to its Crystal Lagoon, ensuring only authorised residents and guests can access the site.
Read more...
---
Visitor management via QR code
ATG Digital Access Control & Identity Management Products
ATG Digital has launched its QR Code Reader to enhance access control's security and efficiency. The new QR Code Reader enables seamless, contactless access control, creating an efficient user journey.
Read more...
---
District secures activity centre
Paxton Access Control & Identity Management Products
Paxton's Net2 access control solution is a user-friendly and flexible networked access control system, which made installing and managing access control security at an activity centre straightforward.
Read more...
---
GardaWorld partners with Gallagher
Gallagher Access Control & Identity Management
Access control via facial recognition was at the top of GardaWorld's wish list, and Gallagher's integration with IDEMIA's VisionPass played a crucial role in delivering a seamless experience.
Read more...
---
ZK-IWB Series
ZKTeco Products Access Control & Identity Management
Experience the ultimate virtual meeting solution with ZKTeco's ZK-IWB system. Featuring a built-in 13-megapixel UHD camera and 6-microphone array, the solution ensures clear audio and video experiences with an 8 metre pickup distance.
Read more...
---
Security for critical industries
ZKTeco Government and Parastatal (Industry) Access Control & Identity Management
The traditional reliance on human observation and physical presence for security is being complemented and, in many cases, replaced by biometric technology to enhance risk management and ensure comprehensive protection.
Read more...
---
Access to nuclear plants
Suprema Access Control & Identity Management
Korea Hydro & Nuclear Power was in need of a fully redundant access control system that should provide enhanced performance while still being able to interoperate with existing equipment.
Read more...
---
Secure your site during outages
Paxton Access Control & Identity Management
The PaxLock Pro range is our collection of wireless, battery powered smart door handles. They are efficiently designed to consume minimal energy to operate, and the batteries generally last around two years.
Read more...
---
Securing data centres and control rooms
Access Control & Identity Management
The demand for data centres and control rooms to store and manage digital information is at an all-time high, however, the rise in cyber threats and physical security risks has raised concerns about how companies can effectively protect these vital infrastructures.
Read more...
---