printer friendly version
Automated forest fire monitoring
February 2018 Editor's Choice, CCTV, Surveillance & Remote Monitoring, Fire & Safety, Products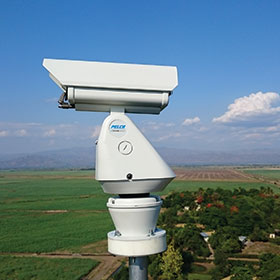 Forestry provides livelihood support to 652 000 people of South Africa's rural population and the pulp and paper industry provides about 13 200 direct and 11 000 indirect employment opportunities. In terms of land use, the area under forestry is about 1.3 million hectares or approximately 1% of the total South African land area of 122.3 million hectares.
Trees generally take seven to 10 years to reach maturity, thereafter they are harvested. It is therefore important to ensure the protection of plantations which contribute approximately 1.4% to the country's GDP. Not only do forest fires result in the loss of plantations, and therefore viable income and raw material, but there is secondary risk to the wildlife that coexists in forests and to the people working or living in the vicinity of plantations.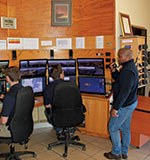 Recognising that lookout towers have limitations since they are manned by people who cannot possibly survey plantations without any breaks, early inroads into the development of an automated electronic surveillance system began in the 1990s. The end result was Firehawk, the first solution of its kind worldwide.
Willem Oosthuizen, operations manager for Alasia Marketing, explains that Firehawk is designed to provide early detection of fires, in order to minimise the damage they can cause. "We decided to develop a solution that would comprise off-the-shelf hardware elements. The PTZ CCTV cameras we sourced from Pelco are fit for purpose, providing high-resolution images. Easy to maintain and readily deployable in remote locations, the cameras have proven their worth in a number of installations in South Africa, Malawi, Ghana, Brazil and Chile."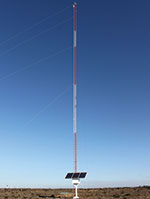 Due to the predominantly rural nature of the installations, with electricity supply being an issue, 90% of the Firehawk surveillance sites are solar power-based. The design of the system focuses on low power usage and low maintenance. Oosthuizen points out that the software and operational brains of the system are located offsite in smart control rooms.
The technology uses single camera positioning that provides directional alerts to the operational team in the case of an event. The HD cameras rotate 360° every 180 seconds, covering large areas at distances of up to 15 kilometres away, visibility permitting, in either panoramic view or individual sector analysis. The camera allows the operator to accurately pinpoint a specific sector to within less than 100 metres.
The system currently requires operator intervention in terms of deploying resources to identified locations, but Oosthuizen says that ultimately it will become a predominantly automated system. "It is important to note that not only does the system provide alerts on possible fire events, but it also provides access routes to allow teams to be safely and expeditiously deployed to site."
When an alert is received in the control room, the operator verifies that it is for a legitimate event by determining whether the visual source is smoke. If a fire event is verified, he will then make contact with either the landowner or a fire protection association. When this decision-making process has concluded, the operator informs the system of the true source of the event, allowing the system to intelligently learn and thereby perform in the correct manner for future events.
While overseas clients prefer to use their own staff to man the systems, in South Africa the chosen route is a turnkey solution managed by the Firehawk team. As a result, the company offers control rooms as a service. It will provide an initial analysis of the site requirements in terms of how many cameras are required, the number of staff required for the control room and their subsequent employment and training, as well as the development of the physical control room. "This service means that the client is able to relax while we monitor his plantation and react to events, providing complete peace of mind," says Oosthuizen.
For more information, contact Willem Oosthuizen, [email protected], www.alasia.co.za
Further reading:
Free South Africa Market Report webinar from TAPA EMEA
Technews Publishing Editor's Choice News Transport (Industry) Training & Education Logistics (Industry)
October 2023 offers TAPA EMEA members and non-members opportunities to increase their knowledge of cargo crime and supply chain security risks in three countries in Europe, the Middle East & Africa region, where supply chains are most targeted by both organised crime groups and other offenders.
Read more...
---
Texecom increases support in the EMEA with key appointments
Editor's Choice Perimeter Security, Alarms & Intruder Detection News
Texecom announced two new appointments to its EMEA sales team: Thomas Vanden Wyngaerdt as Head of EMEA Sales and Tom Wright as EMEA Account Manager.
Read more...
---
Rack-mounted, three-phase online UPS
Security Services & Risk Management IT infrastructure Products
The new Eaton 93PX 15-20 kVA UPS combines high efficiency with a compact footprint, lower TCO, and improved cybersecurity to provide stable power for critical IT, industrial, manufacturing, and medical applications.
Read more...
---
Automated, real-time traffic analysis and ML-based mitigation
IT infrastructure Products
NetScout Systems has launched Adaptive DDoS Protection for its Arbor Threat Mitigation System (TMS) to dramatically improve the detection of distributed attacks that dynamically change vectors and target numerous destination IP addresses at once.
Read more...
---
Stadium security with Panomera
Editor's Choice CCTV, Surveillance & Remote Monitoring Integrated Solutions Entertainment and Hospitality (Industry)
To be able to better identify and track perpetrators and thus reduce financial and non-material damage in a soccer stadium, the operator opted for a video security solution from Dallmeier.
Read more...
---
Turkish university installs IDIS surveillance
CCTV, Surveillance & Remote Monitoring Products
IDIS video streamlines complex surveillance systems for learning institution, upgrading a 350-camera system with 24/7 control room monitoring to transform security for Social Sciences University of Ankara (ASBU).
Read more...
---
Brighter, greener, and smarter
Dahua Technology South Africa Products CCTV, Surveillance & Remote Monitoring
Dahua Technology released its new Dahua CH II Series Indoor Fine Pixel Pitch LED display, providing visual clarity and promoting energy efficiency and sustainability.
Read more...
---
Helping retailers optimise monitoring and security
Guardian Eye Retail (Industry) CCTV, Surveillance & Remote Monitoring
From a smart retail perspective, it is crucial to understand that monitoring stock and other assets through camera surveillance and a variety of Internet of Things (IoT) sensors stretches further than the stores themselves.
Read more...
---
What South Africans need to know about smart devices
Technews Publishing Editor's Choice
We live in a world surrounded by smart devices, from our pockets to our driveways and living rooms.
Read more...
---
Fidelity SecureFire steps into critical fire response space
News Fire & Safety
With the majority of fire stations around the country being crippled by a lack of resources to offer effective responses, Fidelity Fire Solutions has launched its own 'first responder' model, Fidelity SecureFire.
Read more...
---