printer friendly version
Automated forest fire monitoring
February 2018 Editor's Choice, CCTV, Surveillance & Remote Monitoring, Fire & Safety, Products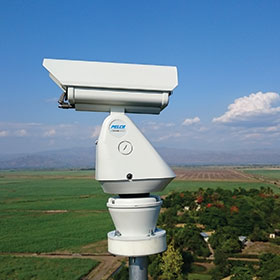 Forestry provides livelihood support to 652 000 people of South Africa's rural population and the pulp and paper industry provides about 13 200 direct and 11 000 indirect employment opportunities. In terms of land use, the area under forestry is about 1.3 million hectares or approximately 1% of the total South African land area of 122.3 million hectares.
Trees generally take seven to 10 years to reach maturity, thereafter they are harvested. It is therefore important to ensure the protection of plantations which contribute approximately 1.4% to the country's GDP. Not only do forest fires result in the loss of plantations, and therefore viable income and raw material, but there is secondary risk to the wildlife that coexists in forests and to the people working or living in the vicinity of plantations.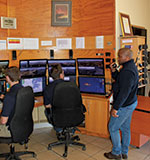 Recognising that lookout towers have limitations since they are manned by people who cannot possibly survey plantations without any breaks, early inroads into the development of an automated electronic surveillance system began in the 1990s. The end result was Firehawk, the first solution of its kind worldwide.
Willem Oosthuizen, operations manager for Alasia Marketing, explains that Firehawk is designed to provide early detection of fires, in order to minimise the damage they can cause. "We decided to develop a solution that would comprise off-the-shelf hardware elements. The PTZ CCTV cameras we sourced from Pelco are fit for purpose, providing high-resolution images. Easy to maintain and readily deployable in remote locations, the cameras have proven their worth in a number of installations in South Africa, Malawi, Ghana, Brazil and Chile."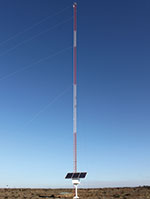 Due to the predominantly rural nature of the installations, with electricity supply being an issue, 90% of the Firehawk surveillance sites are solar power-based. The design of the system focuses on low power usage and low maintenance. Oosthuizen points out that the software and operational brains of the system are located offsite in smart control rooms.
The technology uses single camera positioning that provides directional alerts to the operational team in the case of an event. The HD cameras rotate 360° every 180 seconds, covering large areas at distances of up to 15 kilometres away, visibility permitting, in either panoramic view or individual sector analysis. The camera allows the operator to accurately pinpoint a specific sector to within less than 100 metres.
The system currently requires operator intervention in terms of deploying resources to identified locations, but Oosthuizen says that ultimately it will become a predominantly automated system. "It is important to note that not only does the system provide alerts on possible fire events, but it also provides access routes to allow teams to be safely and expeditiously deployed to site."
When an alert is received in the control room, the operator verifies that it is for a legitimate event by determining whether the visual source is smoke. If a fire event is verified, he will then make contact with either the landowner or a fire protection association. When this decision-making process has concluded, the operator informs the system of the true source of the event, allowing the system to intelligently learn and thereby perform in the correct manner for future events.
While overseas clients prefer to use their own staff to man the systems, in South Africa the chosen route is a turnkey solution managed by the Firehawk team. As a result, the company offers control rooms as a service. It will provide an initial analysis of the site requirements in terms of how many cameras are required, the number of staff required for the control room and their subsequent employment and training, as well as the development of the physical control room. "This service means that the client is able to relax while we monitor his plantation and react to events, providing complete peace of mind," says Oosthuizen.
For more information, contact Willem Oosthuizen, willem@alasia.co.za, www.alasia.co.za
Further reading:
Improved security health check tool
Gallagher Access Control & Identity Management Products
Gallagher Security has streamlined its free Security Health Check tool, making it easier than ever to protect against potential system risks and improve business efficiencies.
Read more...
---
Maximum fire protection for the most dangerous places
Securiton Fire & Safety Mining (Industry) Products
Africa's heavy mining and resource processing industries are some of the continent's leading economic lights. They also present some of its toughest fire safety challenges on the planet.
Read more...
---
Elvey partners with HALO
Elvey Security Technologies News CCTV, Surveillance & Remote Monitoring
Elvey Group has partnered with HALO Europe to provide Africa's first body-worn solution with zero upfront costs. This includes an IP68-certified body camera and a 4G-connected device.
Read more...
---
RDC expands its production capabilities
Radio Data Communications Perimeter Security, Alarms & Intruder Detection Products
Local electronics manufacturer, RDC, recently acquired a new SMT (surface mount technology) machine to boost its manufacturing output and meet the needs of its global customer base.
Read more...
---
Accenture Technology Vision 2023
Editor's Choice News
New report states that generative AI is expected to usher in a 'bold new future' for business, merging physical and digital worlds, transforming the way people work and live.
Read more...
---
Economists divided on global economic recovery
Editor's Choice News
Growth outlook has strengthened in all regions, but chief economists are divided on the likelihood of a global recession in 2023; experts are concerned about trade-off between managing inflation and maintaining financial stability, with 76% anticipating central banks to struggle to bring down inflation.
Read more...
---
Suprema showcases integrated security solutions
Suprema Access Control & Identity Management Products
Apart from being an access terminal that supports multiple credentials such as facial recognition, RFID, mobile and QR codes, the BioStation 3 also supports VoIP Intercom and real-time video monitoring features to make it a truly multi-functional reader.
Read more...
---
Success in business process best practices
Technews Publishing Kleyn Change Management Editor's Choice Integrated Solutions Security Services & Risk Management
This month we commandeer time with the woman who is spearheading our national conversation on Women in Security, Lesley-Anne Kleyn, to get to know the lady herself a little better.
Read more...
---
Unlock seamless security with integrated products
Secutel Technologies Integrated Solutions Products
By combining SecuVue and Secutraq, Secutel has created a system that enables users to configure analytics, facial recognition, pose detection, and XFS among other security triggers modern service providers require.
Read more...
---
Paxton secures multi-tenant office in Cape Town
Paxton Integrated Solutions Access Control & Identity Management Products
Cecilia Square in Paarl, Cape Town is an office building from where several businesses operate. The multi-tenant site has recently undergone a full refurbishment, including a complete upgrade of its security system for access control.
Read more...
---