printer friendly version
Cyber protection for SMEs
February 2018 News, Cyber Security
J2 Software has launched a packed solution aimed at helping SMEs get a handle on cyber threats. Cyber attacks on an SME can have a far harsher long-term effect than larger businesses. A larger entity will likely have established facilities in place to recover in the event of a cyber-attack. When a SME is hit; it may take days or weeks to fully recover – that is if they can recover at all.
According to the South African Banking Risk Information Centre (SABRIC)[1], SA ranks third highest in the world for cyber attacks. Whilst there do not appear to be stats on the local SME sector, internationally a report by Deloittes[2] reveals that in Holland, cybercrime costs the Dutch SME sector 1 billion Euro each year. At today's exchange rate, that equates to R16704 250 000,00. The figure for the Dutch economy as a whole is put at around €10 billion, or 1,3% of that country's GDP.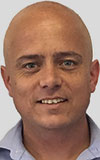 John McLoughlin.
J2 Software MD, John McLoughlin, says that not only are these figures staggering but that the local SME sector is not immune to these international patterns. "In South Africa, the security industry in general has left this sector heavily under serviced and thus reduced to implementing in-house initiatives to fight this very real threat."
He highlights the fact that SMEs in South Africa are increasingly becoming a target for cyber criminals. "An article published earlier this year in SME South Africa[3] cited the lack of resources in the sector as one of contributing factors with a director of the Centre for Cyber Security at the University of Johannesburg urging SMEs to seek consultants to assist with the issue. The sector is reputed to be particularly susceptible to theft of sensitive information with instances of companies being forced to ransom back their data.
"J2 Software's solution set will enable SMEs to get world-class security capabilities without the need for an increased head count to focus purely on these threats. We have been providing information security services and solutions since 2006 and in that time have gained vast experience working with businesses of all sizes. SMEs now have the ability through this offering, to be protected online, ensure data is accessible and secure while allowing their users the freedom to do their work in a connected world."
McLoughlin explains that the new release has been developed by J2 Software's team of experts to provide not only a set of solutions but also a monitoring service that instantly flags threats for customers. "This packed solution set has application in all businesses in the SME arena regardless of size or number of users i.e. it is a good fit for 5, 10 or 50 user businesses," he says.
J2 Software's SME focused security service will provide protection for all users while they are online. This covers the most pressing security needs for the SME, including web security, endpoint protection and a wide range of add-on options that allows customers of all sizes to focus on their business while the J2 Software team work on their information security.
[1] http://businessmediamags.co.za/sa-ranks-worlds-third-highest-cybercrime-victims-2/
[2] https://www2.deloitte.com/nl/nl/pages/over-deloitte/articles/cyber-crime-costs-dutch-sme-sector-1-billion-each-year.html
[3] http://www.smesouthafrica.co.za/17273/SMEs-vulnerable-to-cyber-attacks/
For more information contact J2 Software, +27 (0)87 238 1870, john@j2.co.za, www.j2.co.za
Credit(s)
Further reading:
TAPA: The role of an effective treasury function in business risk management
June 2019, Technews Publishing , News
Neil Le Roux, the Founder of Diligent Advisors will speak at the TAPA SA (Transported Asset Protection Association) annual conference on 26 July 2019.
Read more...
---
Platforms are us
September 2019, Technews Publishing , News
A conversation I had at the recent Residential Estate Security Conference Hi-Tech Security Solutions hosted in August (which will be reviewed in the October issue) got me to thinking about the security ...
Read more...
---
TAPA conference 2019 explores layered approach to security
September 2019, Technews Publishing, TAPA (Transported Asset Protection Association) , News, Transport (Industry)
The Transported Asset Protection Association (TAPA) held its annual South African conference at Emperors Palace in Johannesburg on 26 July 2019.
Read more...
---
Hennie Lategan joins Centurion as head of exports
September 2019, Centurion Systems , News, Access Control & Identity Management
Centurion Systems has announced the appointment of Hennie Lategan as the head of the company's exports department.
Read more...
---
New Africa sales manager for Axis Communications
September 2019, Axis Communications SA , News, CCTV, Surveillance & Remote Monitoring
Axis Communications has appointed Brendon Hall, previously the founder and MD of Pentagon, as its new sales manager, Africa.
Read more...
---
Check Point appoints new regional director for Africa
September 2019 , News, Cyber Security
Check Point Software Technologies has appointed Pankaj Bhula as regional director for Africa.
Read more...
---
ISO standard for protecting personal data
September 2019 , News, Cyber Security
Tackling privacy information management head on: first ISO standard for protecting personal data has been published.
Read more...
---
Hikvision helps secure African Union Summit
September 2019, Hikvision South Africa , News, CCTV, Surveillance & Remote Monitoring
Hikvision established a complete intelligent video solution to ensure the security of the thirty-third African Union (AU) Summit held on 7 July in Niamey, the capital of Niger.
Read more...
---
The hunt for the Carbanak group
September 2019 , Editor's Choice, Cyber Security, News
Tomorrow Unlocked has released a free four-part documentary that tells the story of the notorious Carbanak APT group and its $1 billion bank heist.
Read more...
---
Rockwell Automation a founding member of ISA Global Cybersecurity Alliance
September 2019 , News, Industrial (Industry)
To better secure today's complex and often vulnerable production operations, the ISA Global Cybersecurity Alliance recently announced Rockwell Automation as a founding member.
Read more...
---