printer friendly version
Tomorrow's surveillance – today's reality
February 2018 Editor's Choice, CCTV, Surveillance & Remote Monitoring, Cyber Security, News, Integrated Solutions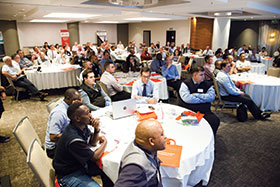 The Crowne Plaza in Rosebank, Johannesburg, was the setting for the 2017 iLegal conference, a joint venture between Dr Craig Donald and Hi-Tech Security Solutions. Once again the conference lived up to its reputation and saw a host of presenters offering insights and advice into a range of aspects related to the surveillance world.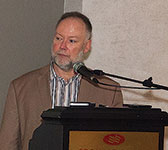 Andrew Seldon.
The title of this year's iLegal was Tomorrow's surveillance – today's reality, the social, operational, legal and strategic implications. The conference examined new or improved applications of surveillance technology and what they offer businesses today in terms of safety and security, as well as the legal and ethical implications we face when using these innovative solutions.
This year the keynote speaker was Dion Chang from Flux Trends. His presentation provided insight beyond the security world into how surveillance technologies are being used generally, and how they will continue to become a more integrated part of people's lives going forward, in both a positive and negative sense.
Following Chang, Martin Hood from MJ Hood Associates offered attendees some insights into the human rights implications of surveillance as it relates to the South African constitution. A presentation by Shannon Patrick from South Deep Gold Mine took this idea further when he spoke on the realities of crowd management and how to develop strategies for dealing with large crowds. This included tips and examples on constructive engagement, conflict management and resolution.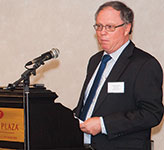 Dr Craig Donald.
Dr Craig Donald was also on hand to offer his insights into the world of CCTV surveillance from the operator's perspective. His presentation showed the delegates how control room operators need to know and understand what they are looking for in order to be more proactive in identifying problems before they actually occur. He offered some informative videos that showed how reading body language allows for better insights into potential problems, allowing the security team to prevent problems rather than waiting for something to happen before reacting.
The importance of training
Adriaan Bosch, the chairman of ASIS South Africa gave an overview of the importance of effective and relevant training in the security industry. There are many highly regarded training opportunities available that cover a host of security skills, but too few people are taking those courses. Bosch also lamented the fact that so many of the people in the security industry are over 40 years old. It seems security is not a 'cool' option for people entering the job market, an issue that must be addressed if the private security industry is to offer relevant services in the long run.
And while there is no shortage of talk about smart and safe cities, independent consultant Heinrich van Eck was able to give some insights into what really matters and what is really necessary when setting up a smart city. Some of his insights included the need for proper planning and developing your strategy in advance, before even considering the technology you will require. He also touched on how he managed the development of a local smart city in terms of training and retaining good employees on the ground as well as in the control room. And, of course, he stressed the need for effective integration between products to ensure a seamless security experience.
Technology focus
The last three events of the day, a panel discussion facilitated by Dr Craig Donald and two more presentations, delved into some of the technology issues security operations are facing today and will have to deal with in future.
First, a panel of experts provided some insights into thermal cameras and their capabilities, including some end user experiences of what these cameras can do to assist security operations.
A presentation on UAVs (unmanned aerial vehicles), or drones, was then delivered by Mark Paynter from Securitas. Paynter looked at the various types of drones available today as well as the different uses in the security and operations worlds. As an example, he showed how thermal or infrared cameras on drones are able to assist maintenance teams in their task by monitoring large installations and detecting temperature variances and so forth. Of course, the security operations of drones was the primary focus, looking at what is happening today as well as some future perspectives of what is still to come.
The final presentation by Bernard Senekal of Naxian delved into the world of cybersecurity and IoT, noting how these issues are not something left to the 'IT guys', but are integral to the physical security function today – and will be infinitely more important in the future. In his presentation, Senekal showed a video demonstrating how easy it is to compromise a company, its people, its data and its future by ignoring cybersecurity issues in seemingly irrelevant devices like a printer.
The overall impression of the delegates was that iLegal 2017 was a relevant and insightful event, offering real and valuable information for security decision makers and operations personnel. Hi-Tech Security Solutions would like to extend its thanks to the delegates for taking the time to attend the conference as well as to the speakers who spent a significant amount of time preparing their presentations and delivering them on the day.
An expanded review will be published in the CCTV Handbook 2018, due out in April 2018. iLegal will be back in early 2019, keep an eye in www.ilegal.co.za for more details.
Credit(s)
Further reading:
Prime time for palm vein identification
Fulcrum Biometrics Editor's Choice
Ingenico and Fujitsu Frontech North America, represented by Fulcrum Biometrics in South Africa, unveil queue-busting solution for secure in-store commerce.
Read more...
---
A closed security concept for test halls and perimeter
Dallmeier Electronic Southern Africa Editor's Choice
At its factory facilities in Vilsbiburg, Germany, Flottweg SE relies on tailored video security technology from Dallmeier for perimeter security and workplace safety.
Read more...
---
What to do in the face of growing ransomware attacks
Technews Publishing Cyber Security Security Services & Risk Management
Ransomware attacks are proliferating, with attackers becoming more sophisticated and aggressive, and often hitting the same victims more than once, in more than one way.
Read more...
---
Texecom launches the Midnight Black Collection
Technews Publishing Perimeter Security, Alarms & Intruder Detection Products
Working in harmony with darker environments, the Midnight Black Collection has been created for businesses and sites that require or prefer a security solution which offers discreet protection that compliments their surroundings.
Read more...
---
SAN market set for growth
Technews Publishing News IT infrastructure
Storage-area network (SAN) market to hit US$ 26,86 billion in revenue by the end of 2029 due to factors like widespread adoption of Hybrid SAN-NAS solutions.
Read more...
---
Optimising remote technical support
Technews Publishing Asset Management, EAS, RFID Products
Sanden Intercool Kenya improves efficiency, removes manual processes with FIELDForce from MACmobile, making its technical backup and support staff more productive, while also optimising record keeping.
Read more...
---
Enterprise threats in 2023
News Cyber Security
Large businesses and government structures should prepare for cybercriminals using media to blackmail organisations, reporting alleged data leaks, and purchasing initial access to previously compromised companies on the darknet.
Read more...
---
Advanced server performance and energy efficient design
Editor's Choice IT infrastructure Products
Dell PowerEdge server portfolio expansion offers more performance, including up to 2.9x greater AI inferencing while Dell Smart Flow design and Dell Power Manager software advancements deliver greater energy efficiency.
Read more...
---
Free-to-use solar score for South African homes
Technews Publishing Editor's Choice
The LookSee Solar Score is one of the first of its kind to provide insight into the potential of solar power for South Africa's residential properties.
Read more...
---
CA Southern Africa unmasks container security
Technews Publishing IT infrastructure Cyber Security
Adoption of software containers has risen dramatically as more organisations realise the benefits of this virtualised technology.
Read more...
---