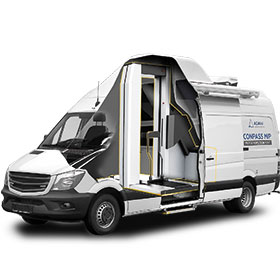 Danish scanning customs
November 2017, Government and Parastatal (Industry), Asset Management, EAS, RFID
Adani has been chosen as a supplier of the mobile X-ray body screening solution for the Danish Customs Service, SKAT. Adani working together with NORAD A/S, Denmark and Hartmann GmbH, Germany have been awarded a contract to design, develop and supply the CONPASS MIP mobile full body security screening system to cover the needs of the Danish Customs Service in screening of potential drug smugglers, attempting to import illicit substances into Denmark.
Leonid Zelenkevich, international sales and marketing director of Adani says, "We have worked with the technical and commercial teams at NORAD A/S and Hartmann GmbH to develop a fully custom-made mobile X-ray body scanning solution that will satisfy the end user need and provide them with another effective and extremely flexible tool for prevention of illegal drug import into the country."
The demand for more complete personnel screening systems is increasing in many key markets as a result of a mixture of events and the realisation by the enforcement agencies that the technology exists to safely screen for a wide range of banned and dangerous items. The Adani CONPASS product line has demonstrated that its robust design, high performance and flexibility has proven popular with an increasing range of international customers.
Hardy Vinter, senior customs adviser of NORAD A/S adds, "The key to winning this contract is a combination of the knowledge NORAD has to the Danish end user operations, effective cooperation with Adani during the tendering process and not at least a quality product that provides the best image quality in the market."
Patrick Keller, sales manager of Hartmann GmbH says, "With the excellent knowledge of our engineers, we combine high-quality scanning-equipment with long-term vehicle integration technology into a specified mobile scanner solution – we are sure this product
creates new opportunities for the mobile security market.
For more information, contact Adani, +375 17 349 0039, info@adanisystems.com, www.adanisystems.com