printer friendly version
Danish scanning customs
November 2017 Government and Parastatal (Industry), Asset Management, EAS, RFID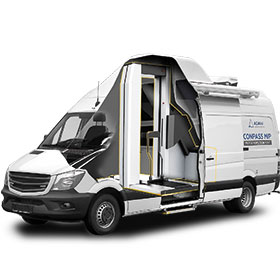 Adani has been chosen as a supplier of the mobile X-ray body screening solution for the Danish Customs Service, SKAT. Adani working together with NORAD A/S, Denmark and Hartmann GmbH, Germany have been awarded a contract to design, develop and supply the CONPASS MIP mobile full body security screening system to cover the needs of the Danish Customs Service in screening of potential drug smugglers, attempting to import illicit substances into Denmark.
Leonid Zelenkevich, international sales and marketing director of Adani says, "We have worked with the technical and commercial teams at NORAD A/S and Hartmann GmbH to develop a fully custom-made mobile X-ray body scanning solution that will satisfy the end user need and provide them with another effective and extremely flexible tool for prevention of illegal drug import into the country."
The demand for more complete personnel screening systems is increasing in many key markets as a result of a mixture of events and the realisation by the enforcement agencies that the technology exists to safely screen for a wide range of banned and dangerous items. The Adani CONPASS product line has demonstrated that its robust design, high performance and flexibility has proven popular with an increasing range of international customers.
Hardy Vinter, senior customs adviser of NORAD A/S adds, "The key to winning this contract is a combination of the knowledge NORAD has to the Danish end user operations, effective cooperation with Adani during the tendering process and not at least a quality product that provides the best image quality in the market."
Patrick Keller, sales manager of Hartmann GmbH says, "With the excellent knowledge of our engineers, we combine high-quality scanning-equipment with long-term vehicle integration technology into a specified mobile scanner solution – we are sure this product
creates new opportunities for the mobile security market.
For more information, contact Adani, +375 17 349 0039, info@adanisystems.com, www.adanisystems.com
Further reading:
Cybersecurity as the foundation
Axis Communications SA Government and Parastatal (Industry)
It's time to move to a proactive stance in protecting assets, before cities implement billions of hackable, un-patched and non-upgradable devices to the world's digital grid.
Read more...
---
Mission-critical coverage for safe cities
Duxbury Networking Government and Parastatal (Industry)
The network smart and safe cities all rely on must overcome complexities, including budgetary constraints, which are always a consideration when planning and implementing enhancements.
Read more...
---
From smart cities to smart country
Government and Parastatal (Industry)
Solution House has succeeded in not just enabling smart precinct management, but in combining these precincts into smart cities, and the smart cities into a 'smart country' model.
Read more...
---
Smarter and safer with video analytics
Government and Parastatal (Industry)
Professionals in charge of delivering smart and safe city programmes can now accelerate review of camera footage, more rapidly identify risks to public safety and infrastructure and easily derive valuable operational intelligence from video content.
Read more...
---
Premium forensic analytics
Milestone Systems News CCTV, Surveillance & Remote Monitoring Government and Parastatal (Industry)
With the introduction of XProtect Rapid REVIEW, powered by BriefCam, Milestone's customers will be able to accelerate investigations and find what they are looking for with speed and accuracy.
Read more...
---
Intelligently adapting African cities for a better as well as a safer life
Government and Parastatal (Industry) Cyber Security
Smart buildings and cities therefore require as much a security-centric approach as they do an environmentally sustainable one.
Read more...
---
City surveillance in South Africa
IDEMIA Government and Parastatal (Industry) CCTV, Surveillance & Remote Monitoring Integrated Solutions
Smart cities and their smarter, more responsible eye in the sky; a look at the video surveillance landscape in South Africa.
Read more...
---
The importance of staying up to date
Access Control & Identity Management Government and Parastatal (Industry)
Africa's cyber threat landscape is constantly evolving, with government's facing a range of digital threats from espionage, critical infrastructure sabotage, organised crime and combat innovation.
Read more...
---
Seeing without being seen
Government and Parastatal (Industry) CCTV, Surveillance & Remote Monitoring
Video surveillance should be as discreet as possible to protect the aesthetics around the legendary promenade in Cannes.
Read more...
---
Smart city, smarter security
Government and Parastatal (Industry) Cyber Security
Henk Olivier, MD of Ozone Information Technology Distribution, unpacks the importance of smart and secure in the city of the future.
Read more...
---