printer friendly version
Protect your personal information
November 2017 Editor's Choice, News, Security Services & Risk Management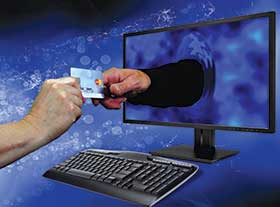 SABRIC encourages consumers to protect their personal information by sharing it very selectively and on a need to know basis only. Personal information includes identity documents, driver's licences, passports, addresses and contact details amongst others. In addition, confidential information, which includes usernames, password and PIN numbers should never be shared with anybody.
In order to participate in commercial activity, it has become necessary to identify yourself by providing personal information. Good identity management practices can assist in mitigating the risk of impersonation should the information be compromised.
As some personal information such as your identity number cannot be changed readily, and other personal information such as your home and work addresses are impractical to change, we recommend that you consider the following precautionary measures when you are required to provide personal information for security verification purposes:
• Do not use the information that may have been compromised. Rather use other personal information that you have not used previously in order to confirm your identity in future.
• Register a new email account.
• Implement dual authentication for all accounts and products, especially for financial services products.
• Register for SMS notifications to alert you when products and accounts are accessed.
• Conduct regular credit checks to verify whether someone has applied for credit using your personal information and if so, advise the credit grantor immediately.
• Investigate and register for credit related alerts offered by credit bureaux.
• Check your bank statements regularly.
"Whilst the compromise of personal information creates opportunities for criminals to impersonate you, it does not guarantee access to your banking profile or accounts." says Kalyani Pillay, CEO of SABRIC. "However, the importance of never sharing confidential information in order to protect yourself cannot be overemphasised."
SABRIC encourages consumers to note and implement the tips and guidance given by the banking industry to ensure that criminals cannot gain access to their profiles and accounts.
Some don'ts
• Don't carry unnecessary personal information in your wallet or purse.
• Don't disclose personal information such as passwords and PINs when asked to do so by anyone via telephone, fax or even email.
• Don't write down PINs and passwords, and avoid obvious choices like birth dates and first names.
• Don't use any Personal Identifiable Information (PII) as a password, user ID or personal identification number (PIN).
• Don't use Internet cafes or unsecure terminals, hotels, conference centres etc. to do your banking.
Some do's
• Use strong passwords for all your accounts.
• Change your password regularly and never share them with anyone else.
• Store personal and financial documentation safely. Always lock it away.
• Keep PIN numbers and passwords confidential.
• Verify all requests for personal information and only provide it when there is a legitimate reason to do so.
• To prevent your ID being used to commit fraud if it is ever lost or stolen, alert the SA Fraud Prevention Service immediately on 0860 101 248 or at www.safps.org.za.
• Ensure that you have a robust firewall and install antivirus software to prevent a computer virus sending out personal information from your computer.
• When destroying personal information, either shred or burn it (do not tear or put it in a garbage or recycling bag).
• Should your ID or driver's licence be stolen, report it to SAPS immediately.
For more information go to www.sabric.co.za
Further reading:
From the editor's desk: The worst of times
Issue 4 2020, Technews Publishing , Editor's Choice
While the world is going through a tough time at the moment with the pandemic and seemingly endless economic problems, Hi-Tech Security Solutions and Technews Publishing has had an additional burden of ...
Read more...
---
Leaders in risk & security: Assessing threat, risk and vulnerability
Issue 4 2020, Sentinel Risk Management, Technews Publishing , Editor's Choice
After serving a 27-year 'life sentence' in the military, Andy Lawler has spent over ten years in the private security industry as a risk specialist.
Read more...
---
IDEMIA launches VisionPass facial recognition
Issue 4 2020, IDEMIA , Editor's Choice
IDEMIA has launched its VisionPass facial recognition solution in Africa, offering secure and contactless access control to companies of all sizes and in all markets.
Read more...
---
BioCote antimicrobial technology
Issue 4 2020, Salto Systems Africa , Editor's Choice
BioCote helps to reduce the spread of microbes around a building as microbes are not transferred from door to door and surface to surface.
Read more...
---
Customised personal security app for your workforce
Issue 4 2020, Technews Publishing , Editor's Choice
Zecure takes the idea of app-based security to the business world, providing employees with a suite of applications on hand to cater to their personal security needs.
Read more...
---
Fulcrum Biometrics expands into Africa
Issue 4 2020, Fulcrum Biometrics , Editor's Choice
Fulcrum Biometrics Southern Africa, a subsidiary of Fulcrum Biometrics in Texas, USA, has been launched in Johannesburg with a number of industry stalwarts at the helm.
Read more...
---
Paying the ransom doubles cost of recovery
Issue 4 2020 , Editor's Choice
Paying cybercriminals to restore data encrypted during a ransomware attack is not an easy and inexpensive path to recovery.
Read more...
---
Coping with COVID-19
Issue 4 2020, Sentinel Risk Management, Xone Integrated Security, ISF SFP, Technews Publishing , Editor's Choice
Hi-Tech Security Solutions spoke to four security service providers about their new business reality and how they are coping with the stringent regulations.
Read more...
---
Milestone forges ahead globally and in Africa
Issue 4 2020, Milestone Systems, Technews Publishing , Editor's Choice
Hi-Tech Security Solutions was given the opportunity to speak to Milestone's Kenneth H. Petersen and Anders Johansson about the company's annual performance and its regional plans.
Read more...
---
The Outstanding Security Performance Awards are coming to South Africa
Issue 4 2020 , Editor's Choice
The Outstanding Security Performance Awards (OSPAs), a global awards programme currently running in 13 countries to recognise companies, teams, initiatives and individuals across the security sector, is being launched in South Africa.
Read more...
---