printer friendly version
Protect your personal information
November 2017 Editor's Choice, News, Security Services & Risk Management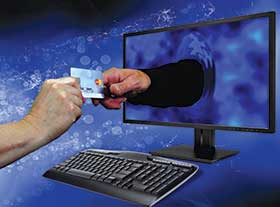 SABRIC encourages consumers to protect their personal information by sharing it very selectively and on a need to know basis only. Personal information includes identity documents, driver's licences, passports, addresses and contact details amongst others. In addition, confidential information, which includes usernames, password and PIN numbers should never be shared with anybody.
In order to participate in commercial activity, it has become necessary to identify yourself by providing personal information. Good identity management practices can assist in mitigating the risk of impersonation should the information be compromised.
As some personal information such as your identity number cannot be changed readily, and other personal information such as your home and work addresses are impractical to change, we recommend that you consider the following precautionary measures when you are required to provide personal information for security verification purposes:
• Do not use the information that may have been compromised. Rather use other personal information that you have not used previously in order to confirm your identity in future.
• Register a new email account.
• Implement dual authentication for all accounts and products, especially for financial services products.
• Register for SMS notifications to alert you when products and accounts are accessed.
• Conduct regular credit checks to verify whether someone has applied for credit using your personal information and if so, advise the credit grantor immediately.
• Investigate and register for credit related alerts offered by credit bureaux.
• Check your bank statements regularly.
"Whilst the compromise of personal information creates opportunities for criminals to impersonate you, it does not guarantee access to your banking profile or accounts." says Kalyani Pillay, CEO of SABRIC. "However, the importance of never sharing confidential information in order to protect yourself cannot be overemphasised."
SABRIC encourages consumers to note and implement the tips and guidance given by the banking industry to ensure that criminals cannot gain access to their profiles and accounts.
Some don'ts
• Don't carry unnecessary personal information in your wallet or purse.
• Don't disclose personal information such as passwords and PINs when asked to do so by anyone via telephone, fax or even email.
• Don't write down PINs and passwords, and avoid obvious choices like birth dates and first names.
• Don't use any Personal Identifiable Information (PII) as a password, user ID or personal identification number (PIN).
• Don't use Internet cafes or unsecure terminals, hotels, conference centres etc. to do your banking.
Some do's
• Use strong passwords for all your accounts.
• Change your password regularly and never share them with anyone else.
• Store personal and financial documentation safely. Always lock it away.
• Keep PIN numbers and passwords confidential.
• Verify all requests for personal information and only provide it when there is a legitimate reason to do so.
• To prevent your ID being used to commit fraud if it is ever lost or stolen, alert the SA Fraud Prevention Service immediately on 0860 101 248 or at www.safps.org.za.
• Ensure that you have a robust firewall and install antivirus software to prevent a computer virus sending out personal information from your computer.
• When destroying personal information, either shred or burn it (do not tear or put it in a garbage or recycling bag).
• Should your ID or driver's licence be stolen, report it to SAPS immediately.
For more information go to www.sabric.co.za
Further reading:
The same security assessment for different reasons
Issue 7 2020, Alwinco , Editor's Choice
Like everything else in life, a security risk assessment also has two sides: one is the proactive approach, and the other is the approach taken 'after the fact'.
Read more...
---
Risk intelligence the key to a sustainable future
Issue 7 2020 , Editor's Choice
Only by building risk intelligent organisations will leaders be able to overcome six distinct global threats identified by the Institute of Risk Management South Africa (IRMSA).
Read more...
---
Profile D for access control peripherals
Issue 7 2020 , Editor's Choice
Profile D provides interoperability for devices such as locks, credential/biometric readers, PIN pads, LPR cameras, door phones, sensors and displays.
Read more...
---
Security investments and culture
Issue 7 2020 , Editor's Choice
Organisations must embed security into the culture of the company and approach security investments with this culture in mind.
Read more...
---
Elastic storage pricing
Issue 7 2020 , Editor's Choice
With elastic pricing, users can switch from one storage model to another without having to pay a premium or a penalty, and without having to physically move any data.
Read more...
---
Use technology as a differentiator
Issue 7 2020 , Editor's Choice
Juni Yan, director of Transport, Logistics and Automotive at BT, shares her insights on how logistics companies can leverage digital transformation to become a real market differentiator – no matter the state of the pandemic.
Read more...
---
Management of PPE allocation made simple
Issue 7 2020, Powell Tronics, Technews Publishing , Editor's Choice
Of all the roadblocks and challenges COVID-19 has introduced us to over the past few months, one of the tasks organisations have to manage is the issuing of PPE to staff.
Read more...
---
Robots in warehousing and freight, a security perspective
Issue 7 2020, FSK Electronics , Editor's Choice
The logistics industry needs support from technology to meet its ongoing demands and ongoing security concerns.
Read more...
---
The new training normal
Issue 7 2020, Leaderware , Editor's Choice
Insights from running my first CCTV Surveillance Skills and Body Language and Advanced courses at physical training venues since COVID-19 started.
Read more...
---
An exciting journey in security
Issue 7 2020, Technews Publishing, BTC Training Africa , Editor's Choice
Errol Peace describes his 40-plus year career in the security industry where he was and is a great proponent of training as an "exceptionally exciting journey".
Read more...
---