printer friendly version
Protect your personal information
November 2017 Editor's Choice, News, Security Services & Risk Management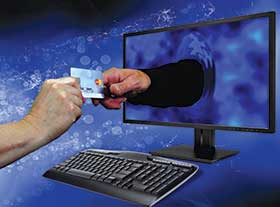 SABRIC encourages consumers to protect their personal information by sharing it very selectively and on a need to know basis only. Personal information includes identity documents, driver's licences, passports, addresses and contact details amongst others. In addition, confidential information, which includes usernames, password and PIN numbers should never be shared with anybody.
In order to participate in commercial activity, it has become necessary to identify yourself by providing personal information. Good identity management practices can assist in mitigating the risk of impersonation should the information be compromised.
As some personal information such as your identity number cannot be changed readily, and other personal information such as your home and work addresses are impractical to change, we recommend that you consider the following precautionary measures when you are required to provide personal information for security verification purposes:
• Do not use the information that may have been compromised. Rather use other personal information that you have not used previously in order to confirm your identity in future.
• Register a new email account.
• Implement dual authentication for all accounts and products, especially for financial services products.
• Register for SMS notifications to alert you when products and accounts are accessed.
• Conduct regular credit checks to verify whether someone has applied for credit using your personal information and if so, advise the credit grantor immediately.
• Investigate and register for credit related alerts offered by credit bureaux.
• Check your bank statements regularly.
"Whilst the compromise of personal information creates opportunities for criminals to impersonate you, it does not guarantee access to your banking profile or accounts." says Kalyani Pillay, CEO of SABRIC. "However, the importance of never sharing confidential information in order to protect yourself cannot be overemphasised."
SABRIC encourages consumers to note and implement the tips and guidance given by the banking industry to ensure that criminals cannot gain access to their profiles and accounts.
Some don'ts
• Don't carry unnecessary personal information in your wallet or purse.
• Don't disclose personal information such as passwords and PINs when asked to do so by anyone via telephone, fax or even email.
• Don't write down PINs and passwords, and avoid obvious choices like birth dates and first names.
• Don't use any Personal Identifiable Information (PII) as a password, user ID or personal identification number (PIN).
• Don't use Internet cafes or unsecure terminals, hotels, conference centres etc. to do your banking.
Some do's
• Use strong passwords for all your accounts.
• Change your password regularly and never share them with anyone else.
• Store personal and financial documentation safely. Always lock it away.
• Keep PIN numbers and passwords confidential.
• Verify all requests for personal information and only provide it when there is a legitimate reason to do so.
• To prevent your ID being used to commit fraud if it is ever lost or stolen, alert the SA Fraud Prevention Service immediately on 0860 101 248 or at www.safps.org.za.
• Ensure that you have a robust firewall and install antivirus software to prevent a computer virus sending out personal information from your computer.
• When destroying personal information, either shred or burn it (do not tear or put it in a garbage or recycling bag).
• Should your ID or driver's licence be stolen, report it to SAPS immediately.
For more information go to www.sabric.co.za
Further reading:
Platforms and community lead the future
May 2019, Milestone Systems , Editor's Choice, CCTV, Surveillance & Remote Monitoring, News, Integrated Solutions
Milestone Systems took a look into the future of open platforms and the power of community at MIPS EMEA in Copenhagen in March this year.
Read more...
---
30 years of business continuity
May 2019, ContinuitySA, Technews Publishing , Editor's Choice, Security Services & Risk Management
ContinuitySA is celebrating its 30th anniversary this year and Hi-Tech Security Solutions spoke to CEO Michael Davies about the changes he has seen in the business continuity and disaster recovery markets.
Read more...
---
The consequences of false alerts
May 2019, Leaderware , Editor's Choice, CCTV, Surveillance & Remote Monitoring, Integrated Solutions
Craig Donald discusses the impact of false alarm rates on the utility of intelligent security technology systems.
Read more...
---
The enemy within – insider ­security threats
May 2019, Wolfpack Information Risk , Editor's Choice, Cyber Security, Financial (Industry)
Insider threats in today's financial world are insidious and destructive and your defence against insiders should start long before the person assumes his/her position.
Read more...
---
Protecting people's money, and their data
May 2019, Cathexis Technologies, CA Southern Africa, IDEMIA , Editor's Choice, Integrated Solutions, Financial (Industry)
The temptations inherent to the banking sector, and financial institutions more generally, pit them in an eternal and increasingly high-tech battle to secure themselves against threats from within and without.
Read more...
---
Access authentication with a wave
May 2019, IDEMIA , Editor's Choice, Access Control & Identity Management, Integrated Solutions, Financial (Industry), Commercial (Industry)
Financial organisations are making the move to contactless fingerprint biometrics in order to meet the increasing burden of regulatory and compliance demands.
Read more...
---
The benefits of background screening
May 2019, iFacts, Managed Integrity Evaluation , Editor's Choice, Security Services & Risk Management
Companies need to be more vigilant about the people they employ by making sure comprehensive background screening checks are conducted.
Read more...
---
Does your control room add value?
May 2019, Fidelity Security Group, G4S South Africa, Progroup , Editor's Choice, CCTV, Surveillance & Remote Monitoring, Integrated Solutions, IT infrastructure, Commercial (Industry)
Whether on- or offsite, control rooms are a critical aspect of security today and care must be taken in the design and rollout of these nerve centres.
Read more...
---
Intruder detection is becoming smarter and more mobile
May 2019, Elvey Security Technologies , Regal Distributors SA , Editor's Choice, Perimeter Security, Alarms & Intruder Detection
Alongside the new technologies continually being developed, existing technologies are being co-opted into not only performing an intrusion detection role, but combatting that bane of the electronic security industry: false alarms.
Read more...
---
iLegal 2019: Augmented surveillance - realising the full potential of CCTV
May 2019, Technews Publishing , Editor's Choice, News, Conferences & Events, Training & Education
iLegal 2019 will look at what is becoming known as Augmented Surveillance – using technologies and people interactively to maximise results from operators and control rooms in order to make intelligent security and business decisions.
Read more...
---