printer friendly version
ONVIF releases Profile A
August 2017 Editor's Choice, Access Control & Identity Management, News, Integrated Solutions
ONVIF, the global standardisation initiative for IP-based physical security products, has announced the final release of Profile A for broader access control configuration that establishes a standardised interface for access control clients and expands the configuration options of ONVIF conformant access control systems. The release marks the first open specification that allows for the mixing and matching of access control devices and clients within a system, facilitating interoperability for multi-vendor projects.
ONVIF Profile A encompasses daily access control functions for granting and revoking employee credentials, creating and updating schedules and making changes to access control privileges within the system. Profile A deepens interoperability within the access control market by increasing functionality and system management functions at the client level, enabling the configuration of credentialing, scheduling and access privileges through the Profile A-conformant client interface.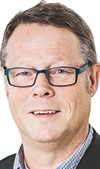 Per Björkdahl
"Profile A is a significant development for the market because it provides a pathway for integrating together access control panels and hardware with management software from different manufacturers," said Per Björkdahl, ONVIF steering committee chair. "This pathway for integration also provides future-proofing of an access control system, as it allows another manufacturer's access control management software to be installed in the future, eliminating the need for a hardware 'rip and replace' scenario."
The interoperability established by Profile A allows end users and system integrators to make hardware and software choices based on functionality and performance, and will also bridge the gap between legacy hardware and new software if both are Profile A conformant. The new profile further enables integration between access control and IP video management systems when combined with ONVIF Profile C for basic access control and Profile S for video streaming.
Profile A has been available in release candidate status in order to provide industry review and feedback prior to the final release. ONVIF circulates a new profile first as a 'Release Candidate' for at least six months, allowing members and stakeholders a final implementation review. When that process is complete, the final profile is published and members can test their products for conformance to the final version of an ONVIF Profile. This process is intended to allow members to more quickly introduce conformant products when the final version of a Profile is released.
Further information about ONVIF conformant products, including the vendors and the conformant models, is available on the ONVIF website: www.onvif.org
Further reading:
Prime time for palm vein identification
Fulcrum Biometrics Editor's Choice
Ingenico and Fujitsu Frontech North America, represented by Fulcrum Biometrics in South Africa, unveil queue-busting solution for secure in-store commerce.
Read more...
---
A closed security concept for test halls and perimeter
Dallmeier Electronic Southern Africa Editor's Choice
At its factory facilities in Vilsbiburg, Germany, Flottweg SE relies on tailored video security technology from Dallmeier for perimeter security and workplace safety.
Read more...
---
Advanced server performance and energy efficient design
Editor's Choice IT infrastructure Products
Dell PowerEdge server portfolio expansion offers more performance, including up to 2.9x greater AI inferencing while Dell Smart Flow design and Dell Power Manager software advancements deliver greater energy efficiency.
Read more...
---
Free-to-use solar score for South African homes
Technews Publishing Editor's Choice
The LookSee Solar Score is one of the first of its kind to provide insight into the potential of solar power for South Africa's residential properties.
Read more...
---
31 percent of all IoT SIMs managed with third-party IoT CMPs
News Integrated Solutions
Berg Insight recently released new findings about the market for IoT connectivity management platforms (CMPs), a standard component in the value proposition from mobile operators and IoT MVNOs around the world.
Read more...
---
Fast, reliable and secure cloud services
Technews Publishing Editor's Choice Cyber Security IT infrastructure
Security and speed are critical components of today's cloud-based services infrastructure. Cloudflare offers a range of services supporting these goals beyond what most people think it does.
Read more...
---
Smart car parking solution eases traffic flow
Dahua Technology South Africa CCTV, Surveillance & Remote Monitoring Integrated Solutions Products
Ethiopia's first smart parking lot, designed to improve traffic flow and management efficiency, has been built and installed using Dahua Technology's smart parking solutions.
Read more...
---
Fire-fighting force at Vergelegen
Editor's Choice Fire & Safety Residential Estate (Industry)
Vergelegen wine estate in Somerset West, and its neighbours, are set to enjoy greater peace of mind this summer, thanks to the delivery of a brand new fire truck .
Read more...
---
VMS 7.2 supports the investigation process and adds cloud capabilities
CCTV, Surveillance & Remote Monitoring Integrated Solutions Products
Qognify has launched the second release of its VMS, including extended support for body-worn video, additional functionalities to support investigations, and a new web client architecture. VMS 7.2 addresses the increasing use of body-worn video (BWV) across many sectors.
Read more...
---
Sasol ensures Zero Trust for SAP financials with bioLock
Technews Publishing Editor's Choice Cyber Security Security Services & Risk Management
Multi-factor authentication, including biometrics, for SAP Financials from realtime North America prevents financial compliance avoidance for Sasol.
Read more...
---