printer friendly version
An interesting IFSEC 2017
August 2017 Editor's Choice, News, Conferences & Events, Training & Education
IFSEC 2017, the UK-based annual security event took place from 20–22 June 2017 at ExCeL in London. In the past few years, probably since the 2008 financial crisis, the event has shrunk in size. However, there seems to have been some growth again.
The event is now branded as part of protection and management, which includes IFSEC/Firex/facilities/field service management/safety and health/clothing. Holding these six events under one roof, has resulted in approximately 1 600 suppliers presenting their services or products.
As most who attended will remember, London was having a heat wave. The temperature rose to 32°  celsius each day. I am sure that the pubs did well at the end of each day.
To add a further new twist to the event, London, and in fact the UK, has recently seen a number of terror attacks. Many people voiced their concern to me that this event could be a target. This was clearly understood by the organisers. The access to the event was controlled at the main entrances and not at the access points to the individual shows. Other than the physical check, the use of dogs to sniff out problems was also a part of the security plan.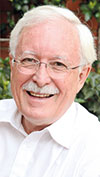 Rob Anderson
IFSEC had representatives from 27 countries. The biggest representation was from China and UK. For many years, Taiwan and Korea were the up-and-coming countries of choice for security products. For interest, here are the number of stands for a few countries:
China 153
UK 178
Taiwan 34
South Korea 33
South Africa 2
Germany 16
USA 23
It is interesting to see the massive growth in products and services from China. This, off the back of an environment that does not suffer from high crime or terror.
In terms of size of stand, Hikvision clearly won the day. The next biggest was Dahua at half the size and Axis, Paxton, Hanwha, Honeywell and Texecom at under half the size. A new player in the market, for me, was Vanderbilt. It has acquired a number of companies' security divisions, such as Siemens, Comnet and others to be a player in the security market. It will be interesting to watch its progress.
The acquisition of Pyronix by Hikvision was also a surprise. It is a UK-based intruder equipment manufacturer that has been around for a long while and is well respected.
A point worth mentioning is that the organisers have done a lot to improve directions to stands. They have launched an app, have a touch screen at the door to search for products and companies, as well as the usual books, layouts and overhead signage. This year was certainly the most organised, which was long overdue.
In days gone past, we used to see the catalogue collectors at these shows. They collected a catalogue off as many stands as possible. They would leave the event, with a heavy load and no doubt it found its way into the paper scrap. The digital age has brought this to an end. In most cases, the information is on a memory stick or a website – also a comfortable improvement.
After the days at the event, you are left with a feeling that the CCTV manufactures are fighting for a market share, with prices going down and features increasing. In the shadows of CCTV, the access control and alarm industry continues to plod on as always.
There remains a problem of setting standards and manufacturers trying to provide a product that 'locks' the owners in. Thankfully this is not as widespread as it used to be.
It is always interesting to note that some of the big players in the industry are not seen at IFSEC, while much smaller ones are. It must be a hard call to decide if it's worth spending big money to have a stand or not.
So, was the trip worth it? It certainly was. The benefit was to renew old friendships and get an insight, over coffee or a beer, as to what is happening in the marketplace. There is evidence that the CCTV solutions are slowly moving towards the creation of a database of valuable information. That would be a whole discussion on its own, and very necessary.
A most interesting discussion took place on the reason analogue CCTV is still playing a part. One response was that, for really secure CCTV installations, the analogue solution can't be beaten. It is also providing better quality than before. So, there is a thought.
On leaving the show, I was still convinced that the edge that we have in SA is the ability to take all these clever products and produce an innovative, integrated solution. We are all still at the leading edge. I suppose we just have to be.
For more information, contact Adamastor Consulting, 086 099 5269, rob@adamastor.co.za, www.adamastor.co.za.
Further reading:
How encryption can protect sensitive data
Issue 6 2020 , Editor's Choice
Here's how encryption can help keep your data safe from prying eyes – even if your device is stolen or your cloud account is hacked.
Read more...
---
More than just compliance
Issue 6 2020, IACT-Africa , Editor's Choice
SA is one year away from the Protection of Personal Information Act (POPIA) D-Day.
Read more...
---
Security risk mitigation on a budget
Issue 6 2020 , Editor's Choice
Security estates often fall well short in terms of adequate protection when being assessed by an independent, experienced threat, risk and vulnerability assessor.
Read more...
---
Digital means managing your risk
Issue 6 2020, AVeS Cyber Security , Editor's Choice
Digital transformation in mining companies has become a business imperative to drive efficiencies, optimise competitiveness and reduce risks associated with human error.
Read more...
---
Face recognition and temperature measurement
Issue 6 2020, Suprema , Editor's Choice
Purpose built for FaceStation 2, Suprema's new thermal camera enhances safety by measuring skin temperature.
Read more...
---
What, how and why of security
Issue 6 2020, Alwinco , Editor's Choice
As a security advisor, it's a continuous challenge to change the existing perceptions of CEOs/MDs and nowadays the procurement departments.
Read more...
---
A life jacket for buildings
Issue 6 2020 , Editor's Choice
The EAV is a purpose-designed vest which provides the user with on-demand air supply and other safety gear to help them escape from hazardous incidents.
Read more...
---
Overview of contactless identification technologies
Issue 6 2020, Suprema , Editor's Choice
A guide to two of the best available contactless identity confirmation technologies, along with some tips on choosing the right one.
Read more...
---
Key criteria in the selection of CCTV control room operators
Issue 5 2020, Leaderware , Editor's Choice
Some people are better at aspects of the job of CCTV operator than others, and some companies put in a lot more effort in choosing their operators than others.
Read more...
---
Leaders in risk and security: As long as there are people, there will be risk
Issue 5 2020, iFacts, Technews Publishing , Editor's Choice
Jenny Reid is a self-made success, focusing on people, the risks they create and the potential they have.
Read more...
---