printer friendly version
Back to school
Access & Identity Management Handbook 2013 Access Control & Identity Management, Cyber Security, IT infrastructure, Education (Industry)
Somerset College is a school with boys and girls boarding houses. All students and staff are loaded on to the Windows Active Directory and it was important for the efficient functioning of the school to have a single, accurate database to control users. It was important to the school that if a user's Active Directory login details were no longer valid, then access to the computer laboratory, as well as the residences, should be simultaneously disabled.
For these reasons, the client chose the Impronet with Windows Active Directory integration to control the database of active users. Further, physical access control was provided by Morpho biometric readers, which replaced the previously used proximity tags.
The benefit of using this system is that all of the hard work has already been done in Windows Active Directory. A grouping for the students and for the residences was already set up so there was no duplication in implementation. Additional consideration was needed for cleaners and contractors in terms of access control. User groups had to be added for those people who were not already loaded onto the Active Directory.
A specification was drawn up and, on approval, the application was designed and implemented. The client set milestones, which were readily achieved by service providers Integratek and Powell Tronics, resulting in the speedy implementation of the solution.
The aim of the solution, besides controlling access, was to eliminate issuing keys to staff, as replacements were quite costly. Using biometrics was therefore an obvious option.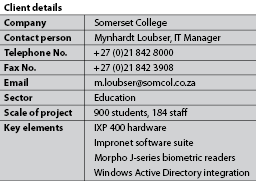 The client admits that timing of the implementation was of the utmost importance as one had to consider that, although all student and staff information was integrated into the Impronet database, enrolment of fingerprint templates still had to be undertaken. This proved to be time consuming.
Biometric access control using the Morpho readers at the computer laboratory provided the client with a good overview of the seamless nature of the integration implementation. The installation has exceeded the client's expectations of the proposed solution.
For more information contact Powell Tronics, +27 (0)11 234 6990, [email protected], www.p-tron.com
Credit(s)
Further reading:
Be aware of privacy and cybercrimes issues
Security Services & Risk Management Cyber Security Retail (Industry)
Artificial intelligence (AI) is being deployed to help shoppers make better choices, but retailers must be aware of their obligations under personal privacy and cybercrimes laws.
Read more...
---
Gallagher launches Tech Talk
Gallagher News Access Control & Identity Management Perimeter Security, Alarms & Intruder Detection
Gallagher has announced the launch of its new Security in Focus podcast series called Tech Talk, hosted by chief technology officer Steve Bell.
Read more...
---
IDEMIA and Ideco demonstrate their value stacks
Technews Publishing Ideco Biometrics IDEMIA Conferences & Events Access Control & Identity Management News
Ideco and IDEMIA recently hosted a travelling show where attendees were given an update on the companies, as well as the full value stack they offer.
Read more...
---
Paxton10 simplifies building security
Paxton Access Control & Identity Management
Paxton provides a single platform for access control and video management in Paxton10, its newest innovation that allows users to manage their facilities from one simple security system.
Read more...
---
Have biometrics changed the way mines operate?
ZKTeco Mining (Industry) Access Control & Identity Management
The mining industry continues to improve conditions for mine workers, striving for zero harm, however, innovations which improve worker safety and increase operational efficiency are still needed.
Read more...
---
Hard times, increased crime
Technews Publishing Security Services & Risk Management Integrated Solutions IT infrastructure
Hi-Tech Security Solutions spoke to Mezuzah Security Services to find out what is happening in the real world, and how security companies are dealing with the added pressure inherent to the South African market.
Read more...
---
Adapting to the new normal
Access Control & Identity Management
SATEC (SA Technologies) had to develop a new strategy to enhance its current product features to align and adapt to market trends within the technology sector.
Read more...
---
AI will drive the future of access control
Suprema Access Control & Identity Management
Artificial intelligence is driving changes previously in the realm of the imagination. AI-based voice recognition and image recognition enable machines to understand and recognise things better than humans are able to.
Read more...
---
Cybereason expands presence across sub-Saharan Africa
News Cyber Security
Cybereason has appointed Chantél Hamman as its new channel director focused on growing the company's presence across sub-Saharan Africa.
Read more...
---
Cyber resilience is more than security
Industrial (Industry) Cyber Security IT infrastructure
Kate Mollett, regional director at Commvault Africa advises companies to guard against cyberattacks in the shipping and logistics sector using an effective recovery strategy.
Read more...
---