printer friendly version
Integrated access roars with flavour
October 2012 Access Control & Identity Management, Industrial (Industry)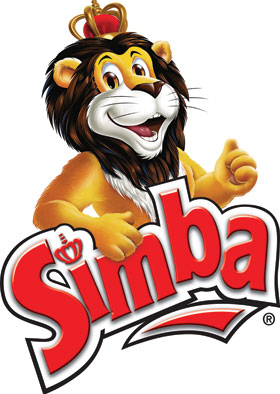 Pepsico Simba, the iconic South African snack brand that has captured around 70% of this enthusiastic consumer market, began looking for a new solution to its production management systems in 2010.
Reshigan Govender, business solutions manager at Pepsico Simba, comments: "The time was right to take advantage of the new technology and sophisticated software systems that had become available in the access control (AC) and time & attendance (T&A) systems. We also wanted to standardise the associated business processes across all our production units in Isando (Gauteng), Durban and Cape Town."
The initial plan was simply to replace an outdated card-based manual system, but the company rapidly decided to maximise the business development opportunities offered by Bytes Systems Integration's solution. Andre du Plessis, Business Consultant at Bytes, explains: "The advent of accurate and reliable biometric fingerprint scanners combined with the ability to extract further value from the data through customised analysis and reporting has changed the nature of AC and T&A systems.
"These advances resolved serious problems inherent in older systems such as the detection and prevention of ghost workers, buddy clocking and other scams which inflate production costs".
Pepsico Simba looked at a variety of solutions on offer but the Bytes proposal, utilising a combination of Saflec SACS Access Control and Kronos Time & Attendance systems powered by input from Morpho fingerprint readers was the obvious choice. Saflec's integration into SAP business analysis software was another major contributing factor in this decision. Pepsico's positive global experience with Kronos T&A systems was equally influential.
A flexible workforce
The seasonal aspects of Pepsico Simba business presented some interesting challenges in the first-phase of the implementation to replace the AC and T&A functionality. "Demand fluctuates in the Pepsico Simba business cycle, with huge peaks around December and April, the major holiday seasons, and other smaller but significant peaks at various times throughout the year. Major sports events and long-weekends are typical examples," explains Govender. He adds: "Our T&A usage is confined to about 2600 permanent staff members and our AC systems handles around 5000 staff members under average operating conditions. However, at times of peak demand, AC numbers can rise by as much as 30% across our three production units."
Pepsico Simba has onsite labour brokers who work to meet the company's fluctuating labour requirements from a pool of pre-authenticated outsourced labour. Du Plessis explains: "Pre-screening is obviously an important part of the planning process but rapid enrolment, together with ease and speed of updating AC permissions, is absolutely crucial in such a volatile situation." The fingerprint enrolment process has been streamlined to the point where 2 to 3 minutes are sufficient to enrol each additional worker on the AC and T&A system.
Decisions also have to be taken regarding the production volume points at which it becomes more economical to outsource additional labour versus authorising overtime for permanent staff members.
"This aspect of the system is important to Pepsico Simba because of the cost implications. The pay rules we designed provide the required reporting functions to monitor and accurately forecast the production points where the balance tips in favour of each option," explains du Plessis.
"Pay rule development has actually been the major feature of the customisation process. There are many factors to consider in pay rules. A key feature of the success of the Pepsico Simba system is the flexibility of the Kronos data collection and Saflec integration into SAP reporting functions."
Some of this complexity results from the company's rapid organic growth where each division of the company had to make their own decisions given the existing conditions in the local labour market.
Govender comments: "Standardisation has generated significant cost savings for Pepsico Simba and we anticipate further improvements as this process spreads throughout the company over time. We were very impressed by the way Bytes were able to customise the system to handle the realities of our existing situation. Further cost savings will be generated as standardisation occurs across all our divisions."
But some of the other factors that will always have to be taken into account include basic pay, overtime and shift rates for a variety of different functions (for example distribution, warehouse, production), number of hours worked, leave allocation, time allowed for lunch breaks, and a variety of travel and shift allowances.
Going for gold on implementation
Implementation took place in two distinct phases. The initial phase, started in December 2010, was aimed at installing and testing the required equipment over all three sites and getting the basic system functionality up and running.
Essentially, the data is captured by a range of Morpho biometric fingerprint readers (T&A using MA 500 readers, AC using J Series readers for interior and 520 readers for external locations). The data is fed into Saflec's SACS, which sends it to a centralised database server in Johannesburg for further processing in Kronos (T&A) and SAP (financial, HR and payroll).
But much of the success of implementation relied on careful and accurate planning and data design. Du Plessis says: "We feel it is crucial, especially in situations such as this where there is no prior relationship and a complex set of requirements to be met, to work together with all the stakeholders to produce a formal system design and specification."
Operations, IT, HR and finance personnel from Pepsico Simba worked closely with the Bytes team to establish a precise set of parameters for system functionality and to determine the company's organisational structures for management processes and reporting functions. Regular meetings were scheduled to record issues and provide project updates. "These meetings are vital for a successful project. Everybody benefits from being kept up-to-speed on the developments and changes that are inevitable given the complex user requirements of Pepsico Simba. Everybody needs to stay informed," explains du Plessis.
One of the major issues that was revealed and addressed because of this consultative process was an under-estimation of the scale of the project: the initial estimate of 1600 users grew to an actual 2600 users, which translates, in systems terms, into additional access points. But more importantly, these meetings led to the development of Pepsico Simba business processes based on the improved information coming out of the Kronos T&A application.
The second phase, lasting over eight months, was devoted to refining systems operation and expanding and developing the management reporting functions. As already noted, pay rules formulation required a great deal of effort to cover all the differences between paying permanent employees (with all their many varieties of skills, allowances and benefits) and reconciliation of labour brokers invoices for outsourced labour from the company's T&A reports. Automatic balance-of-leave-owing figures assist managers with leave allocation. The AC system was configured to prevent exit of personnel until they had clocked out of the T&A system.
Health and safety requirements also had to be addressed for emergency situations where a head count is required – knowing how many people are in each section of the premises becomes vital. So the system was adapted to prevent re-entry of personnel who have exited without recording their fingerprint on the AC system.
Currently, enhancements are in progress to address visitor access control utilising a bar-code scanning system to record driver's licences or ID documents.
"Evolution is a key concept in this type of system. As Pepsico Simba business requirements change and develop, Bytes will continue to respond with new ways to mine the data for new and improved reporting functionality designed to extract further value for Pepsico Simba. A good example of how this has already occurred is in using historical data to build shift-pattern analysis and developing statistics to provide more accurate forecasting of required work force levels", explains du Plessis.
Does 20/20 hindsight reveal any keys to success?
Du Plessis considers this to be a tricky question: "My answer would have to be both 'yes' and 'no': on the one hand, preparation, especially in terms of developing an accurate organisational structure and defining business processes, is undoubtedly useful. However, there have been many advantages gained from new ideas that evolved from playing around with the system and thinking 'what if . . .'
"You have to commit to the constant evolution model. Thinking that the system will be finished when current requirements are met will lead to missed opportunities as the business grows and develops. New ideas and new technologies will arrive. The real key to ongoing success to lies in working out how to maximise these developments to benefit the business.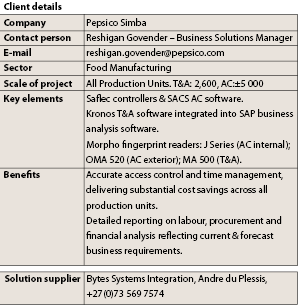 "We have been extremely fortunate in working with Reshigan Govender on this project. He knows what he wants but he has an open mind and is always prepared to listen to what we have to say. This enables us to formulate the options, assess the risks, and select the best solution. When you have this type of excellent working relationship between supplier and customer, it naturally creates a win-win situation for all concerned."
Govender concludes: "Bytes' consistent focus on business benefits has produced substantial cost reductions for Pepsico Simba. We were impressed that we got a ROI on this system within one year and we anticipate further improvements as we continue to develop and refine the system.
"The high levels of customer service we experience from Andre du Plessis and the entire Bytes team make it a pleasure to do business with them and we look forward to continuing this beneficial relationship."
Credit(s)
Further reading:
HID addresses identification challenges at ID4Africa
August 2019 , News, Access Control & Identity Management, Government and Parastatal (Industry)
Being able to verify people's identities is critical for a nation's growth and prosperity and yet HID says nearly half of all African citizens can't prove who they are to vote, travel freely and receive government benefits and services.
Read more...
---
Came acquires Turkish company Özak
August 2019, CAME BPT South Africa , News, Access Control & Identity Management
Came broadens its market horizons and signals growth and consolidation in the Middle East.
Read more...
---
The benefits of electronic visitor management
August 2019, Powell Tronics , Access Control & Identity Management, Residential Estate (Industry)
Access control is a critical aspect of estate security as it represents the controls put in place to restrict entry (and possibly exit) along the outer boundary of the location.
Read more...
---
Addressing risks by means of access control layout and design
August 2019 , Access Control & Identity Management, Security Services & Risk Management
In order to develop a suitable, practical and appropriate security system for any organisation, it is essential to first develop a master security and life safety plan strategy.
Read more...
---
Secure hands-free access
August 2019, Suprema , Access Control & Identity Management, Residential Estate (Industry)
Suprema's facial biometric terminals bring no-touch access into secure residential estates, high-rise apartments and luxury homes providing fast, easy and intuitive user authentication with the added benefit of hygiene.
Read more...
---
MorphoAccess Sigma Extreme
August 2019, IDEMIA , Products, Access Control & Identity Management
MorphoAccess Sigma Extreme from IDEMIA is a touchscreen device with multiple recognition device interfaces (NFC chip reader, PIN and BioPIN codes, contactless card readers).
Read more...
---
Outdoor access terminals
August 2019, Suprema , Access Control & Identity Management, Residential Estate (Industry), Products
Rugged, dust- and weather-proof access control solutions that provide exceptional durability in extreme conditions is a strong requirement for many residential estates.
Read more...
---
MorphoWave Compact
August 2019, IDEMIA , Products, Access Control & Identity Management
The MorphoWave Compact captures and matches four fingerprints on either the right or left hand in any direction. It is robust to environmental factors such as extreme light or dust.
Read more...
---
MorphoAccess Sigma Lite
August 2019, IDEMIA , Products, Access Control & Identity Management
IDEMIA's MorphoAccess Sigma Lite and Lite + are fingerprint access control terminals, offering time and attendance in and out function keys.
Read more...
---
Eliminating forced gate opening scenarios
August 2019, ET Nice , Home Security, Access Control & Identity Management
When activated by the gate forced open alarm feature, the transmitter transmits a wireless alarm signal up to 750 metres in any direction.
Read more...
---