printer friendly version
High security access at nuclear site
October 2012 Access Control & Identity Management, Government and Parastatal (Industry)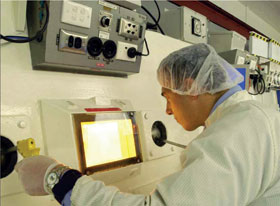 The Australian Nuclear Science and Technology Organisation (ANSTO) is Australia's national nuclear research and development organisation and the centre of Australian nuclear expertise. Its main site is located at Lucas Heights Science and Technology Centre (LHSTC), 40 km south-west of Sydney's CDB. The Centre occupies 70 hectares and is surrounded by a 1,6 km buffer zone.
Prescribed by the Australian Nuclear Science and Technology Organisation Act 1987, its purpose is to deliver specialised advice, scientific services and products to government, industry, academia and other research organisations.
ANSTO's nuclear infrastructure includes the OPAL (Open Pool Australian Lightwater) Research Reactor. OPAL is Australia's only nuclear reactor. It provides industrial radioisotopes and facilities for neutron activation analysis, irradiation of materials and neutron radiography to service the needs of agriculture and industry, particularly with regards to electronics, the environment and resource and mineral processing.
In November 2006 OPAL reached its full operating power of 20 Mega Watts for the first time as part of the reactor's commissioning process. ANSTO's infrastructure also consists of particle accelerators, and a range of other unique research facilities including radiopharmaceutical production facilities for Australasia. ANSTO is responsible for implementing security at LHSTC in accordance with stringent international and Australian obligations. These include Australian Government's nuclear non-proliferation Safeguards agreements.
Layered security
As a result, security is layered throughout the organisation and is structured around various security grades of facilities. The Gallagher security integration platform (formerly Cardax FT) is the backbone of electronic access control and intruder alarms at ANSTO. Many of the other security measures employed on site are interfaced to the Gallagher system. At the perimeter, Gallagher controls gates, turnstiles, bollards, and boom gates. Long range readers have been implemented at the main entrance gates for convenient vehicle access.
The HIFAR protected area and facilities are surrounded by a Gallagher security electric fence system to deter and detect any would-be intruders. Future plans include introducing high level integration between Gallagher Command Centre and the Trophy FT perimeter security system for seamless configuration and monitoring of perimeter security through Gallagher Command Centre.
The OPAL Research Reactor building contains all the nuclear systems, the reactor and the service pools. It protects the reactor from all external events and also provides the structural basis for reactor containment. Made of reinforced concrete, it is seismically qualified and has a metallic grillage for protection from an aircraft crash. In designated high security areas at ANSTO, the Australian Government's Type One intruder alarm standard applies.
Type One security
UltraSec, a high security variant of the Gallagher system, meets Type One requirements for securing these areas. UltraSec provides end-to-end system security through very high levels of data encryption and monitored communications. The system significantly exceeds the Australian Government's requirement of 56-bit DES by using a minimum encryption key length of 128-bits coupled together with stronger encryption algorithms.
UltraSec also supports access control. Alongside 870 staff, access is also required for 150 research students and 1000 contractors, not to mention numerous visitors.
Having migrated from a legacy Commander-based Cardax system, ANSTO recognises that there are significant benefits of moving onto the Gallagher platform:
* Meets the Australian SCEC Type One security requirements for high security areas including the OPAL research reactor through UltraSec.
* Integrates both access control and intruder alarms for high and medium security areas through the system division partitioning feature.
* Achieves seamless integration with DVR systems.
* Supports backwards compatibility with their Cardax Commander II hardware, enabling them to upgrade to Gallagher Controllers while retaining their existing readers and cards.
* Interfaces with the Gallagher perimeter security system for alarm monitoring.
* Allows operators the flexibility to arm (set) disarm (unset) or isolate various alarm zones (areas of the intruder alarm system) in the field through the Gallagher Remote Arming Terminal.
An ANSTO representative says that Gallagher is much more of a global security management system. "The comprehensive reporting options enable us to provide timely management information." The integrated PhotoID option also makes cardholder management and the production of photo ID cards much easier to control. ANSTO utilises the Gallagher Challenge feature in high security areas such as the OPAL Research Reactor. This feature enables the operator to check the identity of a cardholder by comparing the cardholder's image in the system against a live image from a third party CCTV/DVR system and provide or deny access.
Guard staff are also able to grant visitors access to the site via a remote link to the Gallagher system. For example, if a bus full of people comes to visit the site they can badge their access cards to a handheld reader while onboard the bus, for quick and efficient access control.
As part of its plan to maintain site security, ANSTO has committed to annual Gallagher software maintenance that enables them to elect new optional features as they are developed as well as benefit from the general improvements made to system performance.
For more information contact Gallagher, +27 (0)11 974 4740, lyn.dupreez@gallagher.co, www.gallagher.co
Credit(s)
Further reading:
The benefits of electronic visitor management
August 2019, Powell Tronics , Access Control & Identity Management, Residential Estate (Industry)
Access control is a critical aspect of estate security as it represents the controls put in place to restrict entry (and possibly exit) along the outer boundary of the location.
Read more...
---
Addressing risks by means of access control layout and design
August 2019 , Access Control & Identity Management, Security Services & Risk Management
In order to develop a suitable, practical and appropriate security system for any organisation, it is essential to first develop a master security and life safety plan strategy.
Read more...
---
Secure hands-free access
August 2019, Suprema , Access Control & Identity Management, Residential Estate (Industry)
Suprema's facial biometric terminals bring no-touch access into secure residential estates, high-rise apartments and luxury homes providing fast, easy and intuitive user authentication with the added benefit of hygiene.
Read more...
---
MorphoAccess Sigma Extreme
August 2019, IDEMIA , Products, Access Control & Identity Management
MorphoAccess Sigma Extreme from IDEMIA is a touchscreen device with multiple recognition device interfaces (NFC chip reader, PIN and BioPIN codes, contactless card readers).
Read more...
---
Outdoor access terminals
August 2019, Suprema , Access Control & Identity Management, Residential Estate (Industry), Products
Rugged, dust- and weather-proof access control solutions that provide exceptional durability in extreme conditions is a strong requirement for many residential estates.
Read more...
---
MorphoWave Compact
August 2019, IDEMIA , Products, Access Control & Identity Management
The MorphoWave Compact captures and matches four fingerprints on either the right or left hand in any direction. It is robust to environmental factors such as extreme light or dust.
Read more...
---
MorphoAccess Sigma Lite
August 2019, IDEMIA , Products, Access Control & Identity Management
IDEMIA's MorphoAccess Sigma Lite and Lite + are fingerprint access control terminals, offering time and attendance in and out function keys.
Read more...
---
Eliminating forced gate opening scenarios
August 2019, ET Nice , Home Security, Access Control & Identity Management
When activated by the gate forced open alarm feature, the transmitter transmits a wireless alarm signal up to 750 metres in any direction.
Read more...
---
IAM has business on high alert
August 2019 , Access Control & Identity Management
Identity and Access Management (IAM) is now a must in commerce and the need to protect digital assets is driving the development of solutions and widespread adoption
Read more...
---
Came acquires Turkish company Özak
August 2019, CAME BPT South Africa , News, Access Control & Identity Management
Came broadens its market horizons and signals growth and consolidation in the Middle East.
Read more...
---