printer friendly version
Local digital identity innovation
October 2012
Access Control & Identity Management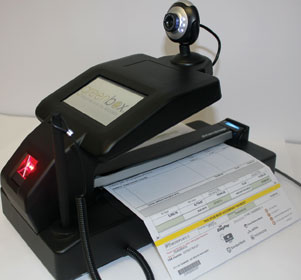 The recent Identity Indaba saw, among other presentations, the introduction of a new South African innovation in digital identity management. It is called GreenBox and it takes identity management to a new level.
That is according to Alan Goodway, business development executive: Innovation at Business Connexion who says that not only does GreenBox capture multiple types of identity data; it also provides an identity-verification platform – all from a single device.
GreenBox combines a camera, fingerprint reader, document scanner, digital signature pad with an interactive touch-screen, EMV-compliant smartcard reader, USB connection, device drivers and plug-and-play capabilities straight into Microsoft-based operating systems.
All this comes in a desktop unit that weighs under 2 kg and has a footprint less than an A4 notepad.
Multiple applications for secure ID management
Goodway says that the process of account take-on provides an example that illustrates the extensive capabilities of GreenBox.
"Let us say I want to open an account at Supa-Dupa Stores. First, GreenBox takes a 20 mega-pixel picture of me. It then scans my SA ID book – or my driver's licence or even my passport. Next on the ID data-capture list comes my fingerprints, followed by my signature on the digital pad. The interactive touch screen also gives me a choice of account-services that I might want.
"Supa-Dupa now has a picture of me, a digital fingerprint record, a copy of my ID book and my digitised signature. They also know what type of account I want and the services I would like to have associated with it – statements by e-mail or in the post, for example."
Once the comprehensive data-capture process is completed, GreenBox can run the new customer's ID details through a credit bureau to make sure they are good for the money. It can verify the details against the National Centre for Certified Identities (NCCI). It can even link up with a smartcard printer to make a temporary Supa-Dupa store card. And the customer can then swipe that through the GreenBox smartcard reader to pay for all their purchases.
In summary of the outcomes from this process, Goodway says, "In the space of a few minutes, the new customer has been FICA'd or RICA'd all in one go. Supa-Dupa has got a new, trusted and credit-approved customer with all the supporting documents in their digital document archive. And the customer has jumped at their special offer on a new smartphone and bought one."
Case study: micro-lending industry
Goodway says that Business Connexion has already developed a blueprint solution for the financial services sector – in particular for the rapidly expanding local business of micro-lending.
One objective was to structure a solution that could accelerate and reinforce security within the existing process that manages the lender's sales representatives across a distributed geographical environment. For new representatives, this process begins with a take-on and background screening function. The BCX solution reduces the time taken to complete this from around two weeks to just two days.
Simultaneously, it creates a de-duplicated database of representatives whose access to the lenders' IT systems is then controlled by fingerprint-based authentication through the SuperSign software platform. For example, when an approved representative wants to load new loan agreements, system-access is no longer based on a password, PIN or card but through fingerprint identification of the agent.
Using GreenBox, the new representative's identity data and fingerprints are captured and a validity-check is run through the National Centre for Certified Identities – the NCCI. This initial 'quick-check' confirms gender, telephone numbers, name and SA ID number.
If all is in order, a more detailed background check is automatically run through MIE. "The initial quick-check avoids the expense of having to conduct MIE screening on new personnel whose ID data might be clearly problematic," says Goodway, "And the solution's fingerprint component also ensures that staff are enrolled only once across the enterprise."
By creating a centralised biometric database, Business Connexion is also able to use this identity data to manage physical access to the organisation's offices. Goodway says, "This capability provides true convergence between HR's take-on function, physical access control, time and attendance monitoring and control of IT access and activity – all within a single, centrally-managed solution."
Architecture of the micro-lending solution
In terms of environmental maturity, GreenBox is also advanced because of its paperless management of identity data and all the associated paperwork for identification-compliances such as FICA and RICA.
As Goodway points out, "Conventional forms do not have to be designed, printed, packaged, distributed, filled-in, photocopied or physically stored. The whole process can be automated with GreenBox and the traditional costs associated with all this are eliminated by digital management of identity-related data."
For more information contact Alan Goodway, Business Connexion, +27 (0)11 266 1483.
Further reading:
HID addresses identification challenges at ID4Africa
August 2019 , News, Access Control & Identity Management, Government and Parastatal (Industry)
Being able to verify people's identities is critical for a nation's growth and prosperity and yet HID says nearly half of all African citizens can't prove who they are to vote, travel freely and receive government benefits and services.
Read more...
---
Came acquires Turkish company Özak
August 2019, CAME BPT South Africa , News, Access Control & Identity Management
Came broadens its market horizons and signals growth and consolidation in the Middle East.
Read more...
---
The benefits of electronic visitor management
August 2019, Powell Tronics , Access Control & Identity Management, Residential Estate (Industry)
Access control is a critical aspect of estate security as it represents the controls put in place to restrict entry (and possibly exit) along the outer boundary of the location.
Read more...
---
Addressing risks by means of access control layout and design
August 2019 , Access Control & Identity Management, Security Services & Risk Management
In order to develop a suitable, practical and appropriate security system for any organisation, it is essential to first develop a master security and life safety plan strategy.
Read more...
---
Secure hands-free access
August 2019, Suprema , Access Control & Identity Management, Residential Estate (Industry)
Suprema's facial biometric terminals bring no-touch access into secure residential estates, high-rise apartments and luxury homes providing fast, easy and intuitive user authentication with the added benefit of hygiene.
Read more...
---
MorphoAccess Sigma Extreme
August 2019, IDEMIA , Products, Access Control & Identity Management
MorphoAccess Sigma Extreme from IDEMIA is a touchscreen device with multiple recognition device interfaces (NFC chip reader, PIN and BioPIN codes, contactless card readers).
Read more...
---
Outdoor access terminals
August 2019, Suprema , Access Control & Identity Management, Residential Estate (Industry), Products
Rugged, dust- and weather-proof access control solutions that provide exceptional durability in extreme conditions is a strong requirement for many residential estates.
Read more...
---
MorphoWave Compact
August 2019, IDEMIA , Products, Access Control & Identity Management
The MorphoWave Compact captures and matches four fingerprints on either the right or left hand in any direction. It is robust to environmental factors such as extreme light or dust.
Read more...
---
MorphoAccess Sigma Lite
August 2019, IDEMIA , Products, Access Control & Identity Management
IDEMIA's MorphoAccess Sigma Lite and Lite + are fingerprint access control terminals, offering time and attendance in and out function keys.
Read more...
---
Eliminating forced gate opening scenarios
August 2019, ET Nice , Home Security, Access Control & Identity Management
When activated by the gate forced open alarm feature, the transmitter transmits a wireless alarm signal up to 750 metres in any direction.
Read more...
---