printer friendly version
Access control does not equal time and attendance
October 2012
Access Control & Identity Management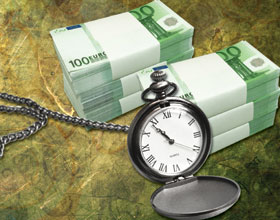 There is a strong misconception, both by installers and end users, that any access control system that can connect to a PC is automatically a time and attendance (T&A) system. Just download the logs and you have a T&A report.
While the information retrieved from an access control system can be used to generate suitable T&A reports, a large amount of processing is required to do this – especially if one wants to comply with the Basic Conditions of Employment Act!
An access control system is, as the name implies, a system to control and manage access of people to specific areas at designated times. The logs that the system keeps are intended for security auditing purposes only. A T&A system requires a lot more than simple IN/OUT transactions.
A proper T&A system, will take logs, usually from a dedicated T&A reader, and process these logs according to a strict set of rules. These rules are based on how the company works – what time they start, what time they end, lunch breaks, permissible overtime etc. These rules are largely dictated by the Basic Conditions of Employment Act. However, the rules will vary from company to company depending on their own environment, requirements and history.
Typically, a T&A system will be able to generate a number of useful management reports to assist, not only for payroll, but also daily management. These reports should include a late comers report and absenteeism report. These would allow the management to get an immediate snap-shot of attendance for the day. Reports such as Clocking Exceptions, Clocking Adjustments, Leave and Early leaving are also very useful for the day to day management of a business and for cases of disciplinary action.
Obviously, the main function of a T&A system is to generate reports of hours worked. These reports need to be able to reflect Normal Time, Time-and-a-Half, Double Time and any other special time allocations that the company may require. These reports need to be able to be filtered by person, department, date, day, week or month. These reports must be calculated based on work rules, as well as requirements and leniency of the law.
South African law is different from the rest of the world in the rules that govern our working hours. Typically working more than a certain number of hours of normal time a month would automatically role up into overtime. Conversely, if there is a shortfall in normal time, but the person has worked overtime, that can be flowed down to fill the short fall in normal time. Unlike the rest of the world which only has Normal Time and Overtime, South Africa requires at least Normal Time, Time-and-a-Half and Double Time, each with its own conditions attached.
A suitable report for use as a timesheet should include Clock-In and Clock-Out times for each day, as well as daily totals. At the bottom of the timesheet the columns should be totalled up and then re-calculated in line with the required rules for the reported period. This should all be clearly and logically laid out on each timesheet. Get these calculations wrong and a visit to the CCMA may be on the cards or staff may go on strike.
As mentioned above, South Africa has special requirements for T&A systems. As such, it is highly recommended that when selecting software for a T&A system a local software house that specialises in time management software should be considered. This has a number of advantages:
* the software will comply with the requirements of South African law,
* the software house will be able to quickly adapt the software in the case of changing laws,
* the software house will be able to customise the software to meet individual requirements, and
* support is only a phone call away.
Also, South African T&A software will offer a payroll export feature that supports the commonly used, local payroll packages. Flexibility is important as well as every South African company works differently, but must still comply with unique legal requirements.
Most of the available software packages are integrated with a number of hardware platforms. One would be able to select the clocking reader of preference – RFID, fingerprint, facial etc from your preferred hardware supplier. Various brands are widely supported by the different software houses.
There are a huge number of T&A options out there and it is important that the system selected be compliant with the laws, be flexible enough to meet the requirements of the company, and be supported and backed up by all suppliers. Always remember that time and attendance is a service. Also, remember to get a few people to advise and quote, as not all solutions may suit your particular environment. Choose carefully and you will have a valuable business tool that will save the company significant amounts of time and money with a speedy ROI. Get it wrong and the costs could be devastating.
Credit(s)
Further reading:
HID addresses identification challenges at ID4Africa
August 2019 , News, Access Control & Identity Management, Government and Parastatal (Industry)
Being able to verify people's identities is critical for a nation's growth and prosperity and yet HID says nearly half of all African citizens can't prove who they are to vote, travel freely and receive government benefits and services.
Read more...
---
Came acquires Turkish company Özak
August 2019, CAME BPT South Africa , News, Access Control & Identity Management
Came broadens its market horizons and signals growth and consolidation in the Middle East.
Read more...
---
The benefits of electronic visitor management
August 2019, Powell Tronics , Access Control & Identity Management, Residential Estate (Industry)
Access control is a critical aspect of estate security as it represents the controls put in place to restrict entry (and possibly exit) along the outer boundary of the location.
Read more...
---
Addressing risks by means of access control layout and design
August 2019 , Access Control & Identity Management, Security Services & Risk Management
In order to develop a suitable, practical and appropriate security system for any organisation, it is essential to first develop a master security and life safety plan strategy.
Read more...
---
Secure hands-free access
August 2019, Suprema , Access Control & Identity Management, Residential Estate (Industry)
Suprema's facial biometric terminals bring no-touch access into secure residential estates, high-rise apartments and luxury homes providing fast, easy and intuitive user authentication with the added benefit of hygiene.
Read more...
---
MorphoAccess Sigma Extreme
August 2019, IDEMIA , Products, Access Control & Identity Management
MorphoAccess Sigma Extreme from IDEMIA is a touchscreen device with multiple recognition device interfaces (NFC chip reader, PIN and BioPIN codes, contactless card readers).
Read more...
---
Outdoor access terminals
August 2019, Suprema , Access Control & Identity Management, Residential Estate (Industry), Products
Rugged, dust- and weather-proof access control solutions that provide exceptional durability in extreme conditions is a strong requirement for many residential estates.
Read more...
---
MorphoWave Compact
August 2019, IDEMIA , Products, Access Control & Identity Management
The MorphoWave Compact captures and matches four fingerprints on either the right or left hand in any direction. It is robust to environmental factors such as extreme light or dust.
Read more...
---
MorphoAccess Sigma Lite
August 2019, IDEMIA , Products, Access Control & Identity Management
IDEMIA's MorphoAccess Sigma Lite and Lite + are fingerprint access control terminals, offering time and attendance in and out function keys.
Read more...
---
Eliminating forced gate opening scenarios
August 2019, ET Nice , Home Security, Access Control & Identity Management
When activated by the gate forced open alarm feature, the transmitter transmits a wireless alarm signal up to 750 metres in any direction.
Read more...
---