printer friendly version
Fire detection systems for multi-storey buildings
June 2017
Fire & Safety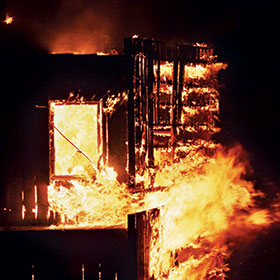 Kudos to the fire fighters from Johannesburg CBD for their swift response following a fire in a multi-storey building in Braamfontein in April 2017. It was reported in both the print and electronic media that no one was severely injured and only a few people were treated for smoke inhalation.
The need for any building to have a fire detection system will be dictated and enforced by local authorities with jurisdiction in that area or by the property insurers. The category and type of fire detection system is determined by a fire risk assessment carried out by a competent person, in consultation with the building owners / users and other consultants. When the category of the system is clearly defined, this then will determine whether there will be a need for automatic detection and where it will be installed, or if it will be manual call points only, or as in most cases a combination of both.
Category L systems are automatic fire detection systems intended for the protection of life. This category of system is ideal for high-rise buildings since the main objective of this category is an effective evacuation of occupants.
The L category is sub-divided from L1 to L5 and the designer of the system will determine the appropriate sub-section applicable to that building. In a high-rise building, smoke detectors will be installed on all escape routes, lift lobbies and stairway landings.
For an L1 Category, it will be detection in all areas of the building. SANS 10139 states that "Manual call points need to be prominently sited, readily distinguishable from non-fire alarm call points and need to be distributed such that, from any point in the building so that it is impossible to leave the storey or the building without passing a manual call point". Sounder pressure levels should be taken into consideration so that in every part of the building the sound is clearly heard, more so if there are people sleeping in that building.
For a multi-storey building the designer of the fire detection system should give consideration that the system will be there to support the fire strategy of the building especially the evacuation procedures. The fire alarm signal should be audible and distinct, leading to an orderly evacuation of the building into a designated safe area. Depending on the size of the building, the designer of the fire alarm system will decide whether there is need for a staged or phased evacuation.
SANS 10139 Part 8.12 addresses staged alarms. The document states: "in a staged fire alarm system, the initial warning of fire is given in a restricted area, or is restricted to key personnel, but can be extended in further stages to warn, ultimately, all occupants of the premises. This arrangement might apply regardless of whether the alarm is triggered by a manual call point or an automatic fire detector, or it might apply only to alarm signals triggered by automatic fire detectors."
The standard further states that "in certain large or high rise buildings, it might be desirable to evacuate first, those areas closest to the fire and immediately above it. This section also gives information on phased evacuation, whereby the floor of fire origin, the floor immediately above (and, often, any below ground areas) are evacuated as a first phase. Thereafter, each subsequent phase involves evacuation of two floors at a time, until all floors are evacuated in a number of such phases. This arrangement enables the number and/or widths of stairways to be reduced; under these circumstances, it is important that no control is provided to evacuate the entire building in a single phase, as there will be insufficient stairway capacity for simultaneous evacuation of all occupants."
An evacuation system is highly recommended to provide voice instructions for safe and orderly evacuation from a building.
SANS 7240-19 covers Evacuation Systems and the document provides guidance on the various aspects of a sound system for emergency purposes.
The evacuation system according to SANS 7240-19 should have the following as a minimum requirement, especially for high-rise buildings:
1. Capability to operate automatically or manually and have manual controls and visual status indicators.
2. Able to receive alarm signals from an emergency detection system(s), and receive audio messages from emergency microphones.
3. Ability to determine signal priority and routing and be able to cause audible warning signals to be broadcast to emergency loudspeaker zones.
4. It is important that the system is able to automatically supervise the correct functioning of the system and give audible and visible warning of specified faults.
For existing buildings, the onus is on the building owners / users to ensure that the fire alarm system is serviced and tested regularly by a competent company and the records are kept. For new buildings, it will be all the relevant consultants in various disciplines working in harmony to ensure a reliable and functional fire detection system is in place. The fire department also needs to be involved, inspecting and ensuring that fire detection and fire protection systems for high-rise buildings are serviced regularly and are in good working condition. It was unfortunate that when the fire department arrived in Braamfontein to combat the fire, they found out that the fire hydrants did not have any water supply.
Ensure that you use an FDIA registered company to obtain proper advice on the protection of your building. For comments and enquiries please contact the FDIA on fdia@fdia.co.za
Credit(s)
Further reading:
Maximum fire protection for the most dangerous places
Securiton Fire & Safety Mining (Industry) Products
Africa's heavy mining and resource processing industries are some of the continent's leading economic lights. They also present some of its toughest fire safety challenges on the planet.
Read more...
---
Preventing forest fires with digital intelligence
Dahua Technology South Africa Fire & Safety Products
Technologies such as dual-spectrum video monitoring, intelligent image analysis and recognition, and three-dimensional positioning, enable the smart system to detect a fire, quickly locate the fire source and automatically send alarm to on-duty personnel.
Read more...
---
Fire safety for solar systems
Fire & Safety
Several fire safety measures should be taken into account to prevent the risk of fires when installing a solar power system; firstly, solar panels must be installed by experienced professionals to prevent fires caused by faulty wiring or overheating.
Read more...
---
The importance of voice alarm integration with fire detection
TOA Electronics Fire & Safety
The primary purpose of a voice alarm system (or voice evacuation system) is for the safety of staff, the public, assets and property, ensuring effective, controlled and rapid evacuation of an area or building during an emergency by providing clear voice instructions to occupants.
Read more...
---
Kidde Commercial launches as new Carrier brand
Fire & Safety News
Kidde Engineered Systems has announced its new brand identity, incorporating the Aritech, Kidde Engineered Systems, Kilsen and Ziton brands rebranded as Kidde Commercial.
Read more...
---
DIY fire extinguisher
Fire & Safety News
A newly launched platform offers underserved communities an easy way to create cheap homemade fire extinguishers to help to tackle one of the biggest challenges in South Africa's informal settlements: the constant threat of fire.
Read more...
---
Technoswitch partners with UK's Hyfire
Technoswitch Fire Detection & Suppression News Fire & Safety Products
UK-based wireless fire technology pioneer Hyfire, has confirmed partnership agreements that will see its products sold in South Africa, for the first time, through local fire and safety stalwart, Technoswitch.
Read more...
---
Bespoke fire-risk systems for agri and food processing
Fire & Safety
ASP Fire highlights its specialised expertise in the agri and food-processing industries, where compliance is vital to save lives, reduce the costs of fire damage, and protect equipment and buildings from major damage.
Read more...
---
Incorporate fire safety in the design phase
Fire & Safety
ASP Fire CEO Michael van Niekerk says companies can prevent their infrastructure project from going up in flames by incorporating fire safety in the design phase.
Read more...
---
Fire-fighting force at Vergelegen
Editor's Choice Fire & Safety Residential Estate (Industry)
Vergelegen wine estate in Somerset West, and its neighbours, are set to enjoy greater peace of mind this summer, thanks to the delivery of a brand new fire truck .
Read more...
---