printer friendly version
The changing face of access control
October 2012
Access Control & Identity Management
It is a concept that has transformed industries, business models and the go-to-market strategy of thousands of products and services. Many experts predict that in a few short years, the effects of the software-as-a-service (SaaS) model on the security industry will be just as transformative, as it rapidly gains acceptance among end users, dealers, integrators and manufacturers.
One area where SaaS is already producing significant change is in access control. While managed access is not a new concept, savvy installers are finding new advantages to this approach, as a way to more efficiently and effectively service their customers and as a tool for additional marketing and customer retention.
In today's lean economic times, selling traditional access control solutions to customers can be a challenge. As most businesses today focus on financial recovery, companies are operating with less staff to handle ancillary functions like managing an access control system, and smaller budgets than ever before.
Many security dealers and integrators, themselves battered by the last few years of downturn in the commercial market, using managed access to reposition their businesses from the traditional break/fix model into a service provider. Instead of revenue chunks from different installations, this approach results in monthly service fees that provide a consistent revenue stream on a monthly and year-to-year basis. Not only does this Web-hosted access control model also offer additional business opportunities to the service provider, but numerous additional benefits to the end user as well.
Dealers and integrators considering adding managed access to their product offerings should become familiar with a few key points before making the jump into offering this hosted solution to their customers.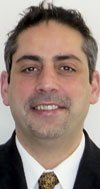 Guido DiPilla
Platform flexibility
Managed access control can come in many flavours and can be customised to meet the varied needs of your customer base, whether a multinational corporation with dozens of locations, a large property management firm with several multi-tenant buildings or a small office with a dozen employees.
With a hosted solution, end users control and manage the access control system through a Web interface to the access control system housed on the dealer's servers. While the end customer is responsible for adding and deleting cards and performing other system management, the dealer knows that the system is regularly backed up and the software is up to date because it resides on his or her local servers.
The managed solution means that the dealer handles all aspects of system management, from managed access cards and access levels of different personnel, automated reporting to video integration and concierge services. End users looking for some hands-on control of their system but who are not equipped to handle full system management can often work with their dealer or integrator to create a custom solution that meets their needs.
Additional revenue opportunities
One significant emerging benefit of some platforms enables dealers and integrators to offer managed access control on a third-party provider basis. This approach allows larger dealers to reap additional revenues by leveraging their existing infrastructure by hosting managed access accounts for other smaller dealers who lack the infrastructure or capital to jump into the game.
Some managed access control platforms allow an easy transition from hosted to managed or a hybrid, allowing customers to dial up or down the three levels of service they require from their systems integrator based on their current needs. Others offer a more focused approach with a solely hosted or fully managed solution.
Additional avenues for marketing
Current versions of managed access control platforms also feature the convenience of the Web for ongoing system use and maintenance. In the past, end users faxed, phoned or e-mailed requests to dealers to add and delete cards, change schedules, and other routine items. Now managed access platforms offer a Web interface where end users can handle many of these functions from any Internet-connected device.
For the dealer, often these user interfaces can be branded with the dealer's company information, and can also be used for targeted marketing purposes. For example, if an end user is logging into the system to add additional cards, a pop message can be programmed to appear asking the end user if it is time to order additional access cards.
The many advancements in managed access control technology, as well as the growing acceptance in hosted and managed solutions, provides a glimpse to the future of this market. Dealers and integrators adopting this type of solution will find themselves well positioned to offer similar solutions as security technology continues to transition to hosted and managed solutions.
For more information contact Tyco Security Products, +27 (0)82 566 5274, emallett@tycoint.com, www.tycoacvs.com
Credit(s)
Further reading:
HID addresses identification challenges at ID4Africa
August 2019 , News, Access Control & Identity Management, Government and Parastatal (Industry)
Being able to verify people's identities is critical for a nation's growth and prosperity and yet HID says nearly half of all African citizens can't prove who they are to vote, travel freely and receive government benefits and services.
Read more...
---
Came acquires Turkish company Özak
August 2019, CAME BPT South Africa , News, Access Control & Identity Management
Came broadens its market horizons and signals growth and consolidation in the Middle East.
Read more...
---
The benefits of electronic visitor management
August 2019, Powell Tronics , Access Control & Identity Management, Residential Estate (Industry)
Access control is a critical aspect of estate security as it represents the controls put in place to restrict entry (and possibly exit) along the outer boundary of the location.
Read more...
---
Addressing risks by means of access control layout and design
August 2019 , Access Control & Identity Management, Security Services & Risk Management
In order to develop a suitable, practical and appropriate security system for any organisation, it is essential to first develop a master security and life safety plan strategy.
Read more...
---
Secure hands-free access
August 2019, Suprema , Access Control & Identity Management, Residential Estate (Industry)
Suprema's facial biometric terminals bring no-touch access into secure residential estates, high-rise apartments and luxury homes providing fast, easy and intuitive user authentication with the added benefit of hygiene.
Read more...
---
MorphoAccess Sigma Extreme
August 2019, IDEMIA , Products, Access Control & Identity Management
MorphoAccess Sigma Extreme from IDEMIA is a touchscreen device with multiple recognition device interfaces (NFC chip reader, PIN and BioPIN codes, contactless card readers).
Read more...
---
Outdoor access terminals
August 2019, Suprema , Access Control & Identity Management, Residential Estate (Industry), Products
Rugged, dust- and weather-proof access control solutions that provide exceptional durability in extreme conditions is a strong requirement for many residential estates.
Read more...
---
MorphoWave Compact
August 2019, IDEMIA , Products, Access Control & Identity Management
The MorphoWave Compact captures and matches four fingerprints on either the right or left hand in any direction. It is robust to environmental factors such as extreme light or dust.
Read more...
---
MorphoAccess Sigma Lite
August 2019, IDEMIA , Products, Access Control & Identity Management
IDEMIA's MorphoAccess Sigma Lite and Lite + are fingerprint access control terminals, offering time and attendance in and out function keys.
Read more...
---
Eliminating forced gate opening scenarios
August 2019, ET Nice , Home Security, Access Control & Identity Management
When activated by the gate forced open alarm feature, the transmitter transmits a wireless alarm signal up to 750 metres in any direction.
Read more...
---