printer friendly version
Face it
October 2012
Access Control & Identity Management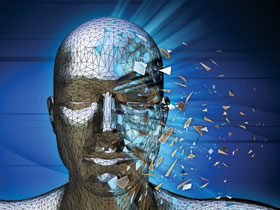 Facial recognition is nothing new. A number of facial recognition terminals have been available for several years. Unfortunately, this type of biometric reader is problematic in the African environment due to a combination of extreme light conditions and dark complexions.
Variations in background illumination have been one of the main challenges for practical face recognition systems. It is well known that variations of the same face due to illumination are generally greater than the variations of different face identities.
Many face recognition algorithms, such as illumination compensation, image preprocessing, illumination invariant feature extraction and modelling of the face and illumination have been created to compensate for this problem. However, these techniques cannot completely compensate for the large variation in the appearance of the same face due to changes in illumination.
Active illumination-based face recognition techniques are considered to be one of the most promising and practical methods for solving illumination issues in indoor applications. It uses an active sensing technology to create desirable ambient illumination, unaffected by uncontrollable surrounding illumination.
It must be noted, however, that this technology has its own limitations, based primarily on the variable distance between the user and the active illuminator. Over-saturation, partial illumination and the lack of illumination are three inherent issues. These can result from the variation of this distance and can significantly impact the characteristics of a face and, in turn, ultimately degrade the performance of a face recognition system.
Suprema's Adaptive IR Illumination Technology solves this issue by controlling the intensity of the illumination based on the analysis of the image as well as various features of the face. The illumination is adaptively adjusted to create the ideal ambient environment for the capture of clear face images.
Non-intrusive and easy to use
Furthermore, the human face is one of the most common and non-intrusive biometrics used to identify individuals. It is more universal, acceptable and easier to access than a fingerprint.
Conventional face recognition technology contains inherent weak points brought about by pose variations. FaceStation's face recognition technology overcomes such weak points with Smart Enrollment Technology, Advanced Face Recognition Algorithm and Adaptive IR Illumination Technology.
Conventional face recognition systems use just the frontal face and thus require the user's active cooperation to establish the correct position. Different poses have the potential to drastically increase not only the false acceptance rate, but also the false rejection rate and therefore greatly affect the overall performance of a face recognition system. To compensate, conventional face recognition systems require the user to control their angle/pose to coincide exactly with how they were enrolled. This is very time consuming and extremely inconvenient for the user.
Suprema's Smart Enrollment Technology solves this problem by using enhanced face analysis algorithms, combined with a systematic procedure to view key poses. The system begins by registering a few frontal face templates. These templates then become the reference for evaluating and registering the templates for the other poses: tilting up/down, moving closer/further, and turning left/right.
Strike a pose
Extensive experimental tests show that each set of poses contributed greatly to the overall performance of the system. With each pose, the facial information including eyes, nose and mouth, is automatically extracted and is then used to calculate the effects of the variation using its relation to the frontal face templates.
Algorithms were also created to automatically detect and reject improper face images during the enrollment process. This ensures proper enrollment and the best possible performance.
Although face recognition has many advantages, the concern against 'Fake Face Attacks' is highly warranted. Face recognition systems cannot be practically used without proper countermeasures to this threat.
Even when compared to a fingerprint, a face can be more easily imitated using printed papers and LCD displays. There have been many attempts to overcome this issue: hardware-dependent approaches such as facial thermogram, facial vein and 3D depth information require incredibly expensive hardware, making it infeasible for practical use. Conventional algorithm-based methods using 2D images, up to now, have not been accurate and required exhaustive calculations/computing power.
Suprema's 'Fake Face Detection' technology combines cutting-edge technology with advanced proprietary algorithms. A dual camera system captures both visible and IR images, which are then processed using advanced image analysis techniques and intelligent machine learning-based classifiers. A fake face is detected by estimating specific features and their distribution is compared to reference models of real faces.
For more information contact neaMetrics, 0861 632 638, info@neametrics.com, www.neametrics.com
Credit(s)
Further reading:
HID addresses identification challenges at ID4Africa
August 2019 , News, Access Control & Identity Management, Government and Parastatal (Industry)
Being able to verify people's identities is critical for a nation's growth and prosperity and yet HID says nearly half of all African citizens can't prove who they are to vote, travel freely and receive government benefits and services.
Read more...
---
Came acquires Turkish company Özak
August 2019, CAME BPT South Africa , News, Access Control & Identity Management
Came broadens its market horizons and signals growth and consolidation in the Middle East.
Read more...
---
The benefits of electronic visitor management
August 2019, Powell Tronics , Access Control & Identity Management, Residential Estate (Industry)
Access control is a critical aspect of estate security as it represents the controls put in place to restrict entry (and possibly exit) along the outer boundary of the location.
Read more...
---
Addressing risks by means of access control layout and design
August 2019 , Access Control & Identity Management, Security Services & Risk Management
In order to develop a suitable, practical and appropriate security system for any organisation, it is essential to first develop a master security and life safety plan strategy.
Read more...
---
Secure hands-free access
August 2019, Suprema , Access Control & Identity Management, Residential Estate (Industry)
Suprema's facial biometric terminals bring no-touch access into secure residential estates, high-rise apartments and luxury homes providing fast, easy and intuitive user authentication with the added benefit of hygiene.
Read more...
---
MorphoAccess Sigma Extreme
August 2019, IDEMIA , Products, Access Control & Identity Management
MorphoAccess Sigma Extreme from IDEMIA is a touchscreen device with multiple recognition device interfaces (NFC chip reader, PIN and BioPIN codes, contactless card readers).
Read more...
---
Outdoor access terminals
August 2019, Suprema , Access Control & Identity Management, Residential Estate (Industry), Products
Rugged, dust- and weather-proof access control solutions that provide exceptional durability in extreme conditions is a strong requirement for many residential estates.
Read more...
---
MorphoWave Compact
August 2019, IDEMIA , Products, Access Control & Identity Management
The MorphoWave Compact captures and matches four fingerprints on either the right or left hand in any direction. It is robust to environmental factors such as extreme light or dust.
Read more...
---
MorphoAccess Sigma Lite
August 2019, IDEMIA , Products, Access Control & Identity Management
IDEMIA's MorphoAccess Sigma Lite and Lite + are fingerprint access control terminals, offering time and attendance in and out function keys.
Read more...
---
Eliminating forced gate opening scenarios
August 2019, ET Nice , Home Security, Access Control & Identity Management
When activated by the gate forced open alarm feature, the transmitter transmits a wireless alarm signal up to 750 metres in any direction.
Read more...
---