printer friendly version
Moving towards practical security solutions
Access & Identity Management Handbook 2013
News
The identity management and access control market is at an exciting point, with technology being available that can bridge the gap between high cost and high-end solutions, and more cost-effective and functional ones. This will essentially help businesses and crime prevention services get more benefit out of them.
Gartner stated earlier this year that companies need to increase their focus on identity and privacy projects that can deliver real value, not just to IT departments – but to the rest of the business. As organisational boundaries erode under the pressure of federation and out­sourcing, and as company control over IT continues to weaken, due to the increased adoption of mobile and cloud services, identity management is becoming more important than ever before.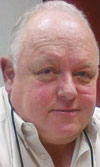 Peter Bouwer
A face for crime
One of the key aspects of identity management and access is that of facial recognition, which has many advantages over other biometrics solutions. It enables faces to be recorded and archived at a distance, acts as a crime deterrent, and helps identify a person immediately or at a later date. More importantly, the contact-free and non-obtrusive procedure makes for a more acceptable and easier integrated identification solution using existing cameras.
The prevention of real-time crimes and tracking persons of interest is difficult to do, due to a lack of accuracy by human eyes, and the cost of manpower to monitor surveillance systems connected to numerous cameras.
There are solutions available that can incorporate embedded face recognition and 3G technologies to integrate with existing CCTV cameras, to offer flexibility and mobility for installation in remote, rugged, and challenging areas. Some solutions also have law enforcement applications that enable mugshot browsing, searching, matching, and filtering via Web-based front-ends. This means that access can be from anywhere, based on authorisation. Intelligence gathering from live cameras can be displayed and searched in seconds. Matching can be performed quickly by uploading local files or via remote devices, such as mobile phones or wireless video servers.
Making technology accessible
Companies are therefore faced with what seems to be a dizzying array of choices. Yet, many of them have been frustrated by the expensive costs associated to having quality facial recognition technologies incorporated into a security system. Far too often this leads to a company buying an off-the-shelf CCTV solution, from a retail store that does not take its specific requirements into consideration. These businesses are then surprised that the quality of the recordings are not good enough to be used as evidence in crime fighting.
Locally, companies need to be educated on the benefits of the respective solutions in order for them to make a qualified purchasing decision. And while many may think this education comes down to more expensive being better, it is a case of implementing systems that can be used as evidence to not only identify those who break the law – but also help to prosecute them.
Thankfully, many companies understand the importance of being pro-active when it comes to identity management and access solutions. These companies are also more open to technology developments than in the past. This could be attributed to the realisation that control over mobile and Internet-based services is virtually impossible to enforce. Solutions that are cognisant of this and empower companies with the tools they need to manage any potential issues before they arise are vital.
The local market is truly at an exciting time for these identity management and access control solutions. We will see quite a shift in how companies adopt these solutions and how law enforcement agencies use them.
For more information contact Mustek Security Technologies, +27 (0)11 237 1364, sergiop@mustek.co.za, www.mustek.co.za
Credit(s)
Further reading:
Online fleet management system
Issue 1 2020 , News
Fleet Domain's online Fleet Management Information System is reducing operating costs and improving safety for South African logistics firms.
Read more...
---
Digital insurance bundle for assets and devices
Issue 1 2020 , News
My CyberCare is a specialist provider of personal, and SMME online cyber insurance, cyber detection and cyber monitoring solutions for both local and global consumption.
Read more...
---
IDEMIA to supply Morocco's national electronic ID cards
Issue 1 2020, IDEMIA , News
IDEMIA will supply Morocco with national electronic ID cards and introduce a secured digital identity online services platform.
Read more...
---
Rockwell Automation to acquire Avnet
Issue 1 2020, Rockwell Automation , News
Rockwell Automation announced it has signed an agreement to acquire privately held Avnet Data Security, an Israeli-based cybersecurity provider with over 20 years' experience providing cybersecurity services.
Read more...
---
Do we really want simplicity?
Issue 1 2020, Technews Publishing , News
Everything today has to be simple, easy and fast. Even access to your bank account has to fit these adjectives and banks spend significant time and money trying to ensure their web and mobile interfaces ...
Read more...
---
Longse Distribution to become LD Africa
Issue 1 2020, LD Africa , News
Brendon Whelan, sales manager for Longse Distribution, announced that the company officially changed its name to LD Africa as of 20 January 2020.
Read more...
---
Three expos in one
Issue 1 2020 , News
Looking ahead to 2020 Vision: combined Securex South Africa, A-OSH EXPO and Facilities Management Expo 2020 promises to be even bigger and better.
Read more...
---
Security events you can't miss in 2020
Issue 1 2020, Technews Publishing , News
Hi-Tech Security Solutions will host a number of focused events in 2020 to highlight the latest in security technology and the operational benefits they deliver.
Read more...
---
David Shapiro to chair ESDA
Issue 1 2020, ESDA (Electronic Security Distributors Association , News
The Electronic Security Distributors' Association (ESDA), established in 1989, has elected David Shapiro as its chairperson for 2020.
Read more...
---
Dimension Data debuts fifth business
Issue 1 2020 , News
Dimension Data has launched its fifth business in the MEA region, Dimension Data Security, aimed at helping organisations in the region address the challenges of today's rapidly evolving threat landscape.
Read more...
---