printer friendly version
Morpho goes extreme
May 2017 Editor's Choice, Access Control & Identity Management, Asset Management, EAS, RFID, News, Security Services & Risk Management
April 2017 saw the international launch of Morpho's (or Safran Identity & Security's) MorphoAccess SIGMA Extreme. Morpho SA's Paul Jeremias also took the opportunity to speak about the future of the company following its acquisition by Advent International.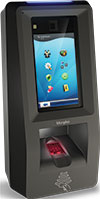 MA SIGMA Extreme.
Taking over from the successful Outdoor MorphoAccess range, the Extreme has been designed for use in the most rugged environments and is rated IP65 to protect it from the elements, as well as IK09 to ensure it can handle rough treatment.
Speaking on the product, the company's Nicolas Garcia said the Sigma Extreme's polycarbonate housing made it a tough device able to withstand UV and weathering, as well as vandalism. This includes the capacitive touch screen, which is unharmed when a 500 g steel ball is dropped on it from a height of 2 m.
To cater for damaged fingerprints or potential dirt on individual's fingers when using the scanner, the Extreme sports a 23 mm x 23 mm optical sensor, which the company says is the biggest on the market. The sensor is FBI PIC IQS certified. The Extreme also includes a loudspeaker in case instructions need to be given to users in noisy environments and a microphone, allowing for 2-way communication.
In cases where additional security is required, the system can also include a camera. This will allow companies to set up the system to only recognise a fingerprint if someone is standing in front of the reader, or it can be used for situational awareness as a control room can access the camera to view a situation at an entrance, for example. The Extreme can also be used as an IP videophone.
A full web server is also onboard. This will allow administrators to connect to the device directly to set it up, enrol fingerprints or access transactional logs. The Extreme can also be set up remotely from a central server. Morpho has also made it easy to integrate the product into existing access or time-and-attendance scenarios with various software options.
For organisations still using card access, either as stand-alone or multi-factor security solutions, the Extreme has the option to use a variety of contactless cards as well. The card options include Prox, iClass, MiFare/DESFire/NFC.
Opportunities ahead
Jeremias addressed the future of the company briefly in light of the news last year that Advent International was going to be the new owner after its 2.4 billion euro acquisition. He stated that there would be changes to the company due to Advent also having Oberthur in its stable, but reassured customers that it was business as usual and that Morpho SA would still be focusing on its customers and users to ensure a seamless transition. As proof of this commitment, he noted the new employees Morpho has brought on board over the past year, who were present at the event.
Oberthur Technologies is a global player in digital security solutions for the mobility space. The company provides end-to-end solutions in smart transactions, mobile financial services, machine-to-machine, digital identity and transport and access control fields, employing over 6 000 employees worldwide. The technologies from the two companies are therefore complementary and Jeremias said the companies would spend the next couple of months strategising on the road ahead and how to optimise the strengths of both companies.
A new entity will emerge, with a new name, but this will only be announced later this year. Jeremias also noted that the changes would only provide additional benefits to clients and the combination of two market leaders would only serve to enhance the confidence customers have in the products and services available.
Credit(s)
Further reading:
Key criteria in the selection of CCTV control room operators
Issue 5 2020, Leaderware , Editor's Choice
Some people are better at aspects of the job of CCTV operator than others, and some companies put in a lot more effort in choosing their operators than others.
Read more...
---
Leaders in risk and security: As long as there are people, there will be risk
Issue 5 2020, iFacts, Technews Publishing , Editor's Choice
Jenny Reid is a self-made success, focusing on people, the risks they create and the potential they have.
Read more...
---
XProtect available on AWS
Issue 5 2020, Milestone Systems, Technews Publishing , Editor's Choice
Milestone recently announced the availability of XProtect on Amazon Web Services. Hi-Tech Security Solutions asked Keven Marier for more information.
Read more...
---
Contactless at the game
Issue 5 2020, IDEMIA , Access Control & Identity Management
IDEMIA partners with JAC to successfully test frictionless biometric access technology at Level5 Stadium in Japan.
Read more...
---
From data centre to edge, from one source
Issue 5 2020 , Editor's Choice
First Distribution (FD) is better known in South Africa as an ICT distributor with an enterprise focus. Its offerings in this regard range from client solutions through to hosted solutions, data centre ...
Read more...
---
Paxton launches access and video management
Issue 5 2020, Paxton Access , Editor's Choice
Paxton's next-generation access control and video management system, Paxton10, officially launched in South Africa on 2 July 2020. Paxton10 is the next step in complete security solutions and combines ...
Read more...
---
The evolution of security in residential estates
Residential Estate Security Handbook 2020 , Editor's Choice, Integrated Solutions, Security Services & Risk Management
Two large estates discuss their security processes and the ever-expanding scope of responsibilities they need to fulfil.
Read more...
---
The COVID test for estate business continuity planning
Residential Estate Security Handbook 2020, Technews Publishing , Editor's Choice
Many estates were caught unaware when the COVID-19 pandemic and subsequent lockdown hit. Helderberg Village was ready for the challenge.
Read more...
---
Bang for your security buck(s)
Residential Estate Security Handbook 2020, Alwinco , Editor's Choice, Security Services & Risk Management
Hi-Tech Security Solutions asks how estates can maintain a good security posture in the time of the ever-shrinking budget.
Read more...
---
Local or remote management
Residential Estate Security Handbook 2020, Xone Integrated Security, Vox Telecom, Fidelity ADT , Editor's Choice
Hi-Tech Security Solutions asked three companies well versed in offering control room services – either remote, local, or both – what's happening in the estate monitoring and/or management market.
Read more...
---