printer friendly version
Mobile employee tracking
November 2016 Access Control & Identity Management, Asset Management, EAS, RFID
Econz Wireless has released its latest update to the popular Timecard GPS and Timecard GPS Lite solution.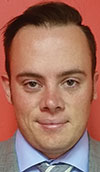 Thomas Marshall, Econz SA national sales director.
"This is a major rebuild of both Timecard GPS and Timecard GPS Lite. We have examined both applications and features and included input from our local customers," says Thomas Marshall, Econz SA national sales director. "In addition, uptake of the solution in our South African base has not only grown steadily in the three years since we put staff permanently on the ground here, but these customers have consistently requested features they needed to track and manage their mobile and field service staff.
"When a customer asks for a customised feature or report, we just do it and deliver it to them. South African customers are not shy to ask for something they need and many of these developments have been included in more generic forms in the new build," he says. "We consider this build to be the most significant and major upgrade in the past three years."
The upgrade is free to customers from the PlayStore and customers and resellers should ensure all their devices are updated as soon as possible.
Features and benefits include:
• 50% reduction per hour in battery usage on Android devices – phones and tablets.
Alerts:
0 Speed triggers – alert sent to management when speed limits exceeded in vehicles. Prevents accidents and reduces fuel costs.
0 Clock in and clock out alerts: alerts management or team leaders when a staff member does not clock in. If a complete no show, enables managers to call to ascertain whether to send a replacement and also lateness and absenteeism can be tracked. Clock out to specified times enables managers to track fraudulent overtime claims.
0 PIN codes: issuing specific PIN codes allocated to each individual where they are required to check in at specific, pre-set periods – 15 minutes, 30 minutes etc – to ensure employee is awake, in the correct location etc.
0 Employee Active Alert functionality added. Now administrators can set-up an automatic alert for the employees to confirm if they are actively using the application. In case the alert is ignored, the system can send a message to the employee as well as an email notification for the managers that the employee may not be active.
0 Google Traffic in the Timecard Map: Have you ever wondered if there was a simpler way to send your employees quickly to a location taking traffic into consideration? Now you can check Google traffic from your Econz web portal and advise staff of alternate traffic-free routes.
• Hierarchical Reporting: allows for regional, local, general managers, team leaders and supervisors to request only their team, regional staff or all staff reports, according to needs.
• Schedule Multiple Reports: Some customers need to have all their reports sent to their email without even accessing the web portal. 'View Scheduled Reports' is a new feature that allows supervisors and managers to schedule reports according to their needs by date period, start and end period date, add or remove any other reports temporarily or permanently, and sent automatically to your email as either HTML or CSV Spreadsheet.
• GPS Location Report is now showing the specific tasks for the employees selected, so this will be very valuable for administrators to match the employees' log in with the expected location.
• Setting up Web Team Leaders: The system now has the capability to add Web Team Leaders, which are managers with web access that have limited access and view of company employees. This is particularly useful for companies that have many teams with their own managers and would like to restrict the users that they need to have access to. They will be able to perform:
0 Monitor the map for GPS movement.
0 Manage jobs and team members for assigned teams.
0 View reports for the assigned employees.
This new build is available now from the PlayStore and customers only need to update their current versions on all their phones/tablet. The Econz blog is also live and contains instructions for certain new management reports at http://econzwireless.blogspot.com . A video is also available at https://www.youtube.com/watch?v=LjxMZpo2I-0&feature
Further reading:
Improved security health check tool
Gallagher Access Control & Identity Management Products
Gallagher Security has streamlined its free Security Health Check tool, making it easier than ever to protect against potential system risks and improve business efficiencies.
Read more...
---
Suprema showcases integrated security solutions
Suprema Access Control & Identity Management Products
Apart from being an access terminal that supports multiple credentials such as facial recognition, RFID, mobile and QR codes, the BioStation 3 also supports VoIP Intercom and real-time video monitoring features to make it a truly multi-functional reader.
Read more...
---
Local electronic locks
Access Control & Identity Management
YeboTech is an electronics manufacturing company, founded in 2005, which designs, markets and sells an electronic key and locking systems, aimed at replacing all conventional mechanical locks.
Read more...
---
Selecting the correct access control system
Enkulu Technologies Access Control & Identity Management
Frazer Matchett, Managing Director of Enkulu Technologies, suggests the right questions to ask when selecting an access control solution; not just the access system, but the integrated solution that fits your requirements.
Read more...
---
Integrated guarding services
XtraVision Integrated Solutions Access Control & Identity Management Industrial (Industry)
XtraVision offers a few tips on how to go about planning and setting up an integrated approach to sustainable and successful security services, from the initial risk assessment to the technology and people required.
Read more...
---
Paxton secures multi-tenant office in Cape Town
Paxton Integrated Solutions Access Control & Identity Management Products
Cecilia Square in Paarl, Cape Town is an office building from where several businesses operate. The multi-tenant site has recently undergone a full refurbishment, including a complete upgrade of its security system for access control.
Read more...
---
AI face recognition OEM module
Suprema News Access Control & Identity Management Products
Suprema AI, a company specialized in artificial intelligence–based integrated security solutions, recently launched its high-performance face recognition OEM module called 'Q-Face Pro' in response to the growing need for contactless security solutions.
Read more...
---
KWAL raises a glass to security upgrade
Turnstar Systems Access Control & Identity Management Products
The Kenya Wine Agencies Limited (KWAL) was in need of an integrated security upgrade. This is where Turnstar came into the picture to provide a solution that would keep KWAL secure and efficient.
Read more...
---
Dahua Insider Series for touchless access
Dahua Technology South Africa Access Control & Identity Management Products
The Insider Series Access Control Solution offers touchless access (via Bluetooth) using the DMSS mobile app; it has three distance modes and two trigger modes (normal and shake).
Read more...
---
Time and attendance with a difference
Access Control & Identity Management
The Platinum Mobile app allows employers to track employees work hours, location, leave and more, when employees do not have access to the office clocking terminal, are onsite or out in the field visiting clients.
Read more...
---