printer friendly version
Seeing through the fog
June 2016 Government and Parastatal (Industry), CCTV, Surveillance & Remote Monitoring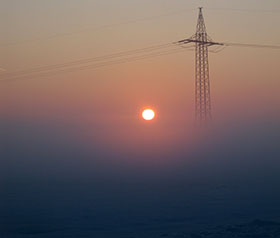 Surveillance has become part and parcel of the vast majority of security solutions today, as it is an essential tool in the fight to minimise the impact of crime. A surveillance solution can help organisations, both public and private sector, to more effectively detect and deter criminals, prevent crimes from happening, and provide evidence after the fact should a crime occur.
These benefits are well understood, however many public sector, government and parastatal organisations face a significant challenge when it comes to effective surveillance. These organisations often have large premises and subsequently sprawling perimeters, which must be monitored to prevent unauthorised entry, and standard CCTV solutions are often not up to the job. Thermal imaging cameras, with the addition of intelligent analytics, offer the ideal solution, providing visuals of entire perimeters and long-range views in all weather and lighting conditions for effective surveillance in any conditions.
The lighting conditions of the area to be monitored can have a significant effect on the quality of images produced by the cameras. Regular CCTV requires the right levels of ambient lighting to produce usable images, which means that during the hours of darkness, security vulnerabilities can occur in areas where additional lighting cannot be provided. Even in areas where additional light is available, this vulnerability can be exploited by disabling the light sources, which is one reason why the majority of crimes occur at night. In addition, bright lights such as car headlights can obscure images, making them unusable. Furthermore, weather has an impact on the effectiveness of standard CCTV, with conditions such as heavy rainfall, fog and smoke obstructing the camera's view.
Thermal imaging cameras are the perfect solution to these problems, as they operate not by direct visual but by detecting the heat signatures generated by people and objects and using this to generate a picture of the environment. This means that thermal imaging is just as effective at night as it is during the day, and is unaffected by bright lights, inclement weather and adverse environmental conditions. In addition, military-grade thermal imaging cameras have low power requirements and multiple lens options, and have a range of up to 2 kilometres, depending on the lens used, making them ideal for use in surveying and monitoring large perimeters or even for reducing the total number of cameras required in a CCTV setup.
To extend the effectiveness of thermal imaging, intelligent video analytics can be used to detect threats and distribute alerts in real time, triggering alarms when exceptions in the images occur. For example, video analytics technology is able to positively identify intrusion with up to 98% accuracy and can differentiate between animals, humans and vehicles. With the knowledge of the nature and exact location of a perimeter alarm, security personnel can respond more quickly and effectively. Smart analytics can also be used for access control and to enforce no-go zones, as alarms can be programmed to trigger should non-compliant behaviour be detected. Other suspicious behaviours such as loitering can be automatically detected and alerted. With the ability to learn from prior events, smart analytics can also minimise the number of false alarms over time for a more efficient response to events and more effective crime detection and prevention.
Thermal imaging cameras can easily be integrated into existing CCTV solutions to augment standard solutions with powerful visuals in any conditions. Leveraging the power of analytics, organisations can be assured of effective surveillance 24 hours a day, seven days a week, regardless of the time of day, the lighting or the weather. This is ideal for securing large perimeters and detecting and preventing unauthorised access as well as criminal elements.
For more information contact Graphic Image Technologies, +27 (0)11 483 0333, laurence@git.co.za, www.git.co.za
Credit(s)
Further reading:
Keeping students, staff and communities safe
Vumacam News CCTV, Surveillance & Remote Monitoring Security Services & Risk Management
South African schools are facing increasing security challenges, making effective surveillance systems more important than ever. To address this issue, Vumacam is offering advanced security solutions with security partners, aimed at keeping students, staff, and the community safe.
Read more...
---
Heightening physical security at military base
Turnstar Systems Access Control & Identity Management Government and Parastatal (Industry) Products
Turnstar Systems recently installed two 3-metre Velocity Raptor traffic spikes at the South African National Defence Force (SANDF) Randfontein military base on Gauteng's West Rand.
Read more...
---
Arcules and IMMIX announce integration
News CCTV, Surveillance & Remote Monitoring Products
Arcules has announced that its integration with Immix Central Station and Guard Force is available. The integration provides Central Station and Guard Force users a way to manage, verify, and respond to security events, while using Arcules-managed video feeds.
Read more...
---
Developing an effective CCTV control room culture
Leaderware Editor's Choice CCTV, Surveillance & Remote Monitoring Training & Education
Organisational culture in organisations can be seen as the set of values, practices, focus, standards and behaviours, and ways of interacting with others that are accepted and subscribed to by the people who work there.
Read more...
---
Eagle Eye Networks releases 2023 Video Surveillance Trends Report
Eagle Eye Networks News CCTV, Surveillance & Remote Monitoring
Eagle Eye Networks has released the 2023 Trends in Video Surveillance ebook, identifying five trends that will have the largest impact on businesses around the globe in 2023.
Read more...
---
Stainless steel 8 MP dome
Axis Communications SA Products CCTV, Surveillance & Remote Monitoring
Enclosed in marine-grade stainless steel (SS 316L) and DNV-certified, the AXIS Q3538-SLVE can withstand the corrosive effects of seawater and cleaning chemicals.
Read more...
---
Axis launches P3265-LVE dome camera
Axis Communications SA Products CCTV, Surveillance & Remote Monitoring
Based on ARTPEC-8 — the latest Axis system-on-chip (SoC) — Axis' latest dome high-performance camera includes a deep learning processing unit (DLPU), and cybersecurity features.
Read more...
---
Expanding digitalisation of customs
Government and Parastatal (Industry)
Bidvest International Logistics provides an inside take on where we stand and what we need to do to achieve a gold standard in developing digitised customs.
Read more...
---
eGate global hardware revenue to grow by 137% between 2023 and 2027
Government and Parastatal (Industry) Access Control & Identity Management News
A new study from Juniper Research has found that eGate hardware revenue will exceed $490 million by 2027; up from $207 million in 2023. The report, Border Security Technologies: Emerging Trends, Key Opportunities ...
Read more...
---
The future of AIoT
Hikvision South Africa News CCTV, Surveillance & Remote Monitoring
Hikvision hosted its 2022 Shaping Intelligence Summit in Bali, Indonesia, on 29-30 November, where the company, its customers, and technology and solution partners, looked into the future of AIoT and explored paths to shared success.
Read more...
---