printer friendly version
Perimeters still the first line of defence
June 2016 Government and Parastatal (Industry), Perimeter Security, Alarms & Intruder Detection
Government departments and parastatals continuously need to increase the security of their assets. Traditionally, National Key Points and prisons were the priority for security projects, however the focus has shifted to more mainstream assets belonging to education, healthcare facilities and water works treatment facilities amongst others.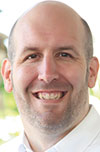 Dan Edwards, Betafence South Africa.
National Key Points in South Africa will always attract the highest security specifications available at the time and more focus has been dedicated to longer-lasting solutions with guarantees and longevity of products being scrutinised more carefully.
Total integration solutions have become the norm rather than the exception and educated security consultants are increasingly being utilised to specify tried and tested solutions. Government is now looking progressively more at ISO 9001 certification during its adjudication processes.
Increased crime and vandalism make hardening perimeter security around these assets essential. Because of the increase in vandalism and opportunistic theft in the local areas, government assets such as schools, clinics, pump stations and electrical plants have become targets for the theft of removable items. Departments within the government sector are now looking at securing their assets using perimeter fencing as the primary stopper.
As part of the process in securing the perimeter of these assets, government came to understand several key things:
1. The fencing system is the backbone of any perimeter solution. It needs to be fit for purpose i.e. a rural school may require a different solution to a school in the city. Likewise, a railway station requires a different solution to a hospital.
In the case of education, three specification documents have been produced with drawings placed in high, medium and low security categories. It is then up to the wards to determine the threat probability in that area and allocate a category. The tender is then produced with design layout and full specification allowing very little room for individual contractors to manipulate or change the specification as a play on words. In most cases in the Eastern Cape, a product declaration form has to be submitted by the tenderer in order to be considered, verifying that the product and specification specified has been quoted on and will be used to complete the project.
2. Standardisation of solutions and products is critical not only for aesthetic aspects but also to make the specification and procurement process as efficient as possible. Standardising products ensures cost-effective repair and extension.
3. Guaranteed quality is critical for lifecycle costs. This applies to the quality of base material, manufacturing methods and coatings. By using suppliers with under-written coating guarantees on their products together with ISO 9001 certification, customers will be assured of improved aesthetics and useful life of the product.
Implementing agents have realised over time that concrete palisade and galvanised palisade fencing is easily broken through and are high maintenance solutions. Palisade fencing is easily disassembled and invariably lands up in the scrap yard. The pricing of PVC-coated medium-security products and palisade fencing is so similar nowadays that palisade is often being overlooked.
In summary, the perimeter fencing of government and parastatals assets has evolved and continues to do so to meet the challenges faced on a daily basis. This evolution has only been possible through the joint efforts of the respective government departments, security consultants and manufacturers with all understanding that it is an ongoing process rather than one-off project.
Credit(s)
Further reading:
Securing perimeters of secure locations
November 2019, Axis Communications SA, Modular Communications, Hikvision South Africa, Nemtek Electric Fencing Products, Technews Publishing, Stafix , Government and Parastatal (Industry), Perimeter Security, Alarms & Intruder Detection, Integrated Solutions
Hi-Tech Security Solutions asked a number of companies offering perimeter security solutions for their insights into protecting the boundaries of national key points.
Read more...
---
Perimeter protection in Ghana
October 2019, AcoustAlert , Mining (Industry), Perimeter Security, Alarms & Intruder Detection
A gold mine in Ghana has erected a dual fence with AcoustAlert PIDS fence detection on both inner and outer fence lines.
Read more...
---
AI is transforming the security industry
September 2019, Fidelity ADT , Perimeter Security, Alarms & Intruder Detection
Artificial intelligence (AI) is no longer a futuristic, fictional concept. The truth is we are living the future now.
Read more...
---
Securing Savannah Hills Estate
Residential Estate Security Handbook 2019, Rhyco Risk Projects , CCTV, Surveillance & Remote Monitoring, Perimeter Security, Alarms & Intruder Detection
Savannah Hills Estate in Midrand planned a security upgrade which was awarded to Rhyco Risk Projects. The project started in March 2019 and was completed in May 2019.
Read more...
---
HID addresses identification challenges at ID4Africa
August 2019 , News, Access Control & Identity Management, Government and Parastatal (Industry)
Being able to verify people's identities is critical for a nation's growth and prosperity and yet HID says nearly half of all African citizens can't prove who they are to vote, travel freely and receive government benefits and services.
Read more...
---
Enhancing perimeter security with video
June 2019 , CCTV, Surveillance & Remote Monitoring, Perimeter Security, Alarms & Intruder Detection
Securing perimeters, whether they surround an airport, seaport, or an oil and gas facility, require a layered approach.
Read more...
---
A secure home on your phone
June 2019, Fidelity ADT , Perimeter Security, Alarms & Intruder Detection
The latest offering in home security from Fidelity ADT is a product that gives the customer the control they need over their home security – no matter where they are.
Read more...
---
Smart integration for complete home security
June 2019, Inhep Electronics Holdings , Perimeter Security, Alarms & Intruder Detection, Residential Estate (Industry)
IDS is integrating its IDS X-series control panels, X-wave2 wireless technology, Optex's sensing systems and the HYYP Smart Home and Control Room System in one platform.
Read more...
---
Intruder detection is becoming smarter and more mobile
May 2019, Elvey Security Technologies , Regal Distributors SA , Editor's Choice, Perimeter Security, Alarms & Intruder Detection
Alongside the new technologies continually being developed, existing technologies are being co-opted into not only performing an intrusion detection role, but combatting that bane of the electronic security industry: false alarms.
Read more...
---
Solid perimeter security measures are still the best deterrent
May 2019, Fidelity ADT , Access Control & Identity Management, Perimeter Security, Alarms & Intruder Detection, Residential Estate (Industry)
Crime in South Africa is still a problem, despite an abundance of security measures and technological advancements; however, a durable perimeter is will withstand the test of time.
Read more...
---