printer friendly version
Building sustainable smart cities
June 2016 Government and Parastatal (Industry), Integrated Solutions, Security Services & Risk Management
When building sustainable cities, it is vital to first understand the difference between a smart city and a sustainable city. According to Mark Walker, associate vice-president of IDC sub-Saharan Africa, Middle East and Turkey, a smart city can be defined as a city that is completely connected and where that connectivity is used to enhance communication, security, the movement and monitoring of people and interdepartmental communications, to name a few.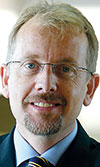 Mark Walker, associate vice-president of IDC sub-Saharan Africa, Middle East and Turkey.
"It's basically the Internet of Things as applied to a city," he says. A sustainable city, on the other hand, implies that these elements are in place, that it continues and is not a once-off project.
"The problem with the consequent smart city is that it requires many systems to be working together and often what happens is that 'smart parts' are implemented as point-in-time projects and they're not sustainable," says Walker. "A sustainable smart city is where the parts are 'smart', integrated and they continue working."
He cites Nairobi as an example, where there is a smart city concept specifically around traffic management, but because it is not integrated with other parts of the city, it is not as effective as it could be, making the sustainability of the system questionable.
An integrated approach is crucial
For better understanding, Walker provides the example of the electricity billing process. "Similarly, when a city provides electricity to citizens, there are multiple players involved in the transaction. It is the electricity supplier, the consumer and the municipality involved. In a smart city, all the billing is connected and the consumption patterns are understood. So, if a person misses a payment, for instance, but their supply has been constant over time, the city can see that and question why they haven't paid and relate that back to consumption."
He adds that active metering services would allow municipalities to be a lot more precise in terms of provisioning and managing electricity, enabling them to also detect fraud. "If people are compromising their meter to get free electricity, the city can detect major discrepancies in consumption. That's an example of a smart city solution, but if there isn't integration between the billing department at the municipality and the supplier, it can't happen."
Walker believes that while there is some level of awareness and understanding of the value of a smart city, poor execution and implementation is standing in the way of it becoming a reality, with the two biggest pitfalls being budget and political will.
He says that Gauteng came close with the 2010 Soccer World Cup, but only on the aspect of security. "That was an example, to a degree, of how a smart city can work. There was an understanding of the ticket sales, where the people would be moving from time to time, which enabled the synchronisation of traffic flow and availability of services. This was as a result of coordination between government and the citizen and also with enterprise and making that work together. So, there's an understanding of smart cities, but it is also limited. People get the picture and they like the picture, but the execution and the implementation are still a long way off."
It's a full-time responsibility
While both public and private sector have a role to play, solid planning is crucial to successful smart city implementation. "Ideally, it would be government-led or city-led, but that should be a specific responsibility and not a sub responsibility. It's not a case of it just being a sub-set of the CIO or the City Manager's responsibilities. There has to be a person with serious decision-making power to drive the project and this person has to be able to work across various functions within the city to ensure all the elements are brought together from ICT to logistics, from process to people. A smart city is a much broader discussion than just technology."
With South Africa already facing service delivery protests on a regular basis, smart cities could alleviate many of the challenges and improve citizen satisfaction. "Government service delivery will immediately be improved, without a doubt," says Walker. "The problem is that there is a massive degree of transparency that comes with a smart city and government departments or municipalities might not necessarily be ready for that level of transparency."
Moving beyond just the conversation
From a technology vendor perspective, the conversation around smart cities has started, but it is still at the very first stages of promotion, advertising what it is and defining smart cities. We are still at the start of the education phase. "We haven't even moved into the prioritisation and execution phases yet. There is also the risk that smart cities can become like cloud and big data, just another ICT hype cycle."
Walker believes that the country is now at a point where it must define what smart cities are, what benefits they can bring to both local government and citizens and how to then prioritise and implement the right solutions to derive the most benefit from the investment. "The final step is then to determine how you coordinate all the priorities to ensure you deliver a smart city, that you can afford, implement and sustain," he concludes.
Further reading:
Off-grid power solution for residential estate
Editor's Choice Security Services & Risk Management Residential Estate (Industry) Products
Coral Beach Estate, an upmarket residential estate based in East London, has been struggling with load shedding and power outages due to South Africa's energy crisis, as well as the vandalism of its power infrastructure.
Read more...
---
SafeCity Guarding rolls out across 14 suburbs in Johannesburg
News Security Services & Risk Management
In a major drive to provide communities across Johannesburg with additional safety, Vumacam, in partnership with Fidelity ADT and other security providers across the region, rolled out the innovative SafeCity Guarding initiative in 14 suburbs.
Read more...
---
FleetDomain underpins Afrirent's value proposition
Logistics (Industry) Security Services & Risk Management
Afrirent, a 100% female black-owned fleet management company, has been relying on FleetDomain software for a number of years to help it deliver outstanding service to a growing number of clients.
Read more...
---
Keeping students, staff and communities safe
Vumacam News CCTV, Surveillance & Remote Monitoring Security Services & Risk Management
South African schools are facing increasing security challenges, making effective surveillance systems more important than ever. To address this issue, Vumacam is offering advanced security solutions with security partners, aimed at keeping students, staff, and the community safe.
Read more...
---
Technology is key to securing physical and cybersecurity
Education (Industry) Security Services & Risk Management
The interpretation of security in educational institutions depends on whom you are talking to and whether their focus is on the physical security of the institution, its assets and its people, or its information and communication technology perspective.
Read more...
---
Recession? Do not skimp on cybersecurity
Cyber Security Security Services & Risk Management
While economists are studying their crystal balls, businesses have to prepare for the worst, and preparing for a recession means cutting costs and refocusing resources; however, they must ensure they do not end up creating an enormous risk.
Read more...
---
Heightening physical security at military base
Turnstar Systems Access Control & Identity Management Government and Parastatal (Industry) Products
Turnstar Systems recently installed two 3-metre Velocity Raptor traffic spikes at the South African National Defence Force (SANDF) Randfontein military base on Gauteng's West Rand.
Read more...
---
Innovation and service, 37 years and counting
Technews Publishing Impro Technologies Access Control & Identity Management Integrated Solutions
Innovation, simplicity and trust underpin the nearly 40 years of success of local access control brand, Impro Technologies, which is still run as an independent entity despite being acquired by ASSA ABLOY in 2016.
Read more...
---
How to avoid a wipeout
Arcserve Southern Africa IT infrastructure Security Services & Risk Management
Wiper malware aims to delete your data permanently and cause as much destruction as possible. Byron Horn-Botha, Business Unit Head at Arcserve Southern Africa offers readers three steps to protect the organisation from these malicious applications.
Read more...
---
Improving safety and security
Gallagher Education (Industry) Access Control & Identity Management Integrated Solutions
Education facilities have more than enough to deal with when it comes to allocating budget. Security often seems to be the last item on the agenda but is more important than ever.
Read more...
---