printer friendly version
Offline control for hosted access
May 2016 Access Control & Identity Management, IT infrastructure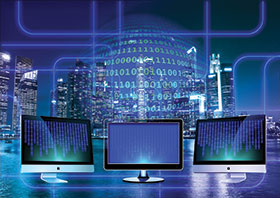 Cloud-based identity and access control (IAC) makes great sense, until you lose connectivity. If that happens you want your onsite access control controllers to be 100% operational in terms of intelligence – smart enough to continue to provide access control at complete functionality in offline mode. Johnson Controls' P2000 access control solution is one of a very few that can make that happen.
Says Neil Cameron, GM: Johnson Controls Building Efficiency, Building Efficiency: Africa: "Cloud-based IAC is very useful. It's centralised, can be accessed from anywhere and it can be automated. It removes the burden of administering multiple disparate enterprise access systems. With a single set of security policies, it can drive security standardisation across business systems, disparate facilities and even geographies. And there is the convenience factor: with an IAC server in the cloud, it's easy to change business sites. There is no doubt that it is the way to go, but only if you have thought it through.
"If, for whatever reason, the business loses connectivity to the cloud-based IAC system, the system needs to perform fully in off-line mode in order to keep facilities open, control access to sensitive areas, and ensure important events – such as HR-driven interventions (e.g., maximum overtime, body searches or scans, etc) – raise alerts. That can only happen if the IAC intelligence – the data, configuration, and policies – remain accessible in offline mode.
The P2000
Each onsite P2000 access control controller has a built-in server with robust processing capability, sufficient RAM to store a database of critical access information, an IP-based Windows OS, and peer-to-peer communications capabilities to ensure uninterrupted and uncompromised access control.
The P2000 offers seamless identity management, managing a single credential that propagates across physical security, logical (IT) security, and business (ERP) systems. It enables users to:
• Create a credential and assign access management rights.
• Manage employee, contractor, and visitor credentials through a centralised command centre.
• Automatically assign access rights based on roles from compliance rules.
• Enforce work rules including min/max hours, min/max occupancy, training and drug testing intervals, etc.
• Propagate identity and access management based on changes to employment status, changes in job function, or changes in threat level.
• Automatically check identities against black lists/white lists.
• Generate reports for compliance and risk management audits.
The P2000 provides the control of an integrated technology platform. Its open system technology uses IT network infrastructure and enables integration with multiple systems and devices, including access control, video surveillance and building management systems.
It will work with virtually any security and building system technology or equipment currently installed, as well as with new technologies. It can be hosted in the cloud and has the capacity to connect to multiple facilities across geographies. The technology platform allows centralisation of security and building operations, via the Web or installed network.
Operators get access to real-time views of your facility, even in multi-campus sites, on any Web-based computer or handheld device. Its capabilities include:
Alarm and event management
• Access control policy enforcement: Security threat level control, elevator access control, cabinet access control.
• Situational awareness: interactive real-time maps, area management, guard tour tracking.
• Alarm handling – Alarm prioritisation – Predefined alarm response text – Alarm escalation.
Identity and cardholder management
• Identity information management: HR system integration, visitor management, custom card format creation.
• Access privilege management: user-definable approval process for cardholder modifications, maximum inactive period, badge temporary access.
• Compliance management – electronic records, electronic signature validation, robust reporting.
For more information contact Johnson Controls, +27 (0)11 921 7141, neil.cameron@jci.com, www.johnsoncontrols.com
Credit(s)
Further reading:
Blurring the lines between data management and cybersecurity
Cyber Security IT infrastructure
In the past, data management and cybersecurity would fall under separate domains, but with more organisations making the shift to the cloud, data management and data protection have merged, essentially blurring the lines between the two.
Read more...
---
Heightening physical security at military base
Turnstar Systems Access Control & Identity Management Government and Parastatal (Industry) Products
Turnstar Systems recently installed two 3-metre Velocity Raptor traffic spikes at the South African National Defence Force (SANDF) Randfontein military base on Gauteng's West Rand.
Read more...
---
Zero Trust to dominate 2023
Cyber Security Access Control & Identity Management
Traditional ways of safeguarding data are no longer sufficient in 2023. Zero Trust has emerged as a more proactive way for businesses to keep their systems, data, and networks protected against compromise.
Read more...
---
Turnstar opens an office in the UK
Turnstar Systems News Access Control & Identity Management
Turnstar Systems recently established an office in the Greater Manchester borough in the North East of England, as part of the company's ongoing expansion strategy.
Read more...
---
Enkulu Technologies to distribute Brazil's Control iD
News Access Control & Identity Management Products
Enkulu Technologies has been appointed as the first South African distributor of Control iD products; a Brazilian company offering a T&A range of solutions based on its range of biometric products.
Read more...
---
HID Technology Seminar
Technews Publishing HID Global News Access Control & Identity Management Products
HID Global's technology seminar introduced partners and distributors to the company's new Signo range of readers and highlighted the benefits and global growth of mobile access credentials.
Read more...
---
Celebrating a successful year
Gallagher Technews Publishing News Access Control & Identity Management Products
Gallagher Security hosted an end-of year event at the Steyn City Equestrian Centre in which it thanked its partners for another successful year and provided a glimpse into what the company will be releasing in 2023.
Read more...
---
Innovation and service, 37 years and counting
Technews Publishing Impro Technologies Access Control & Identity Management Integrated Solutions
Innovation, simplicity and trust underpin the nearly 40 years of success of local access control brand, Impro Technologies, which is still run as an independent entity despite being acquired by ASSA ABLOY in 2016.
Read more...
---
Access control for one of Britain's oldest boarding schools
Access Control & Identity Management Education (Industry) Products
In 2022, Christ's Hospital School, which hosts 18 boarding houses on site, needed to replace its access control security system with a new solution that would be simple to manage and maintain.
Read more...
---
Hardening physical security against cyberattacks
Genetec Editor's Choice Cyber Security IT infrastructure
As the world becomes increasingly interconnected through the move to cloud computing and Internet of Things (IoT) devices, cybercrime has risen steadily, along with tools to combat it. Geopolitical tensions have the potential to rapidly unleash devastating cyberattacks worldwide.
Read more...
---