printer friendly version
Safety and security goes hand in hand
May 2016 Mining (Industry), Fire & Safety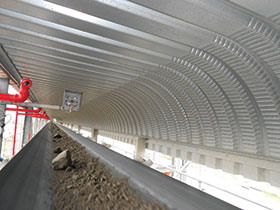 Before choosing a suitable safety and security solution from the multiple systems available, it is imperative that a total risk analysis is carried out to determine potential high risks. There are multiple fire safety systems and products on the market; however there is no one size fits all solution.
Cutting-edge technology can be applied to create safe working and operational conditions by monitoring and controlling remote detection devices. Products and solutions must prevent operational delays and damage through early detection and appropriate suppression in identied risk areas.
Sperosens provides innovation through the design, manufacturing, installation, management and maintenance of safety solutions that enables its clients to focus on their core business. Solutions include:
• Fixed fire detection and suppression systems using various technologies such as water and foam mist, condensed aerosol flooding suppression and clean gas agents. All these products are non-toxic and environmentally friendly.
Condensed aerosol and clean gas agents leave no residue or mess to clean up after activation and are ideal for use in server/computer rooms, MCC panels and archives or food storage facilities.
• Portable fire extinguishers using condensed aerosol, water and foam mist. The portable extinguishers vary in size from the small, easy to use Firestryker unit weighing only 275 g to the more powerful water and foam mist extinguishers. Again these products are non-toxic, environmentally friendly and easy to use. Firestryker does not leave any residue after use and is not a pressurised vessel therefore it does not require any servicing.
• The Servalog service logging system allows customers to capture extinguisher checks and services in an electronic database for extensive planning and reporting on all servicing information. It is almost like having an electronic 'logbook' for each extinguisher.
• Fire system readiness and reporting is achieved by the Sperosens i-CAN-C System. When insurance issues arise the system can report that each component was in working order and armed at the time when an incident occurred.
• AP sensing Distributed Temperature Sensing (DTS) using fibre optic cable. Up to 10 km of fibre optic cable can be used to sense heat on each 1 m section to 1°C accuracy. The system is easy to install and report a change in temperature or 'hot spots' according to pre-set parameters. Early warning by the system can prevent loss and damage or the system can be used as a detection method to activate fire suppression systems.
• EnviroSmart is an intrinsically safe environmental monitoring telemetry system detecting up to four types of gas and airflow to monitor the safety of staff working in hazardous areas.
It is important that fire prevention becomes part of the whole strategy. Preventing fire from breaking out is preferable rather than providing a reactive cure when fire breaks out.
The system design must address critical components such as the belt coverage in the mining industry, flow rate, nozzle selection, pipe diameter as well as the duration and capacity requirements of fire protection system chosen. In terms of duration and capacity requirements, the NPFA 15 requires the system to spray for 30 minutes as well as an additional 30 minutes for backup. It should have the capability to activate two zones simultaneously, or at least one zone plus a fire hydrant depending on the risk analysis.
Measuring the health of the system in use is critical. The system should be working 24/7 and therefore the controllers in use should be able to send the signal immediately to a control room if system malfunction is detected, and the system should be regularly cleaned and maintained.
Sperosens services include risk assessments, solution designs, implementation and service level agreements as part of the total solution package. All solutions comply with relevant local and/or international standards eg. NFPA and SANS. The company is a supplier to the mining industry and has many certifications and accreditations such as: SAQCC, ASIB, FDIA, FPASA, ECSA Professional Registration, FEASA, ISO 9001, SANS 1475 and CIDB.
For more information contact Sperosens, 086 177 3767, marihette.hattingh@spero.co.za, www.spero.co.za
Credit(s)
Further reading:
Effectively securing large mines
October 2019, VERACITECH, Technews Publishing, Dallmeier Electronic Southern Africa , Mining (Industry), Integrated Solutions
The vast areas covered by mining operations present security challenges such as the ability to provide effective perimeter protection and surveillance, while maintaining reliable communications between remote areas and control rooms.
Read more...
---
Improving mining safety through technology
September 2019 , Mining (Industry), Integrated Solutions
There is a strong connection between technology, cybersecurity and the physical safety of mineworkers; the more mining operations automate, the higher the cybersecurity risk.
Read more...
---
Enhanced biometric technology for mines
September 2019, ZKTeco , Mining (Industry), Access Control & Identity Management
Biometric identification and authentication are currently used at various mines in South Africa and in the SADC region.
Read more...
---
Multitude of solutions available for mining operations
October 2019, Axis Communications SA , Mining (Industry), CCTV, Surveillance & Remote Monitoring
Mines need to spend money on security just like all businesses do, and the economies of scale that apply to mining operations make some of the most advanced and expensive technologies somewhat more attainable than in many other applications.
Read more...
---
Improving access in mines
October 2019, Astra Fasteners , Mining (Industry), Access Control & Identity Management, Products
The VP1 controller provides full access control and remote monitoring of intelligent locks without having to wire into a network or install, manage and maintain software.
Read more...
---
Perimeter protection in Ghana
October 2019, AcoustAlert , Mining (Industry), Perimeter Security, Alarms & Intruder Detection
A gold mine in Ghana has erected a dual fence with AcoustAlert PIDS fence detection on both inner and outer fence lines.
Read more...
---
Adding value to mining security
October 2019, Cathexis Technologies , Mining (Industry), CCTV, Surveillance & Remote Monitoring
Cathexis offers users the ability to make key-decisions, based on intelligent information processing and take automated actions.
Read more...
---
Fire Beam Xtra covers up to 160 metres
October 2019, Technoswitch , Products, Fire & Safety
The Fire Beam overcomes traditional beam detection challenges where building movement and accessibility made beam detection unreliable and laborious to commission and maintain.
Read more...
---
Emergency voice communication system
October 2019, Technoswitch , Products, Fire & Safety
The Technoswitch Emergency Voice Communication Systems concept offers fire telephone and disabled refuge systems, as well as integrating emergency assist alarm systems in a single solution.
Read more...
---
Fast detection of smoke and flames
October 2019, Bosch Building Technologies , Editor's Choice, CCTV, Surveillance & Remote Monitoring, Fire & Safety
Video-based fire detection AVIOTEC from Bosch has been optimised for tunnels to provide early and reliable detection of smoke and flames in these dark environments.
Read more...
---