printer friendly version
The importance of fire-safe belt systems in mines
May 2016 Mining (Industry), Fire & Safety, Asset Management, EAS, RFID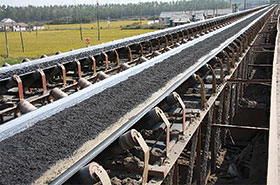 Despite common misconceptions, fire is a pervasive threat to conveyor belt systems in mines. Fire can cause substantial damage to the conveyed material, electromechanical components of the system and the belt itself, if the necessary fire protection systems are not in place. This results in costly damage and downtime.
Belts contain polymeric materials that pose a serious risk in terms of rapid fire spread and the generation of toxic, corrosive smoke. In addition to being lethal, these fires are also incredibly difficult to control, warns ASP Fire CEO, Michael van Niekerk.

"Conveyor belt fires threaten the lives of anyone onsite and can cause the collapse of the conveyor structural elements, which results in an excessive loss of revenue that will be incurred by the downtime required to fix or rebuild the conveyor belt. Bearing this in mind, quality conveyor belt fire protection must revolve around the preservation of the conveyor belt system itself."
Early detection, fast-acting fire prevention solutions are key to ensuring the quick and successful extinguishing of any fire, while simultaneously cooling the affected structure. Every conveyor belt system is unique, and an individual assessment has to be made for each system in order to adequately and accurately determine where the fire risks lie for that particular system design.
To ensure early fire detection on a conveyor belt, van Niekerk suggests the installation of Technoswitch fire detection technologies in conjunction with suitable fire control and extinguishant panels, which are specially-suited to long-distance and moving environments. These include;
• Ember detectors: Designed to detect a smouldering ember on a moving conveyor belt before it bursts into flames.
• Linear heat detection cable: Used for long distances, which are prevalent on conveyor belts, and responds to a rise in heat that is above the alarm threshold.
• Fibre optic detection cable: Intelligent system used for long distances or tunnels, where specific zones need to be identified. Applicable to very sensitive or high-risk areas.
• IR3 flame detectors: Make use of three different infrared light wavelengths to detect an open flame within the conveyor system.

To complete the fire protection system, van Niekerk recommends i-CAT Fire Solutions' EXTINGUISHmist handheld water and foam mist fire suppression systems, which can automatically detect fire and effectively suppress a fire in a matter of seconds before it becomes a problem. This range is capable of extinguishing all types of fires, including rubber and plastic fires, oil fires, diesel and petrol fires, and electrical fires rated up to 245 kV.
The atomised mist generated by the extinguisher rapidly cools down a hot surface without causing thermal shock. It creates a thermal heat radiation barrier between the operator and the fire, thereby shielding the operator from the heat radiation emitted by the fire when operating the extinguisher. Advanced T-Rotor technology atomises water and charges it with kinetic energy, creating a fine atomised mist with a size of between 50 and 60 micron ().
The system can also be designed to create cooling zones on conveyor belts to detect and cool hot material without adding to the moisture content of the product, to reduce any potential fire risks. Using water and nitrogen is safe, effective and saves on maintenance and service costs. Each litre of water in a water mists system amounts to 120 m² of coverage capability, and the small quantity of water that is used has the added benefit of ensuring little to no redundancy, damage or environmental contamination.
The water mist range boasts an operational lifespan four to five times longer than standard DCP extinguishers, to ensure greater cost-savings too. The range received SABS approval at the end of 2014. "The use of water and nitrogen is safer, more effective, and saves on maintenance and service costs – all of which are major benefits in modern-day mining," van Niekerk concludes.
For more information, contact ASP Fire, +27 (0)11 452 2169, michael@aspfire.co.za, www.aspfire.co.za
Further reading:
Technoswitch partners with UK's Hyfire
Technoswitch Fire Detection & Suppression News Fire & Safety Products
UK-based wireless fire technology pioneer Hyfire, has confirmed partnership agreements that will see its products sold in South Africa, for the first time, through local fire and safety stalwart, Technoswitch.
Read more...
---
Deposita's Digitisor SmartPOS devices can grow your business
Deposita Financial (Industry) Asset Management, EAS, RFID
The Digitisor N910 Pro and N700 SmartPOS devices are suited for SMME retailers and suppliers looking to enhance their customer payment experience.
Read more...
---
Fire-fighting force at Vergelegen
Editor's Choice Fire & Safety Residential Estate (Industry)
Vergelegen wine estate in Somerset West, and its neighbours, are set to enjoy greater peace of mind this summer, thanks to the delivery of a brand new fire truck .
Read more...
---
Hytera and KZN Police Service roll out digital call handling system
Government and Parastatal (Industry) Asset Management, EAS, RFID Integrated Solutions
Hytera Communications announced that the municipality of Ray Nkonyeni in the KwaZulu-Natal province of South Africa is now using its digital call handling system for the reporting and recording of crimes.
Read more...
---
Smart parking management platform
Access Control & Identity Management Asset Management, EAS, RFID
Parket builds a seamless bridge between supply and the ever-increasing, but fluid – and often temporary – demand for parking bays.
Read more...
---
Technoswitch partners with Ciqurix for video fire detection
Technoswitch Fire Detection & Suppression News Fire & Safety
Technoswitch is pleased to announce the signing of an exclusive distribution agreement with Ciqurix (UK), a leading supplier of video fire detection products.
Read more...
---
Keeping devices in check
Cyber Security Asset Management, EAS, RFID IT infrastructure
Kaspersky patents new technology for analysing relationships between electronic devices to counter cyberattacks launched through connected IoT devices.
Read more...
---
Don't count lead-acid batteries out
Forbatt SA Security Services & Risk Management Asset Management, EAS, RFID
Lead-acid batteries are a standard in the security market and they will continue to be for many years, despite the growth of lithium-based devices.
Read more...
---
Better process control and audit reporting from Traka
Traka Africa News Access Control & Identity Management Asset Management, EAS, RFID Commercial (Industry)
Traka has announced it will be launching its next-generation key management systems in 2023, providing enhanced security, serviceability and traceability.
Read more...
---
Fire-safety risks during load shedding
News Fire & Safety
The current load shedding implemented by electricity utility Eskom, as it faces unplanned breakdowns, poses a heightened fire risk for homeowners and their families.
Read more...
---