printer friendly version
The importance of fire-safe belt systems in mines
May 2016 Mining (Industry), Fire & Safety, Asset Management, EAS, RFID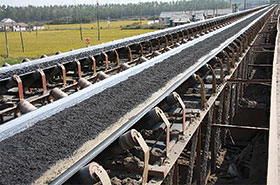 Despite common misconceptions, fire is a pervasive threat to conveyor belt systems in mines. Fire can cause substantial damage to the conveyed material, electromechanical components of the system and the belt itself, if the necessary fire protection systems are not in place. This results in costly damage and downtime.
Belts contain polymeric materials that pose a serious risk in terms of rapid fire spread and the generation of toxic, corrosive smoke. In addition to being lethal, these fires are also incredibly difficult to control, warns ASP Fire CEO, Michael van Niekerk.

"Conveyor belt fires threaten the lives of anyone onsite and can cause the collapse of the conveyor structural elements, which results in an excessive loss of revenue that will be incurred by the downtime required to fix or rebuild the conveyor belt. Bearing this in mind, quality conveyor belt fire protection must revolve around the preservation of the conveyor belt system itself."
Early detection, fast-acting fire prevention solutions are key to ensuring the quick and successful extinguishing of any fire, while simultaneously cooling the affected structure. Every conveyor belt system is unique, and an individual assessment has to be made for each system in order to adequately and accurately determine where the fire risks lie for that particular system design.
To ensure early fire detection on a conveyor belt, van Niekerk suggests the installation of Technoswitch fire detection technologies in conjunction with suitable fire control and extinguishant panels, which are specially-suited to long-distance and moving environments. These include;
• Ember detectors: Designed to detect a smouldering ember on a moving conveyor belt before it bursts into flames.
• Linear heat detection cable: Used for long distances, which are prevalent on conveyor belts, and responds to a rise in heat that is above the alarm threshold.
• Fibre optic detection cable: Intelligent system used for long distances or tunnels, where specific zones need to be identified. Applicable to very sensitive or high-risk areas.
• IR3 flame detectors: Make use of three different infrared light wavelengths to detect an open flame within the conveyor system.

To complete the fire protection system, van Niekerk recommends i-CAT Fire Solutions' EXTINGUISHmist handheld water and foam mist fire suppression systems, which can automatically detect fire and effectively suppress a fire in a matter of seconds before it becomes a problem. This range is capable of extinguishing all types of fires, including rubber and plastic fires, oil fires, diesel and petrol fires, and electrical fires rated up to 245 kV.
The atomised mist generated by the extinguisher rapidly cools down a hot surface without causing thermal shock. It creates a thermal heat radiation barrier between the operator and the fire, thereby shielding the operator from the heat radiation emitted by the fire when operating the extinguisher. Advanced T-Rotor technology atomises water and charges it with kinetic energy, creating a fine atomised mist with a size of between 50 and 60 micron ().
The system can also be designed to create cooling zones on conveyor belts to detect and cool hot material without adding to the moisture content of the product, to reduce any potential fire risks. Using water and nitrogen is safe, effective and saves on maintenance and service costs. Each litre of water in a water mists system amounts to 120 m² of coverage capability, and the small quantity of water that is used has the added benefit of ensuring little to no redundancy, damage or environmental contamination.
The water mist range boasts an operational lifespan four to five times longer than standard DCP extinguishers, to ensure greater cost-savings too. The range received SABS approval at the end of 2014. "The use of water and nitrogen is safer, more effective, and saves on maintenance and service costs – all of which are major benefits in modern-day mining," van Niekerk concludes.
For more information, contact ASP Fire, +27 (0)11 452 2169, michael@aspfire.co.za, www.aspfire.co.za
Further reading:
Effectively securing large mines
October 2019, VERACITECH, Technews Publishing, Dallmeier Electronic Southern Africa , Mining (Industry), Integrated Solutions
The vast areas covered by mining operations present security challenges such as the ability to provide effective perimeter protection and surveillance, while maintaining reliable communications between remote areas and control rooms.
Read more...
---
Improving mining safety through technology
September 2019 , Mining (Industry), Integrated Solutions
There is a strong connection between technology, cybersecurity and the physical safety of mineworkers; the more mining operations automate, the higher the cybersecurity risk.
Read more...
---
Enhanced biometric technology for mines
September 2019, ZKTeco , Mining (Industry), Access Control & Identity Management
Biometric identification and authentication are currently used at various mines in South Africa and in the SADC region.
Read more...
---
Multitude of solutions available for mining operations
October 2019, Axis Communications SA , Mining (Industry), CCTV, Surveillance & Remote Monitoring
Mines need to spend money on security just like all businesses do, and the economies of scale that apply to mining operations make some of the most advanced and expensive technologies somewhat more attainable than in many other applications.
Read more...
---
Improving access in mines
October 2019, Astra Fasteners , Mining (Industry), Access Control & Identity Management, Products
The VP1 controller provides full access control and remote monitoring of intelligent locks without having to wire into a network or install, manage and maintain software.
Read more...
---
Perimeter protection in Ghana
October 2019, AcoustAlert , Mining (Industry), Perimeter Security, Alarms & Intruder Detection
A gold mine in Ghana has erected a dual fence with AcoustAlert PIDS fence detection on both inner and outer fence lines.
Read more...
---
Adding value to mining security
October 2019, Cathexis Technologies , Mining (Industry), CCTV, Surveillance & Remote Monitoring
Cathexis offers users the ability to make key-decisions, based on intelligent information processing and take automated actions.
Read more...
---
Fire Beam Xtra covers up to 160 metres
October 2019, Technoswitch , Products, Fire & Safety
The Fire Beam overcomes traditional beam detection challenges where building movement and accessibility made beam detection unreliable and laborious to commission and maintain.
Read more...
---
Emergency voice communication system
October 2019, Technoswitch , Products, Fire & Safety
The Technoswitch Emergency Voice Communication Systems concept offers fire telephone and disabled refuge systems, as well as integrating emergency assist alarm systems in a single solution.
Read more...
---
Fast detection of smoke and flames
October 2019, Bosch Building Technologies , Editor's Choice, CCTV, Surveillance & Remote Monitoring, Fire & Safety
Video-based fire detection AVIOTEC from Bosch has been optimised for tunnels to provide early and reliable detection of smoke and flames in these dark environments.
Read more...
---