printer friendly version
ViRDI releases UNIS V4.0
March 2016
Access Control & Identity Management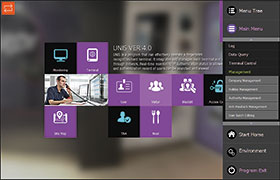 ViRDI, distributed by ViRDI Distribution SA, has released the latest version of its UNIS command and control software for ViRDI devices.
Building on the features and stability of previous versions of UNIS, the new version 4 has a new look and feel as well as many new functions that tie in with ViRDI's hardware and services development. Based on the Windows 10 graphic user interface, the UNIS GUI provides a new look and feel to program interaction.
Major improvements in the WAN connectivity algorithm makes UNIS V4 ideal for deployment in centralised applications from SOHO to enterprise clients. Database structures remain the same so users of versions 3.2 and 2.8 can upgrade with ease while keeping their database information intact.
Changes and new features include:
• By using an FOH02 USB fingerprint reader a user is given the ability to log into the software by using their fingerprints in lieu of a username or password. Users can be assigned administration rights which is then connected to the user's fingerprint template and associated privileges.
• Windows 10 style drop down and pop-out menus.
• Tree structure for terminals assigned to branches and / or areas for easy identification of where a terminal is situated.
• New icon structure for terminal status.
• Tree structure for all menus.
• Boolean logic settings for multi factor authentication for users. With the addition of MobileKey there are now six authentication factors that can be used in combinations.
• Verification and identification factor settings segregated for easier setup and management.
• Addition of MobileKey management in user / visitor management as well as reporting and batch issue of MobileKey to users / visitors.
• A new GUI for decentralised facial enrolment for the AC7000 Dual Face and Fingerprint terminal.
• A new GUI for device management, DDNS and alarms.
• Addition of new alarms that can trigger system responses i.e. medical, communication errors, personnel monitoring, system disabilities, remote access etc. Building on the eight existing alarm conditions there are now an extra 26 alarm conditions that will trigger a desired response from the system. Note that many of these alarms are only used when the MCP-040 controller is deployed in the application.
• An In / Out board that can track users' movements with alerts for tagged users generating alarms and / or pop-up notifications.
• Wizards for access control, T&A and meal management setup.
• Multiple maps for decentralised areas with icons and pop-ups in the event of triggers or alarms being generated by the system.
• The addition of a smart interface with Paxton Net2 software. ViRDI has discontinued the UNIS QE Manager and the interface is now a direct link via IP address between UNIS and Net2. When this interface is selected all functions such as access control, T&A and meal management are disabled and UNIS will only manage terminals and authentication factors i.e. biometric templates, MobileKey or proximity card whilst communicating with the Net2 software. This then also allows for remote client installations coupled to Net2 which was previously not possible. Database integrity has also been improved.
• Integration of TRON analogue / AHD CCTV systems (with a later development on IP-based CCTV). Channels on the TRON DVR can be assigned to certain terminals and should an event occur footage can be recalled and viewed directly from UNIS. This footage is married to the event and transaction logs via time and date stamps. This negates the necessity of searching through hours of footage and will immediately display the footage connected to the event in question. Pop-up notifications of events in progress i.e. unauthorised attempted access from blacklisted users, etc. can also be displayed in real-time.
• Standard version is provided with an assessment version of UNIWORK T&A and UNIMEAL Meal Management. Allows for up to 10 users. For more users the standard hardware unlock dongles are available for purchase through the dealer network.
Development is currently underway between ViRDI and Hikvision to integrate UNIS V4.0 and iVMS5200P as a solution package between Access Control and CCTV. UNIS V4.0 will be available in South Africa from March 2016. UNIS 3.2 will be discontinued but support will still be provided for existing users.
For more information contact ViRDI Distribution, +27 (0)11 454 6006, [email protected], www.virditech.co.za
Credit(s)
Further reading:
Is the smoke beginning to clear for password security?
Access Control & Identity Management Security Services & Risk Management
The password problem is the result of bad habits, and they can be hard to break. But ask anyone that has done it and they will not tire of telling you the benefits.
Read more...
---
Solving coworking front-desk drama
Access Control & Identity Management Products
Flexible, shared and coworking offices have taken off with great success, but because occupational churn is high, the front-desk can be a difficult place to manage.
Read more...
---
Powder coating provides durable finish
Turnstar Systems Access Control & Identity Management Industrial (Industry)
Turnstar's powder coating line provides corrosion resistance, high-quality surface finishing and a long-term environment-friendly impact for all access control components the company manufactures.
Read more...
---
Salient Systems manages campus security
Education (Industry) CCTV, Surveillance & Remote Monitoring Access Control & Identity Management
The University of Massachusetts Amherst relies on Salient Systems for video, access control operations for flagship campus as it standardises on IP surveillance.
Read more...
---
From physical to virtual IDs
Access Control & Identity Management
The future of sovereign documents (IDs) such as identity cards, passports and driver's licences is virtual, however, there are still some key challenges to overcome in order to get there.
Read more...
---
QR Code passwordless authentication method
News Access Control & Identity Management Products
LogMeOnce introduces a patented QR Code passwordless authentication method allowing users to scan a code with their mobile device for secure authentication.
Read more...
---
Improving biometrics to address privacy, scale and accuracy
Editor's Choice Access Control & Identity Management News
CryptoNets uses artificial intelligence and a new type of encryption; it is very fast, locating a face among countless others in milliseconds without the need to have any other data to narrow the search.
Read more...
---
Integration relieves PoPIA pressure for estates
Access Control & Identity Management
ATG Digital has announced that its flagship product, At The Gate, is available as an add-on to the EstateMate community management app.
Read more...
---
Web-based access control
Regal Distributors SA ZKTeco Access Control & Identity Management
Managed over the cloud, ZKBioSecurity is the access control solution that ensures total control over all entrances, exits, internal doors, gates and turnstiles, and more.
Read more...
---
The AI knows best
Access Control & Identity Management
RBA makes use of the vast computing power of machine learning to analyse thousands of data points to determine how risky a transaction may be.
Read more...
---