printer friendly version
Why you can't ignore Category 6A anymore
August 2015
News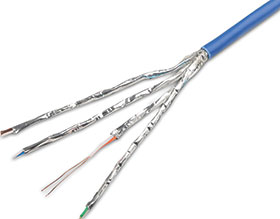 Overview
Category 6A twisted-pair copper solutions received much attention when they first hit the market in 2005, and again when the ANSI/TIA-568-B.2-10 Category 6A standard was published in April of 2008. However, the past decade has witnessed slow adoption in the enterprise environment, especially in the LAN. Early implementations were relatively expensive due to installation, field testing and power consumption.
But times are changing. Data rates continue to climb and more devices than ever are connected to the network. Emerging applications are demanding the higher performance and faster speeds supported by Category 6A cabling. For these reasons, industry standards that previously only recommended Category 6A cabling for data centres now also recommend it for most LAN installations.
Emerging applications now demand it
We are seeing a greater need for bandwidth intensive applications that require speeds beyond 1000 Mb/s in today's LAN. Backbone speeds in the data centre are migrating to 25, 40 and even 100 Gb/s; horizontal LANs need to keep up or risk being a bottleneck to productivity. The need to transfer larger files, such as medical imaging, high-definition streaming video, high-end graphics and surveillance video are starting to task Category 5e and Category 6 networks running 100BASE-TX and even 1000BASE-T. For example, in the healthcare environment a set of medical images for a single patient totalling 9000 MB takes about a minute to download over a 1000 Mb/s network, but only seven seconds over a 10 Gb/s network. In an emergency situation, the time difference can be critical.
Three reasons for non-adoption which are no longer valid
Physical: The first Category 6A cables were up to 50% larger than their Category 6 predecessors, but newer small-diameter Category 6A cables are only about 15% larger. This eliminates added size and weight, which impacts how many cables fit into a cable tray or conduit. Reduced bend radius also improves ease of installation, termination and handling. These improvements make Category 6A a viable, cost-effective cable option – especially in retrofit installations.
Application: Applications in the horizontal LAN have not typically required speeds beyond 1000 Mb/s (or even 100 Mb/s). Many believed that 10 Gb/s speeds would not be needed in the LAN over the life of Category 6 cable. But times have changed and now there is an increasing demand for 10GBASE-T in both the LAN and data centre markets. The growth of 10GBASE-T is largely because of the need to support fibre backbone speeds beyond 10 Gb/s, large hyperscale computing environments (25, 40 or 100 Gigabit speeds), and enterprise data centres deploying 10GBASE-T for switch-to-server connections. Category 6A cable supports 10GBASE-T up to 100 m, and operates at frequencies of up to 500 MHz – twice that of Category 6.
Financial: Installers previously had to budget more time and money to test for the new parameters, including alien attenuation crosstalk ratio far-end (AACRF), alien near-end crosstalk (ANEXT) and power sum alien crosstalk parameters (i.e. PSAACRF and PSANEXT). Today however, many of the Category 6A cost obstacles have been offset or eliminated thanks to manufacturing advancements and improvements in 10GBASE-T physical layer device (PHYs) design. Dramatic improvements to 10GBASE-T active equipment have also decreased cost and power consumption per port (1,5 to 3 Watts per port vs. 12 Watts per port for first-generation 10GBASE-T PHYs). In fact, today's fourth generation 10GBASE-T provides a much lower price per gigabit (less than 30%) than 1000BASE-T at a power level that is quite acceptable.
Seven things to look for when choosing the right Category 6A cable
Size and weight: Controlling noise and crosstalk at higher frequencies has required Category 6A cables up to 50% larger than their Category 6 predecessors. While many available Category 6A options remain significantly larger and heavier, the newest Category 6A cables are only about 15% larger than Category 6.
Bend radius: The cable is easier to route and install. It also allows cable routing for maximum airflow within racks.
Installation complexity: Most Category 6A cables are larger because of their material: more twists in the copper pairs, larger splines separating the pairs, and thicker outer jackets. This adds up to cables that take longer to prepare and terminate. Smaller and more round cables take less time to install.
Power delivery: In a conventionally designed cable, the spline and jacket surrounding each copper pair create an insulated compartment that is prone to overheating. Newer thermal dissipation designs distribute heat around the circumference of the cable, eliminating hotspots. Some are capable of delivering up to 100 W PoE while keeping thermal rise within acceptable limits
Channel length: Some small diameter Category 6A cables may not support the full 100 m distance per channel, and need to be de-rated to less than full length. A cable that can handle the full 100 m not only provides an extra margin of performance, but supports full length LAN channels and a wider range of data centre configurations, including top-of-rack, end of-row and middle-of-row configurations.
Ground loops: When a shielded cable is terminated at both ends to a local ground and a remote ground, the ground potential difference can cause stray currents to flow in the shield and couple noise into the conductors, interfering with signals and causing transmission errors.
EMI shielding: There is no doubt that a shielded cable provides better noise immunity when grounded at both ends with a low impedance ground connection at high frequencies. The effectiveness of the shield depends on the quality and reliability of the shield termination and the quality of the local and remote ground connections. Sometimes a low impedance ground connection is difficult to achieve. Cable designs that symmetrically surround well balanced twisted pairs with a Faraday cage can provide an effective electromagnetic barrier without the need and potential drawbacks of grounding.
Belden 10GXS high-performance small diameter Category 6A cables
Belden's advanced engineering expertise and precision manufacturing have resulted in yet another innovation – 10GXS cables.
With the small diameter and excellent mechanical and electrical characteristics, 10GXS cables offer improved space and weight savings with beyond-standards performance to meet all current and emerging applications.
For more information contact Greg Pokroy, Jaycor International, +27 (0)21 447 4247, greg@jaycor.co.za, www.jaycor.co.za
Further reading:
Online fleet management system
Issue 1 2020 , News
Fleet Domain's online Fleet Management Information System is reducing operating costs and improving safety for South African logistics firms.
Read more...
---
Digital insurance bundle for assets and devices
Issue 1 2020 , News
My CyberCare is a specialist provider of personal, and SMME online cyber insurance, cyber detection and cyber monitoring solutions for both local and global consumption.
Read more...
---
IDEMIA to supply Morocco's national electronic ID cards
Issue 1 2020, IDEMIA , News
IDEMIA will supply Morocco with national electronic ID cards and introduce a secured digital identity online services platform.
Read more...
---
Rockwell Automation to acquire Avnet
Issue 1 2020, Rockwell Automation , News
Rockwell Automation announced it has signed an agreement to acquire privately held Avnet Data Security, an Israeli-based cybersecurity provider with over 20 years' experience providing cybersecurity services.
Read more...
---
Do we really want simplicity?
Issue 1 2020, Technews Publishing , News
Everything today has to be simple, easy and fast. Even access to your bank account has to fit these adjectives and banks spend significant time and money trying to ensure their web and mobile interfaces ...
Read more...
---
Longse Distribution to become LD Africa
Issue 1 2020, LD Africa , News
Brendon Whelan, sales manager for Longse Distribution, announced that the company officially changed its name to LD Africa as of 20 January 2020.
Read more...
---
Three expos in one
Issue 1 2020 , News
Looking ahead to 2020 Vision: combined Securex South Africa, A-OSH EXPO and Facilities Management Expo 2020 promises to be even bigger and better.
Read more...
---
Security events you can't miss in 2020
Issue 1 2020, Technews Publishing , News
Hi-Tech Security Solutions will host a number of focused events in 2020 to highlight the latest in security technology and the operational benefits they deliver.
Read more...
---
David Shapiro to chair ESDA
Issue 1 2020, ESDA (Electronic Security Distributors Association , News
The Electronic Security Distributors' Association (ESDA), established in 1989, has elected David Shapiro as its chairperson for 2020.
Read more...
---
Dimension Data debuts fifth business
Issue 1 2020 , News
Dimension Data has launched its fifth business in the MEA region, Dimension Data Security, aimed at helping organisations in the region address the challenges of today's rapidly evolving threat landscape.
Read more...
---