printer friendly version
An eye on the road
July 2015
Conferences & Events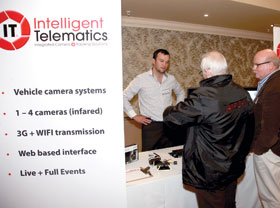 Intelligent Telematics offers in-vehicle camera solutions that allow companies to keep an eye on their cargo and vehicles at all times. Its solution offers one to four camera installations, with live video, tracking and event management for all vehicles on the road.
The system is managed via a Web-based interface. Video can be transmitted via 3G for live feeds, or Wi-Fi can be used to transfer the vehicle's video to the central server when it enters the company's premises. For businesses that risk losing stock after a truck has stopped, the video can also be set to record for up to 240 minutes after the ignition has been switched off.
Craig Lovell presented the Intelligent Telematics solution at the logistics breakfast. He explained that the solution keeps fleet owners in touch with their fleet at all times. The benefits obtained go further than simply preventing pilfering, hijacking or diesel theft; it also reduces the costs of asset mismanagement as driver behaviour is monitored. It also cuts downtime as well as insurance fees.
"Not only does the Intelligent Telematics solution allow for more effective crime fighting, but can also improve driver performance by highlighting the need for training in certain areas," he explains. "Moreover, simply by letting drivers know that their conduct is under scrutiny we find that companies save significantly on the costs of tyres, brakes and vehicle maintenance."
Cameras can be placed almost anywhere on the vehicles, such as inside cabs facing forward (through the windshield), facing inward at drivers and/or passengers, outside facing the diesel tanks to keep an eye on the fuel, or facing the rear load or the side of the vehicle to monitor traffic and the immediate vicinity of the vehicle. A camera can also be placed in the load bin to monitor the loading and unloading of goods.
The cameras are only part of the solution as it also uses GPS tracking and mapping to keep tabs on vehicles at all times, allowing operators to play back a trip along with the video recorded at specific times and map locations during the journey. It also provides route planning and geo-fencing functionality.
The solution is available from Intelligent Telematics as an outright purchase or as a monthly rental solution. When choosing the rental option, the customer has a monthly outlay as operational expenditure as opposed to a capital expenditure purchase, but with the same benefits and usage of the system.
For more information contact Craig Lovell, Intelligent Telematics, 0861 158 527, [email protected], www.intelligent-telematics.co.za
Further reading:
Residential Estate Security Conference 2022
Technews Publishing Residential Estate (Industry) Conferences & Events
The first Residential Estate Security Conference since March 2020 discussed the people, technology and processes involved in mitigating risks to deliver smart, secure living.
Read more...
---
Hikvision aims for solutions
Technews Publishing Hikvision South Africa Editor's Choice CCTV, Surveillance & Remote Monitoring News Integrated Solutions Conferences & Events
Hikvision recently held a roadshow titled Industry X, where the company highlighted its latest products and solutions, supported by partners and distributors.
Read more...
---
ESDA's annual charity fundraiser
ESDA(Electronic Security Distributors Association) News Conferences & Events Associations
The ESDA Annual Charity Fundraiser, part of the Electronic Security Distributors Association's Golf Day, will take place at Benoni Lake Golf Course on Wednesday, 21 September 2022.
Read more...
---
IDEMIA and Ideco demonstrate their value stacks
Technews Publishing Ideco Biometrics IDEMIA Conferences & Events Access Control & Identity Management News
Ideco and IDEMIA recently hosted a travelling show where attendees were given an update on the companies, as well as the full value stack they offer.
Read more...
---
Sustainability, trust and predictability
Technews Publishing Bosch Building Technologies Conferences & Events CCTV, Surveillance & Remote Monitoring News Integrated Solutions
The future for Bosch Building Solutions is focused on predictive solutions based on sustainability and trust in an AIoT world of cloud services.
Read more...
---
Securex back with a bang
Technews Publishing Editor's Choice News Conferences & Events
After a long absence, Securex 2022, the 29th edition of the event, went ahead without a hitch and received positive reviews from visitors and exhibitors.
Read more...
---
Hytera showcases security communications at Securex
News Conferences & Events Products
Hytera will be at Securex South Africa 2022 in Hall 2, Stand A07, where it will showcase a variety of security communications solutions, including its latest DMR communications solution, body-worn cameras and Push-to-Talk over cellular.
Read more...
---
Securex, A-OSH Expo, Facilities Management Expo and now Firexpo confirmed for 2022
Editor's Choice News Conferences & Events
Specialised Exhibitions has announced that its A-OSH Expo and Facilities Management exhibitions are confirmed to go ahead for 2022 along with Securex South Africa, which now includes Firexpo.
Read more...
---
KITE 2022 provides return to one-on-one industry-supplier interaction
Conferences & Events
KITE 2022 was the first trade show of its kind in South Africa to open its doors after an industry trade show hiatus of almost two years.
Read more...
---
Training that delivers
Technews Publishing Leaderware ESDA(Electronic Security Distributors Association) BTC Training Africa Editor's Choice Security Services & Risk Management Conferences & Events Training & Education
Hi-Tech Security Solutions hosted a virtual conversation to address the challenges and solutions related to effective and measurable training and education in the security industry.
Read more...
---