printer friendly version
Putting jammers in a jam
July 2015
Conferences & Events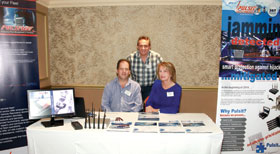 Pulsit Electronics was also a sponsor of the breakfast with the company highlighting its in-house developed jamming mitigation solution designed to counter the use of jamming devices hijackers use to prevent trucks from alerting owners that they are in trouble.
As mentioned in previous issues of Hi-Tech Security Solutions, jamming overpowers the frequencies of alarms, cellphones and other communications technologies we use for our security, keeping any alerts from getting through to a control room. When a frequency is jammed, so much 'junk' noise is created that legitimate signals can't get through.
The Pulsit solution is completely automated and requires no human interaction. Once jamming is detected, the Pulsit system 'limps' the vehicle (i.e. it restricts and/or immobilises the vehicle so that the driver is forced to pull the vehicle over). This prevents the vehicle from being moved away from its last known position, allowing recovery teams to locate and safeguard the vehicle and its load. Pulsit's 24/7 risk call centre will be alerted of any risk events such as (but not limited to) GPS loss, units stopped updating, tamper and jamming detected and will initiate an emergency protocol as defined by each individual client.
The Pulsit solution is completely automated and requires no human interaction. Once jamming is detected, the system's actions are carried out immediately, leaving the would-be thieves or hijackers with a dead truck at the side of the road and the knowledge that help is on the way.
As soon as the vehicle is in the rightful owner's hands, the system will be reset over the air by an authorised person allowing the vehicle to continue with its normal deliveries. Pulsit covers each vehicle it is installed in from the dispatch location where the goods are loaded, through to the destination where they are unloaded.
In August 2014 Pulsit started with the roll-out and installation of its solution in its first fleet of trucks from a company that had experienced hijacking problems. Almost immediately, the client realised a decline in hijackings as hijackers could not get away with their vehicles and loads.
The logs of a real event were displayed during the Pulsit presentation, showing that once a vehicle had been identified as being in trouble, i.e. hijacked, it took about one hour for the company to recover it and it was on the road again. A much faster recovery from hijacking than today's logistics companies would expect.
Pulsit Electronics offers clients a full suite of services for fleet and vehicle management including its anti-jamming solution. The company's footprint covers South Africa, as well as neighbouring countries, including Namibia, Botswana, Malawi, Zambia and Zimbabwe.
For more information contact Pulsit Electronics, +27 (0)87 151 3280, [email protected], www.pulsit.co.za
Further reading:
Residential Estate Security Conference 2022
Technews Publishing Residential Estate (Industry) Conferences & Events
The first Residential Estate Security Conference since March 2020 discussed the people, technology and processes involved in mitigating risks to deliver smart, secure living.
Read more...
---
Hikvision aims for solutions
Technews Publishing Hikvision South Africa Editor's Choice CCTV, Surveillance & Remote Monitoring News Integrated Solutions Conferences & Events
Hikvision recently held a roadshow titled Industry X, where the company highlighted its latest products and solutions, supported by partners and distributors.
Read more...
---
ESDA's annual charity fundraiser
ESDA(Electronic Security Distributors Association) News Conferences & Events Associations
The ESDA Annual Charity Fundraiser, part of the Electronic Security Distributors Association's Golf Day, will take place at Benoni Lake Golf Course on Wednesday, 21 September 2022.
Read more...
---
IDEMIA and Ideco demonstrate their value stacks
Technews Publishing Ideco Biometrics IDEMIA Conferences & Events Access Control & Identity Management News
Ideco and IDEMIA recently hosted a travelling show where attendees were given an update on the companies, as well as the full value stack they offer.
Read more...
---
Sustainability, trust and predictability
Technews Publishing Bosch Building Technologies Conferences & Events CCTV, Surveillance & Remote Monitoring News Integrated Solutions
The future for Bosch Building Solutions is focused on predictive solutions based on sustainability and trust in an AIoT world of cloud services.
Read more...
---
Securex back with a bang
Technews Publishing Editor's Choice News Conferences & Events
After a long absence, Securex 2022, the 29th edition of the event, went ahead without a hitch and received positive reviews from visitors and exhibitors.
Read more...
---
Hytera showcases security communications at Securex
News Conferences & Events Products
Hytera will be at Securex South Africa 2022 in Hall 2, Stand A07, where it will showcase a variety of security communications solutions, including its latest DMR communications solution, body-worn cameras and Push-to-Talk over cellular.
Read more...
---
Securex, A-OSH Expo, Facilities Management Expo and now Firexpo confirmed for 2022
Editor's Choice News Conferences & Events
Specialised Exhibitions has announced that its A-OSH Expo and Facilities Management exhibitions are confirmed to go ahead for 2022 along with Securex South Africa, which now includes Firexpo.
Read more...
---
KITE 2022 provides return to one-on-one industry-supplier interaction
Conferences & Events
KITE 2022 was the first trade show of its kind in South Africa to open its doors after an industry trade show hiatus of almost two years.
Read more...
---
Training that delivers
Technews Publishing Leaderware ESDA(Electronic Security Distributors Association) BTC Training Africa Editor's Choice Security Services & Risk Management Conferences & Events Training & Education
Hi-Tech Security Solutions hosted a virtual conversation to address the challenges and solutions related to effective and measurable training and education in the security industry.
Read more...
---