printer friendly version
Growth in the access control ­industry
July 2015 News, Access Control & Identity Management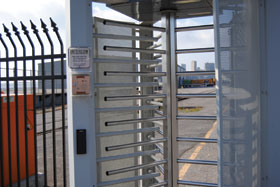 2014 proved to be both exciting and challenging for access manufacturers and channel partners. With the influx of new trends and technologies, manufacturers were required to make difficult decisions such as which technologies to invest R&D in, while channel partners were required to begin expanding their knowledge and capabilities beyond legacy access control technology.
Despite continued geopolitical and global economic turbulence, IHS has estimated the global (excluding China) electronic access control market grew by 6.3% in 2014 and exceeded $3.1 billion.
A few of the technologies and services IHS found to have the most potential to be disruptive over the next two to three years include: mobile identities, biometrics, hosted/ managed services and IT integrators.
Mobile credentials are becoming a mega trend globally. IHS expects that the bulk of the installations will first come in the hospitality/resorts and residential markets. IHS also expects that universities will be early adopters, while SMEs and large enterprise continue to learn how to deploy the technology among existing workers most efficiently.
Biometrics tend to be a cyclical product offering. In 2013, IHS forecast slower growth for biometrics as many suppliers believed the technology was too expensive and was only available for large enterprise and high-security locations. However, in 2014 IHS found biometrics to be one of the most talked about trends globally. Although the price point for many of the biometrics remains out of reach for many end users, IHS expects the price to continue to fall, especially for facial and iris recognition. IHS also expects the use of biometrics in other industries will drive end-user awareness.
For hosted/ managed services, IHS expects that as more developing nations see an increase in wages, there will be a demand to automate processes and reduce manned guarding services. The access control industry is expected to become more IT centric and as the market moves in this direction, integrators will become better prepared to sell ACaaS and end-users will be better prepared to accept these technologies.
Finally, IT integrators and IT departments are expected to continue to play a larger role in security. IT departments are beginning to have greater influence over building owners and tenders since the most significant breaches have occurred within the IT domain, and many of the most valuable assets of an organisation are in the IT domain. Security and IT departments can begin to leverage the expertise of the other side, so access control can contribute cryptography while IT can contribute virtualisation and networking. IHS expects that the physical space will continue to have a larger role within IT since access control can flag anomalies, which can protect intellectual property and other assets.
Overall, IHS expects that these trends, as well as many others, will continue to develop through 2015 and into 2016. Which countries will see the most adoption of these disruptive trends? IHS found that in 2014, for access control, developed countries such as the USA and United Kingdom performed quite well compared with smaller, more developing countries. IHS also expects that countries such as Canada, USA and Western Europe will adopt mobile identities, open standards and hosted/ managed services before other regions.
For more information contact IHS, +44 1933 402255, niall.jenkins@ihs.com, www.ihs.com
Further reading:
TAPA: The role of an effective treasury function in business risk management
June 2019, Technews Publishing , News
Neil Le Roux, the Founder of Diligent Advisors will speak at the TAPA SA (Transported Asset Protection Association) annual conference on 26 July 2019.
Read more...
---
Platforms are us
September 2019, Technews Publishing , News
A conversation I had at the recent Residential Estate Security Conference Hi-Tech Security Solutions hosted in August (which will be reviewed in the October issue) got me to thinking about the security ...
Read more...
---
TAPA conference 2019 explores layered approach to security
September 2019, Technews Publishing, TAPA (Transported Asset Protection Association) , News, Transport (Industry)
The Transported Asset Protection Association (TAPA) held its annual South African conference at Emperors Palace in Johannesburg on 26 July 2019.
Read more...
---
Managing staff effectively
September 2019, dormakaba South Africa, iPulse Systems , Integrated Solutions, Access Control & Identity Management
Workforce management solutions allow organisations to track the relationship between productivity and the cost of employment, incorporating issues such as health and safety, T&A, rostering and more.
Read more...
---
Hennie Lategan joins Centurion as head of exports
September 2019, Centurion Systems , News, Access Control & Identity Management
Centurion Systems has announced the appointment of Hennie Lategan as the head of the company's exports department.
Read more...
---
New Africa sales manager for Axis Communications
September 2019, Axis Communications SA , News, CCTV, Surveillance & Remote Monitoring
Axis Communications has appointed Brendon Hall, previously the founder and MD of Pentagon, as its new sales manager, Africa.
Read more...
---
Check Point appoints new regional director for Africa
September 2019 , News, Cyber Security
Check Point Software Technologies has appointed Pankaj Bhula as regional director for Africa.
Read more...
---
ISO standard for protecting personal data
September 2019 , News, Cyber Security
Tackling privacy information management head on: first ISO standard for protecting personal data has been published.
Read more...
---
Hikvision helps secure African Union Summit
September 2019, Hikvision South Africa , News, CCTV, Surveillance & Remote Monitoring
Hikvision established a complete intelligent video solution to ensure the security of the thirty-third African Union (AU) Summit held on 7 July in Niamey, the capital of Niger.
Read more...
---
The hunt for the Carbanak group
September 2019 , Editor's Choice, Cyber Security, News
Tomorrow Unlocked has released a free four-part documentary that tells the story of the notorious Carbanak APT group and its $1 billion bank heist.
Read more...
---