printer friendly version
Controlsoft integrates HID's new Mobile Access technology
April 2015
Access Control & Identity Management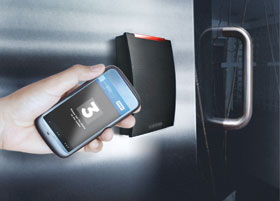 HID Global recently launched its Mobile Access technology. This solution makes it possible to do away with cards and fobs and allow users to simply badge through gates and doors using their smartphones as virtual credentials. The technology uses Bluetooth or near-field communications (NFC) for communication between the device and access control readers.
The way Mobile Access works is as follows. An administrator sends users an invitation to download an HID Mobile Access app directly to their Bluetooth- or NFC-enabled phone. After download and registration of the app, Mobile IDs can be immediately issued, provisioned or revoked over the Internet – the system supports iOS or Android devices. The company manages its access from its management console and sends the user a 16-digit PIN. Once entered, the user has a virtual access card to the company's premises.
When users approach a door, they simply hold their smartphone in front of the reader and are granted access – providing the company has activated their credentials. If the company prefers, it can activate HID Global's 'Twist and Go' mode and users simply hold their phones in front of the reader and twist them 90-degrees, at a distance of up to 5 m, and the door will open if they have access permission. Twist and Go is a new, convenient option that, for example, estates can use to control access as the user need not exit their vehicle.
One of the benefits of Mobile Access is that it does not require new readers to be installed. It can be added to many of HID Global's latest readers, meaning companies can still use their existing cards and fobs along with the new mobile technology.
Mobile Access is used with HID Global's mobile-enabled iCLASS SE and/or multiCLASS SE readers, and includes Mobile IDs, HID Mobile Access Apps and access to the HID Secure Identity Services portal for managing users and issuing or revoking Mobile IDs. The mobile-enabled readers are also interoperable with 125 kHz HID Prox and high-frequency technologies including iCLASS Seos, iCLASS SE, standard iCLASS, MIFARE and MIFARE DESFire EV1.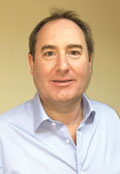 Jonathan Summers.
Jonathan Summers, Controlsoft's MD, says Controlsoft was quick to integrate Mobile Access into its product portfolio because of its ease-of-use and due to its quick and painless installation. The company has also ensured that Wiegand or 485 interfaces are able to be integrated with Mobile Access devices, offering its clients an even easier path to implementing the technology.
Mobile Access will reduce the need for companies to issue cards or fobs and it is much easier to manage, assign or revoke access as cards don't need to be collected. Controlsoft has working virtual credentials and readers available and the company has already demonstrated the technology to its clients with positive results.
Safer than a card
Since so many people have smartphones, which never seem to leave their sides, it's reasonable to assume that their virtual credentials will be with them at all times. It's easy to forget a card or fob at home, or lose it, or even give it to someone else to use. The same does not apply to people's smartphones, we tend to take much better care of them and won't pass it on to a criminal.
The obvious question regarding Mobile Access is whether this system is secure. Summers explains that there are various levels of security in the app, but also in the management platform which can commission and decommission credentials almost instantly.
HID Global's SEOS technology runs the Mobile Access technology and guards people's privacy by enabling Mobile IDs to be issued, delivered and revoked with end-to-end encryption as part of a transaction that protects personal identification data.
In its default configuration, users simply hold their device up to the reader. It does not have to have the screen unlocked or have the app open – working as simply and easily as a normal card. Some companies, however, may feel more secure if the lock screen needs to be deactivated before any doors are opened. Additional settings can be configured so that the system only works when the screen is unlocked or if the app is open.
Another benefit of Mobile Access is that multiple credentials can be held on one device. This means contractors or people who need to travel between branches can be assigned different virtual credentials for different locations, and use them without even worrying which credential is used at which premises – they simply present their smartphone to the reader.
"One of the keys to success over the next several years will be to have an offering beyond traditional access control readers, panels, cards and software and embrace the new position of the industry which includes things such as remote management, mobile and fixed functionality credentials and wireless, reducing administrative burden and increased efficiency and integration with human capital management software," says Blake Kozak from the research firm IHS. "Mobile solutions, including secure IDs and a simple yet comprehensive lifecycle management process, are a critical success pre-requisite."
For more information contact Controlsoft South Africa, +27 (0)11 792 2778, [email protected]
Further reading:
Paxton opens first experience centre in South Africa
Paxton News Access Control & Identity Management
The new Paxton Experience Centre in Johannesburg is now open and welcoming security installers and end users who want to see Paxton's products in action.
Read more...
---
Securing a luxurious residential estate
Turnstar Systems Residential Estate (Industry) Access Control & Identity Management
Turnstar Systems recently partnered with Balwin Munyaka Residential Estate to secure the entrance to its Crystal Lagoon, ensuring only authorised residents and guests can access the site.
Read more...
---
Visitor management via QR code
ATG Digital Access Control & Identity Management Products
ATG Digital has launched its QR Code Reader to enhance access control's security and efficiency. The new QR Code Reader enables seamless, contactless access control, creating an efficient user journey.
Read more...
---
District secures activity centre
Paxton Access Control & Identity Management Products
Paxton's Net2 access control solution is a user-friendly and flexible networked access control system, which made installing and managing access control security at an activity centre straightforward.
Read more...
---
GardaWorld partners with Gallagher
Gallagher Access Control & Identity Management
Access control via facial recognition was at the top of GardaWorld's wish list, and Gallagher's integration with IDEMIA's VisionPass played a crucial role in delivering a seamless experience.
Read more...
---
ZK-IWB Series
ZKTeco Products Access Control & Identity Management
Experience the ultimate virtual meeting solution with ZKTeco's ZK-IWB system. Featuring a built-in 13-megapixel UHD camera and 6-microphone array, the solution ensures clear audio and video experiences with an 8 metre pickup distance.
Read more...
---
Security for critical industries
ZKTeco Government and Parastatal (Industry) Access Control & Identity Management
The traditional reliance on human observation and physical presence for security is being complemented and, in many cases, replaced by biometric technology to enhance risk management and ensure comprehensive protection.
Read more...
---
Access to nuclear plants
Suprema Access Control & Identity Management
Korea Hydro & Nuclear Power was in need of a fully redundant access control system that should provide enhanced performance while still being able to interoperate with existing equipment.
Read more...
---
Secure your site during outages
Paxton Access Control & Identity Management
The PaxLock Pro range is our collection of wireless, battery powered smart door handles. They are efficiently designed to consume minimal energy to operate, and the batteries generally last around two years.
Read more...
---
Securing data centres and control rooms
Access Control & Identity Management
The demand for data centres and control rooms to store and manage digital information is at an all-time high, however, the rise in cyber threats and physical security risks has raised concerns about how companies can effectively protect these vital infrastructures.
Read more...
---