printer friendly version
Making a move into Africa
April 2015
Access Control & Identity Management
Although Matrix was founded in 1992 as a product development and marketing company, initially focused on PBX and media gateways, it expanded its focus area to the security market due to the compatibility to its existing telecoms business, in terms of technologies, channel network and customers.
Matrix CEO, Ganesh Jivani, says the company started working on security solutions in 2007. "Diversification was relatively easy for us. We started by first adding access control and time-attendance solutions. Later we added IP video surveillance solutions. Currently we focus on the four business domains – IP telephony, access control, time-attendance and IP video surveillance."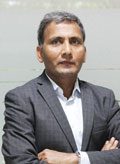 Ganesh Jivani, Matrix CEO.
He adds that many distributors, SIs and customers prefer relying on a single source for their telecoms and security needs.
Hi-Tech Security Solutions asked Jivani about Matrix, its history and plans for South Africa and Africa.
Hi-Tech Security Solutions: What is your market share in India?
Jivani: India is our biggest market. We have the home country advantage in India. Having said this, we have good business in many countries all across the world as well. For example, we are very strong in time-attendance solutions in the Middle-East. We are also strong in media gateways in Europe and hospitality IP PBXs in the USA.
Our market share figures are different for all product domains. On the other hand, we are not strong in entry-level security solutions. IP video surveillance is a relatively new domain for us.
Hi-Tech Security Solutions: Does an Indian company have a hard time selling its products into the global security market?
Jivani: We are living in the era of cross-border collaboration. Top MNCs of the world today have their R&D, KPOs/BPOs in India and their manufacturing in China. Gradually, technology development is becoming region or country neutral. The results depend more on talent, infrastructure and processes and not so much on the company's physical location. Today, India is a recognised brand in technology development in the sectors like pharmaceutical, semiconductor, software, project consulting and ITeS. From where we are today, creating products is just a few more steps ahead.
From Matrix perspective, we are already exporting products designed and manufactured in India to more than 50 counties – most of them to technologically advanced countries like the USA, Germany, Italy, Spain, Portugal, Australia, UAE, KSA, Qatar, Thailand, Singapore and many others.
Hi-Tech Security Solutions: Are you targeting the South African and/or African markets? Why?
Jivani: Africa is the fastest growing continent and there are unlimited opportunities. No sensible technology company can afford to ignore Africa. South Africa is the largest and most developed economy in the region offering well-developed market. In Africa, we already have channel partners in South Africa, Zimbabwe, Botswana, Nigeria, Kenya, Ghana and many other countries.
Hi-Tech Security Solutions: What infrastructure do you have for providing after-sales support in South Africa and Africa?
Jivani: We have planned three levels of support in the region. Primary support is provided by the Matrix SI. This reduces downtime and maintains a close relationship between SI and end customers. To facilitate this, system integrators are offered in-depth technical training. They are also offered spares at discounted prices to encourage them to invest in support.
Secondary level of support is provided by Matrix distributors. If an SI cannot resolve the complaint, he can contact the local Matrix distributor. All Matrix distributors maintain trained technical manpower for remote and on-site support. The distributors also offer stand-by products to system integrators in case of hardware failures. In addition, they are also equipped to manage basic repairing locally to save on time and transportation costs.
The third level of support is managed by Matrix. Matrix operates 24x7 technical support centre at Vadodara, India, to help their SIs all over the world. Matrix technical support engineers provide online help on any mode – telephone, chat, Skype and e-mail. If required, they can view and configure Matrix products using remote management tools.
For RMA services, Matrix promises to repair and return any faulty product within four working days.
Hi-Tech Security Solutions: Do you sell via the channel or direct?
Jivani: In all markets including India, we always sell only through our system integrators. Having acquired more than 500 000 end-customers, we proudly claim we have not sold directly to even one end customer.
Hi-Tech Security Solutions: What are your future expansion plans?
Jivani: Primarily, our objective is to build a strong and stable SI network in Africa. We plan to invest more resources in marketing, sales and technical support in the region. In terms of products and solutions, we plan to consolidate our presence in the three security domains we have selected – access control, time-attendance and IP video surveillance.
For more information contact Matrix, +91 81 2869 0106, abhay.joshi@matrixcomsec.com, www.matrixsecusol.com
Further reading:
Managing staff effectively
September 2019, dormakaba South Africa, iPulse Systems , Integrated Solutions, Access Control & Identity Management
Workforce management solutions allow organisations to track the relationship between productivity and the cost of employment, incorporating issues such as health and safety, T&A, rostering and more.
Read more...
---
Hennie Lategan joins Centurion as head of exports
September 2019, Centurion Systems , News, Access Control & Identity Management
Centurion Systems has announced the appointment of Hennie Lategan as the head of the company's exports department.
Read more...
---
New AlproMAX7 secures maximum rating
September 2019 , Access Control & Identity Management, Products
Alpro has launched a new range of ultra-secure mechanical mortice deadlocks, the AlproMAX7 which comply with BS EN 12209.
Read more...
---
ViRDI UBio Tab 5
September 2019 , Access Control & Identity Management, Products
ViRDI Distribution SA (ViRDI Africa) has announced the release of its long-awaited UBio Tablet to the South African market.
Read more...
---
Visitor access control at Ruimsig Country Club
September 2019, Elvey Security Technologies , Access Control & Identity Management, Products
Cost-effective access control solution that would control the ingress and egress of people, without hindering the traffic throughput of members.
Read more...
---
Estate-focused visitor management solution
September 2019, Vox Telecom , Access Control & Identity Management, Residential Estate (Industry)
Vox has expanded its cloud-based visitor management solution to cater specifically for the needs of small multi-dwelling unit estates and large residential estates.
Read more...
---
Biometrics control airport railroad
September 2019, Suprema , Access Control & Identity Management
63 km railroad to Incheon Airport is centrally controlled and secured by Suprema biometric hardware and software.
Read more...
---
Dual energy X-ray inspection system
September 2019, Regal Distributors SA , Products, Access Control & Identity Management
The ZKX6550 X-ray inspection system increases the operator's ability to identify potential threats; the device is designed to scan briefcases, carry-on baggage, small cargo parcels.
Read more...
---
ZKTeco parking barrier
September 2019, Regal Distributors SA , Products, Access Control & Identity Management
The PB3000 parking barrier is an ideal automatic car park barrier for parking lot and security control; it can easily integrate with revenue collection and access control systems.
Read more...
---
ZKTeco automatic bollard
September 2019, Regal Distributors SA , Products, Access Control & Identity Management
The high-quality automatic bollard is used to protect security areas from vehicle intrusion; in case of power failure, the bollard can be lowered manually.
Read more...
---