printer friendly version
Making a move into Africa
April 2015
Access Control & Identity Management
Although Matrix was founded in 1992 as a product development and marketing company, initially focused on PBX and media gateways, it expanded its focus area to the security market due to the compatibility to its existing telecoms business, in terms of technologies, channel network and customers.
Matrix CEO, Ganesh Jivani, says the company started working on security solutions in 2007. "Diversification was relatively easy for us. We started by first adding access control and time-attendance solutions. Later we added IP video surveillance solutions. Currently we focus on the four business domains – IP telephony, access control, time-attendance and IP video surveillance."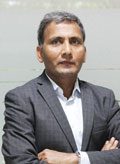 Ganesh Jivani, Matrix CEO.
He adds that many distributors, SIs and customers prefer relying on a single source for their telecoms and security needs.
Hi-Tech Security Solutions asked Jivani about Matrix, its history and plans for South Africa and Africa.
Hi-Tech Security Solutions: What is your market share in India?
Jivani: India is our biggest market. We have the home country advantage in India. Having said this, we have good business in many countries all across the world as well. For example, we are very strong in time-attendance solutions in the Middle-East. We are also strong in media gateways in Europe and hospitality IP PBXs in the USA.
Our market share figures are different for all product domains. On the other hand, we are not strong in entry-level security solutions. IP video surveillance is a relatively new domain for us.
Hi-Tech Security Solutions: Does an Indian company have a hard time selling its products into the global security market?
Jivani: We are living in the era of cross-border collaboration. Top MNCs of the world today have their R&D, KPOs/BPOs in India and their manufacturing in China. Gradually, technology development is becoming region or country neutral. The results depend more on talent, infrastructure and processes and not so much on the company's physical location. Today, India is a recognised brand in technology development in the sectors like pharmaceutical, semiconductor, software, project consulting and ITeS. From where we are today, creating products is just a few more steps ahead.
From Matrix perspective, we are already exporting products designed and manufactured in India to more than 50 counties – most of them to technologically advanced countries like the USA, Germany, Italy, Spain, Portugal, Australia, UAE, KSA, Qatar, Thailand, Singapore and many others.
Hi-Tech Security Solutions: Are you targeting the South African and/or African markets? Why?
Jivani: Africa is the fastest growing continent and there are unlimited opportunities. No sensible technology company can afford to ignore Africa. South Africa is the largest and most developed economy in the region offering well-developed market. In Africa, we already have channel partners in South Africa, Zimbabwe, Botswana, Nigeria, Kenya, Ghana and many other countries.
Hi-Tech Security Solutions: What infrastructure do you have for providing after-sales support in South Africa and Africa?
Jivani: We have planned three levels of support in the region. Primary support is provided by the Matrix SI. This reduces downtime and maintains a close relationship between SI and end customers. To facilitate this, system integrators are offered in-depth technical training. They are also offered spares at discounted prices to encourage them to invest in support.
Secondary level of support is provided by Matrix distributors. If an SI cannot resolve the complaint, he can contact the local Matrix distributor. All Matrix distributors maintain trained technical manpower for remote and on-site support. The distributors also offer stand-by products to system integrators in case of hardware failures. In addition, they are also equipped to manage basic repairing locally to save on time and transportation costs.
The third level of support is managed by Matrix. Matrix operates 24x7 technical support centre at Vadodara, India, to help their SIs all over the world. Matrix technical support engineers provide online help on any mode – telephone, chat, Skype and e-mail. If required, they can view and configure Matrix products using remote management tools.
For RMA services, Matrix promises to repair and return any faulty product within four working days.
Hi-Tech Security Solutions: Do you sell via the channel or direct?
Jivani: In all markets including India, we always sell only through our system integrators. Having acquired more than 500 000 end-customers, we proudly claim we have not sold directly to even one end customer.
Hi-Tech Security Solutions: What are your future expansion plans?
Jivani: Primarily, our objective is to build a strong and stable SI network in Africa. We plan to invest more resources in marketing, sales and technical support in the region. In terms of products and solutions, we plan to consolidate our presence in the three security domains we have selected – access control, time-attendance and IP video surveillance.
For more information contact Matrix, +91 81 2869 0106, [email protected], www.matrixsecusol.com
Further reading:
Revamping Liberty Life's reception area
Turnstar Systems Access Control & Identity Management Commercial (Industry)
Turnstar supplied and installed four Speedgate Express lanes, each 550 mm wide, as well as two Pulse Special Needs Gates for wheelchair access to Liberty Life.
Read more...
---
Hybrid licence plate recognition
ZKTeco Products Access Control & Identity Management Transport (Industry) Logistics (Industry)
The ZKTeco LPRS2000 is a hybrid-recognition vehicle management terminal that combines the latest high-performance UHF reader.
Read more...
---
Suprema joins FiRa Consortium
Suprema News Access Control & Identity Management
Suprema recently became a member of the FiRa Consortium, a consultative body that establishes standards for ultra-wideband (UWB) technology, the next generation of wireless communication.
Read more...
---
Physical security at distribution centre
Turnstar Systems Transport (Industry) Access Control & Identity Management Products Logistics (Industry)
Turnstar's Velocity Raptors create a high-security physical barrier at Massmart's new 75 000 m2 distribution centre in Riversands, Johannesburg .
Read more...
---
Integrated smart parking management
ZKTeco Access Control & Identity Management Transport (Industry) Products Logistics (Industry)
ZKTeco smart parking management provides a solution for both small parking lots and busy multi-story car parks, providing maximum efficiency, transparency and security.
Read more...
---
UHF RFID standalone terminal
ZKTeco Products Access Control & Identity Management Transport (Industry) Logistics (Industry)
The U2000 increases access control functions and supports TCP/IP communication, Wiegand in/out, two relays, third-party electric locks, door sensors and exit buttons.
Read more...
---
PALMKI palm vein recognition technology
Access Control & Identity Management Products
Tactile Technologies has announced the launch of Palmki, a palm vein recognition solution developed and marketed by PerfectID, a Belgian company.
Read more...
---
ATG Digital launches solution for emergencies
Access Control & Identity Management Asset Management, EAS, RFID
ATG Digital has launched a Roll Call feature on its app to assist SHEQ managers and safety officers who cite attendance records in an emergency as one of their biggest challenges.
Read more...
---
UHF and Bluetooth multi-technology reader
Evolving Management Solutions Products Access Control & Identity Management
The SPECTRE nano offers hands-free identification of the vehicle and/or the driver, as well as interoperable and multi-protocol secure identification.
Read more...
---
Identity proofing allows easy virtual ID checks
Access Control & Identity Management Security Services & Risk Management
The identity verification market is expected to grow from $8 billion in 2021 to reach $17,7 billion in 2026 with a CAGR of 17,1%, and identity proofing in particular is gaining popularity.
Read more...
---