printer friendly version
Easing visitor management ­headaches
April 2015
Access Control & Identity Management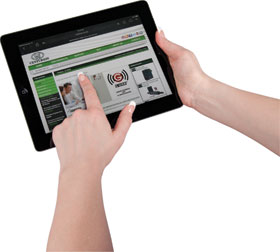 If ever there was a case of having one's cake and eating it, effective visitor management must surely be it. On the one hand, one wants a system that controls access effectively and keeps intruders out, but, on the other hand, one does not want to make the process so convoluted that legitimate visitors who have every reason for being there have no hope of ever getting past the entrance to the premises.
No visitor wants to jump through so many hoops just to deliver a package (or whatever the case may be). But then again, with crime being what it is and with lives and assets to protect, who can afford to take chances?
It begs the question: is it possible to have complete security at the entrance to your complex or business park without making things unnecessarily difficult for your visitors?
According to leading access automation manufacturer Centurion Systems, the answer is an emphatic yes. While Centurion primarily focuses on domestic access control with earlier incarnations of products such as its G-SWITCH-22 GSM module, a recent hardware upgrade that saw this versatile device's user memory being increased from 300 users to 1500, made it abundantly clear that high-volume access control was just as much a priority.
From a visitor management point of view, the G-SWITCH offers ironclad security without subjecting visitors to time-consuming and often intrusive verification procedures. The built-in Limited Uses feature, for example, enables system administrators to grant visitors a user-defined number of output activations and, once these activations have been used, the visitor's access number is automatically deleted from the system's memory.
The administrator would simply add the visitor's number to the system, either via SMS or using Centurion's G-WEB online user interface, set the number of uses allowed (two is typical as it allows for both entry to and exit from the property) and be secure in the knowledge that reliable visitor authentication has not only been implemented, but streamlined.
When it comes to complexes and estates with high-volume demands, Centurion's SupaHelix multi-user access control device offers a range of features ranging from individually configurable channels to detailed transaction logging, and its LCD-based setup and capacious user memory.
The device really comes alive, however, when the optional plug-in GSM Module is added. Besides enabling a further 10 000 users to gain access to the property via their mobile phones, the GSM Module also allows for easy offsite administration of users and device settings (including configuring the afore­mentioned Limited Uses facility) as well as notification of input events via SMS and over-the-air system backup.
For more information contact Centurion Systems, +27 (0)11 699 2400, [email protected], www.centsys.co.za
Credit(s)
Further reading:
Revamping Liberty Life's reception area
Turnstar Systems Access Control & Identity Management Commercial (Industry)
Turnstar supplied and installed four Speedgate Express lanes, each 550 mm wide, as well as two Pulse Special Needs Gates for wheelchair access to Liberty Life.
Read more...
---
Hybrid licence plate recognition
ZKTeco Products Access Control & Identity Management Transport (Industry) Logistics (Industry)
The ZKTeco LPRS2000 is a hybrid-recognition vehicle management terminal that combines the latest high-performance UHF reader.
Read more...
---
Suprema joins FiRa Consortium
Suprema News Access Control & Identity Management
Suprema recently became a member of the FiRa Consortium, a consultative body that establishes standards for ultra-wideband (UWB) technology, the next generation of wireless communication.
Read more...
---
Physical security at distribution centre
Turnstar Systems Transport (Industry) Access Control & Identity Management Products Logistics (Industry)
Turnstar's Velocity Raptors create a high-security physical barrier at Massmart's new 75 000 m2 distribution centre in Riversands, Johannesburg .
Read more...
---
Integrated smart parking management
ZKTeco Access Control & Identity Management Transport (Industry) Products Logistics (Industry)
ZKTeco smart parking management provides a solution for both small parking lots and busy multi-story car parks, providing maximum efficiency, transparency and security.
Read more...
---
UHF RFID standalone terminal
ZKTeco Products Access Control & Identity Management Transport (Industry) Logistics (Industry)
The U2000 increases access control functions and supports TCP/IP communication, Wiegand in/out, two relays, third-party electric locks, door sensors and exit buttons.
Read more...
---
PALMKI palm vein recognition technology
Access Control & Identity Management Products
Tactile Technologies has announced the launch of Palmki, a palm vein recognition solution developed and marketed by PerfectID, a Belgian company.
Read more...
---
ATG Digital launches solution for emergencies
Access Control & Identity Management Asset Management, EAS, RFID
ATG Digital has launched a Roll Call feature on its app to assist SHEQ managers and safety officers who cite attendance records in an emergency as one of their biggest challenges.
Read more...
---
UHF and Bluetooth multi-technology reader
Evolving Management Solutions Products Access Control & Identity Management
The SPECTRE nano offers hands-free identification of the vehicle and/or the driver, as well as interoperable and multi-protocol secure identification.
Read more...
---
Identity proofing allows easy virtual ID checks
Access Control & Identity Management Security Services & Risk Management
The identity verification market is expected to grow from $8 billion in 2021 to reach $17,7 billion in 2026 with a CAGR of 17,1%, and identity proofing in particular is gaining popularity.
Read more...
---