printer friendly version
How to implement an effective visitor management system
April 2015
Access Control & Identity Management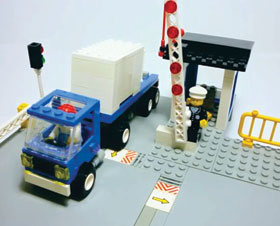 Gone are the days when the few questions that a home insurance consultant had on his checklist for you were predominantly about your alarm system and whether or not you had some sort of fencing around your property.
Fast forward to 2015. An average home insurance quote application takes about 40 minutes and is predominantly about whether your property is within a gated security area and the ins and outs of their access control management.
Powell Tronics believe that access control and visitor management has moved up the list of top priorities for residential estates and business parks, to a stage where it is almost on par with standard security features such as perimeter walls, electric fencing and CCTV. It is now rare to be able to drive into an estate without being stopped by some form of barrier and a neatly dressed guard with a clipboard.
While the manual visitor entry books have served their purpose over the years, they have also inherently highlighted the importance of capturing accurate visitor information. An increase in private crime, allied to thousands of Rands being spent replacing countless barriers lost to the reckless driving antics of M Mouse , listing 'Bus.' or 'PVT' as the reason for their visit, is considered to be the major driver for radical change in many residential communities and commercial business centres.
This has prompted a rapid migration to electronic access control solutions that are fully integrated to seamlessly handle visitors and contractors. However, an access control solution is only as good as the data on which it relies to make decisions regarding who to let in and who to keep out. Sound installations by a certified installer and properly maintained information that is stored in system databases are key factors in determining whether an access control solution will be an asset to the estate or a hindrance to its tenants.
Efficient integrated systems
Powell Tronics' years of involvement with numerous estates and business centres nationwide has identified valuable best practice methodologies that are implemented with the goal of achieving an efficient access control and visitor management solution. Policies such as automatically limiting contractor and visitor access to specific areas and time zones is far more effective and less administrative than allowing them full access for an unlimited time period and can be amended as the need arises.
The idea is to use technologies that capture vehicle licence discs and driver's licences and are fully integrated with the access control systems, like Impronet and Powell Tronics' PT-Guest service solution. This ensures that accurate visitor and contractor information is easily captured within seconds, without causing negative effects on an already busy perimeter entrance or inconveniencing the visitor by asking them to exit their vehicles to be registered.
Focused visitor and contractor reports with details such as the visitor's name, surname and contact number, respective vehicle make, colour and registration details, destination, and transaction details, will empower the estates security management to quickly and accurately identify any visitor or contractor that has been or currently is on site. Comprehensive tenant information on the access control system enables the security teams to efficiently liaise with tenants for visitor confirmation.
Regular servicing essential
Service level agreements with certified installers to administer and perform background procedures, such as regular backups and system maintenance, including systematic battery backups or database maintenance, or to ensure the access control system is running optimally are critical for effective long-term performance.
An alternative to the outright purchase of a visitor management is the rental option. This has a number of advantages for customers including the fact that the system does not appear on the customer's balance sheet, CAPEX expenditure is not required and regular, scheduled proactive maintenance is tied into the rental agreement with the installer. In addition, as technology ages it can be replaced by newer, best practice technology as part of the rental renewal process.
It is advisable for customers to seek out the services of installers or system integrators who have documented experience in providing estate visitor management solutions. Similarly, installers should align themselves with suppliers who have a proven track record of designing and supplying solutions that can be integrated with other security and business systems.
By implementing a regulated and fully integrated access control and visitor management solution, both residential and commercial estates can assure their tenants that the utmost level of security is in place to safeguard their investment in their estate.
For more information contact Powell Tronics, 0861 787 2537, [email protected], www.p-tron.com
Credit(s)
Further reading:
Revamping Liberty Life's reception area
Turnstar Systems Access Control & Identity Management Commercial (Industry)
Turnstar supplied and installed four Speedgate Express lanes, each 550 mm wide, as well as two Pulse Special Needs Gates for wheelchair access to Liberty Life.
Read more...
---
Hybrid licence plate recognition
ZKTeco Products Access Control & Identity Management Transport (Industry) Logistics (Industry)
The ZKTeco LPRS2000 is a hybrid-recognition vehicle management terminal that combines the latest high-performance UHF reader.
Read more...
---
Suprema joins FiRa Consortium
Suprema News Access Control & Identity Management
Suprema recently became a member of the FiRa Consortium, a consultative body that establishes standards for ultra-wideband (UWB) technology, the next generation of wireless communication.
Read more...
---
Physical security at distribution centre
Turnstar Systems Transport (Industry) Access Control & Identity Management Products Logistics (Industry)
Turnstar's Velocity Raptors create a high-security physical barrier at Massmart's new 75 000 m2 distribution centre in Riversands, Johannesburg .
Read more...
---
Integrated smart parking management
ZKTeco Access Control & Identity Management Transport (Industry) Products Logistics (Industry)
ZKTeco smart parking management provides a solution for both small parking lots and busy multi-story car parks, providing maximum efficiency, transparency and security.
Read more...
---
UHF RFID standalone terminal
ZKTeco Products Access Control & Identity Management Transport (Industry) Logistics (Industry)
The U2000 increases access control functions and supports TCP/IP communication, Wiegand in/out, two relays, third-party electric locks, door sensors and exit buttons.
Read more...
---
PALMKI palm vein recognition technology
Access Control & Identity Management Products
Tactile Technologies has announced the launch of Palmki, a palm vein recognition solution developed and marketed by PerfectID, a Belgian company.
Read more...
---
ATG Digital launches solution for emergencies
Access Control & Identity Management Asset Management, EAS, RFID
ATG Digital has launched a Roll Call feature on its app to assist SHEQ managers and safety officers who cite attendance records in an emergency as one of their biggest challenges.
Read more...
---
UHF and Bluetooth multi-technology reader
Evolving Management Solutions Products Access Control & Identity Management
The SPECTRE nano offers hands-free identification of the vehicle and/or the driver, as well as interoperable and multi-protocol secure identification.
Read more...
---
Identity proofing allows easy virtual ID checks
Access Control & Identity Management Security Services & Risk Management
The identity verification market is expected to grow from $8 billion in 2021 to reach $17,7 billion in 2026 with a CAGR of 17,1%, and identity proofing in particular is gaining popularity.
Read more...
---