printer friendly version
Electronic visitor management is the future
April 2015
Access Control & Identity Management
While the visitors' book is unlikely to vanish anytime soon, whether it's legal or not, there are many companies changing their visitor management processes to electronic solutions to improve accuracy and reliability – and remain within the bounds of the law.
Hi-Tech Security Solutions spoke to Marius Coetzee, CEO of Ideco about visitor management in the 21st century, and how this field is changing in light of new technologies and changing legislation.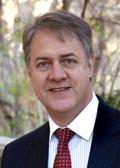 Marius Coetzee, CEO of Ideco.
While technology is beneficial in most, if not all business functions, one must question why visitor management is receiving so much attention. Surely someone who has signed in at the gate and at reception has been validated as a legitimate visitor and not a criminal? Or is that question naïve in light of South Africa's legendary crime rate?
Coetzee says South Africa faces many unique challenges in terms of crime and security. Visitor access control is too often a gaping hole in security measures. "We have all heard and seen the news stories of criminals posing in fake armed response uniforms or police vehicles, or as bogus service providers coming to service telephone lines, make off with laptops and other valuables. By using a reputable, proven scanning solution which proves a person's presence on the site by means of a fingerprint, and also performs a live ID check, the risk for potential crime is greatly reduced.
"It is one thing to record a visitor's information, but it takes security to a new level when the information is verified in real time and the person's presence on the site is recorded by means of a biometric fingerprint scan. When a person leaves their fingerprint on record, they will think twice about committing a crime."
What's more, he adds that with the advent of the PoPI Act it is becoming a necessity for companies to ensure that visitors' personal information is captured, processed and stored in a compliant and secure way. The PoPI Act places the onus on business executives and directors to ensure that personal information such as ID numbers and cell phone numbers are recorded accurately and stored securely.
Certain industries are required to retain visitor information for up to 20 years. To do this accurately and responsibly using a paper-based system is expensive and arduous. Paper systems are also inaccurate and expose personal information to almost anyone who catches a glance at the paper.
It seems logical, therefore, that a move away from paper is warranted. Who hasn't filled in anything in a visitor's book just to get it over with and get on with your meeting? And who wants to add an ID number to a piece of paper that anyone can see?
Coetzee says that electronic solutions are far more accurate, secure and professional than the traditional visitors' book. Moreover, he explains, "Ideco's EVIM product is one of the most compliant electronic solutions on the SA market today. Criminals often pose as service providers so it is necessary to record accurate identity information and to verify the integrity of a person's identity before they are allowed inside. The Occupational Health & Safety Act also requires an accurate visitors' register."
It's an unfortunate fact that many security decisions are not made according to what the optimal solution is, but according to the bottom line. With this in mind, it is easy to understand why many companies will opt for the visitors' book – it's cheap and doesn't require anyone to spend money on training people how to use it.
Coetzee disagrees, however, noting that the visitors' book system can also be costly depending on the storage and archiving costs. "In terms of the Occupational Health & Safety Act, companies are required to retain visitors' information for a specified period. Depending on the archiving requirements, this can be an expensive exercise. The paper books also allow for inaccuracies and fraudulent recording of a visitor's name. If one looks hard enough in many visitors' books, they will find 'Mickey Mouse' and 'Donald Duck'.
Additionally, with PoPI looming, the information captured presents another problem to the visitors' book crowd as the data needs to be secure and stored securely for the long term. Coetzee explains that information should be encrypted and stored on a PoPI compliant server. "Information should not be stored on the device or on a computer in the guard house," Coetzee says. "Ultimately, the system should also prove that the personal information has been recorded with the visitor's consent. The EVIM solution sends each visitor an SMS with a reference number for the transaction and also requires that the visitor sign the transaction of by means of fingerprint, which acts as a digital signature to prove permission."
He adds, "The EVIM solution is a fully managed and hosted solution that removes the responsibility and risk away from security guards so that they are free to focus on their core duties. Only authorised personnel may access the information – neither the security guards nor visitors can view or access the data. And, not only does EVIM capture a visitor's name and surname accurately, but it also verifies a visitor's identity in real time."
When vehicle registration details are recorded correctly, EVIM will alert the guard if a vehicle's licence has expired – this is a vital part of OHS on many industrial sites.
While many companies may opt for the visitors' book as a cheap alternative for something they don't want to do anyway, new legislation and the fight against crime are forcing them to look for better, more effective visitor management solutions.
A product like EVIM (and other technical solutions) offers this, and while the purchase price may be more than a book, companies need to balance the value of their staff and visitors' security, as well as the assets that could be lost before opting for the cheapest solution. Moreover, while PoPI is still seen by many as something that may happen in the future, this legislation will be a reality in the near future and rushing to comply will cost far more than a phased approach to compliance.
For more information contact Ideco Biometric Security Solutions, 086 104 3326, [email protected], www.ideco.co.za
Credit(s)
Further reading:
Revamping Liberty Life's reception area
Turnstar Systems Access Control & Identity Management Commercial (Industry)
Turnstar supplied and installed four Speedgate Express lanes, each 550 mm wide, as well as two Pulse Special Needs Gates for wheelchair access to Liberty Life.
Read more...
---
Hybrid licence plate recognition
ZKTeco Products Access Control & Identity Management Transport (Industry) Logistics (Industry)
The ZKTeco LPRS2000 is a hybrid-recognition vehicle management terminal that combines the latest high-performance UHF reader.
Read more...
---
Suprema joins FiRa Consortium
Suprema News Access Control & Identity Management
Suprema recently became a member of the FiRa Consortium, a consultative body that establishes standards for ultra-wideband (UWB) technology, the next generation of wireless communication.
Read more...
---
Physical security at distribution centre
Turnstar Systems Transport (Industry) Access Control & Identity Management Products Logistics (Industry)
Turnstar's Velocity Raptors create a high-security physical barrier at Massmart's new 75 000 m2 distribution centre in Riversands, Johannesburg .
Read more...
---
Integrated smart parking management
ZKTeco Access Control & Identity Management Transport (Industry) Products Logistics (Industry)
ZKTeco smart parking management provides a solution for both small parking lots and busy multi-story car parks, providing maximum efficiency, transparency and security.
Read more...
---
UHF RFID standalone terminal
ZKTeco Products Access Control & Identity Management Transport (Industry) Logistics (Industry)
The U2000 increases access control functions and supports TCP/IP communication, Wiegand in/out, two relays, third-party electric locks, door sensors and exit buttons.
Read more...
---
PALMKI palm vein recognition technology
Access Control & Identity Management Products
Tactile Technologies has announced the launch of Palmki, a palm vein recognition solution developed and marketed by PerfectID, a Belgian company.
Read more...
---
ATG Digital launches solution for emergencies
Access Control & Identity Management Asset Management, EAS, RFID
ATG Digital has launched a Roll Call feature on its app to assist SHEQ managers and safety officers who cite attendance records in an emergency as one of their biggest challenges.
Read more...
---
UHF and Bluetooth multi-technology reader
Evolving Management Solutions Products Access Control & Identity Management
The SPECTRE nano offers hands-free identification of the vehicle and/or the driver, as well as interoperable and multi-protocol secure identification.
Read more...
---
Identity proofing allows easy virtual ID checks
Access Control & Identity Management Security Services & Risk Management
The identity verification market is expected to grow from $8 billion in 2021 to reach $17,7 billion in 2026 with a CAGR of 17,1%, and identity proofing in particular is gaining popularity.
Read more...
---