printer friendly version
Integration is essential
April 2015
Security by Industry Sector
Crime is a reality of doing business in South Africa and, as such, security solutions are essential for any commercial environment. The aim of such solutions is multi-fold – they act as a deterrent to petty criminals, prevent unauthorised access to certain areas, reduce insurance premiums, alert appropriate parties should an incident occur, and, in the case of surveillance systems, provide evidence after the fact.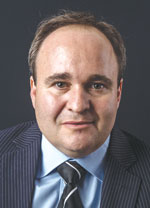 Mark Chertkow, MD of Graphic Image Technologies.
Securing commercial environments is vital for protecting the business, its assets and its people. However, it can be a complex task, particularly with regards to sourcing, procuring and managing the various aspects of a system, and thus organisations are increasingly looking for providers that can deliver multiple solutions with integration capabilities.
With so many different requirements, security systems are often comprised of a number of different technologies and solutions. Ensuring that these systems work together is thus essential and, as a result, integration between the various elements of security solutions is becoming an increasing concern.
The ultimate goal is to achieve a single point of contact with a single interface where all aspects of security systems work together, from alarms to surveillance to access control and more. Video analytics can be used to monitor perimeters, and when alarms are activated the system is able to take control of cameras and track targets with seamless handover between cameras. This type of fully integrated system has a number of benefits stemming from the ability to use one single command and control system. As a result, security personnel have access to a wealth of information coming in from different systems, providing a full overview of facilities for improved security.
Despite the many benefits of integrated security, this idea of a single command and control centre is not yet fully realised. While there are solutions available that offer this full integration capability, they are typically found only in the high-end systems, which are costly, and are thus most applicable in large commercial institutions. The main reason for this is that each system is made with a specific purpose in mind, for example, CCTV cameras are not manufactured with perimeter control features. Integration, while beneficial, can prove to be a challenge, with both cost and technological issues getting in the way. Currently, it is simply not possible to obtain a single system with everything required, and while many solutions promise integration, they often fail to work together effectively.
While a single, holistic solution may not currently be a cost-effective solution or even possible with certain solutions, some integration capabilities can be leveraged and this can provide a number of advantages. Vendor ­neutral solutions and systems that work together are currently available, with ­technology that enables the integration of multiple elements. This results in improved utilisation of security resources.
Analytics lie at the heart of improving security intelligence. For example, with analytics capabilities, video becomes more intelligent, with automated tracking processes that take CCTV from simple recording to a decision-making tool. With the increasing availability of Ultra-High Definition (Ultra HD) 4K cameras, which provide more than four times the resolution of previous HD cameras, new possibilities are also made available. With such high resolution, security personnel can zoom in to images with great clarity, finally making facial recognition a reality. New technologies such as body motion analytics can also work with facial recognition and biometrics, which can be used not only for improved security but also for enhanced people flow, automatically permitting entry for authorised persons.
Integration is the future of security systems, with technology to protect perimeters integrating with thermal imaging and surveillance cameras, utilising analytics to provide intelligence and enhanced decision-making ability. Tools to manage access control via cameras and biometric solutions can be used to enhance security and the free flow of people.
As integration capabilities grow, these types of solutions will become more and more a reality. In the meantime, however, securing commercial environments relies on the use of separate technologies. In order to deliver the most effective solution, commercial environments need to specify what they require and why. Once this is established, they are able to look for best of breed solutions for each individual requirement.
For more information contact Graphic Image Technologies, +27 (0)11 483 0333, markc@git.co.za, www.git.co.za
Credit(s)
Further reading:
Getting a visual on Covid-19 screening
Graphic Image Technologies Surveillance
Should organisations be investing in thermal camera technology to simply contain and limit the spread of the virus?
Read more...
---
Time for a security health check
Graphic Image Technologies Healthcare (Industry)
Just like any other business or commercial property, hospitals, clinics and medical facilities need adequate surveillance measures in place for safety and security purposes.
Read more...
---
Cloud-based fleet and driver management
Graphic Image Technologies Surveillance
Graphic Image Technologies (GIT) has announced the availability of a cloud-based dashcam designed to improve on-the-road behaviour and assist in improving fleet management.
Read more...
---
Dashcams useful for more than social media
Graphic Image Technologies Surveillance Transport (Industry)
Logistics companies need to make sure that they have a complete solution that allows real-time driver monitoring and event notifications as they happen.
Read more...
---
Surveillance and analytics for security
Graphic Image Technologies Surveillance
Public spaces can be made safer almost immediately with smart surveillance technology, and the adoption of CCTV camera systems is exactly the decisive step that is needed to clean up our cities streets.
Read more...
---
Graphic Image Technologies
Graphic Image Technologies Products & Solutions
Graphic Image Technologies (GIT) will be showcasing its latest range of FLIR and SerVision products and solutions as well as the latest cloud-based Surfsight dashcam at Securex 2019. Attendees will be ...
Read more...
---
Visual and thermal perimeter ­protection
Graphic Image Technologies Surveillance Products & Solutions
The FLIR PT-Series offers thermal imaging, high quality and visible-light imaging, along with new lens technology that allows for wider zoom range and improved imaging performance.
Read more...
---
CCTV: the final say in workplace disputes?
Graphic Image Technologies Surveillance
In addition to fulfilling a crime deterrent function, CCTV surveillance can also be useful in workplace dispute resolution.
Read more...
---
Graphic Image Technologies
Graphic Image Technologies Products & Solutions
Graphic Image Technologies (GIT) will be showcasing its latest range of FLIR and SerVision products and solutions as well as the latest cloud-based Surfsight dashcam at Securex 2019.
Read more...
---
Smart mobile sensor platform
Graphic Image Technologies Surveillance Integrated Solutions
The ability to put eyes on the ground has gone from a standalone package to a complete end-to-end system wrapped up as a 'smart mobile sensor platform'.
Read more...
---