printer friendly version
New video door entry systems
March 2015
Access Control & Identity Management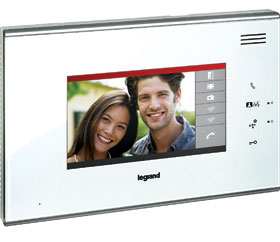 Legrand's new video door entry control systems are effective security devices, designed to enhance safety and provide peace of mind in almost any built environment – whether it is a factory, an individual house, apartment, shop, medical suite, office block, hotel or housing estate.
"As crime increases, well designed security systems for controlled access are becoming more important," states Johann Bosch, Legrand's national sales manager. "Identifying people at the door and being able to speak to them before allowing them admission to the building is now an affordable facility that should be considered a necessity, rather than a luxury."
Legrand video entry control units – with multiple functions, including clear images and good sound quality – significantly improve the security of any environment.
This new range encompasses basic audio and video kits for homes, the two-wire system for small buildings and the Legrand D45 system – with integrated security functions – for larger projects, buildings and complexes.
Basic two-wire hands-free kits, which are designed for easy fitting, include all components required for the installation – a slimline entrance panel, which adds a stylish touch to any entrance area – and internal units, with plug-in power connectors. Other features include a gate/door lock release key, an intercom function and an expansion facility for two additional dedicated audio or video hands-free internal units. For user convenience, there is a direct connection between the entrance panel and internal unit with one cable.
Wall mounted dedicated metal entrance panels with a black or white finish, and a rain shield as standard, are fitted with a colour camera and LED for the illumination of the field of view. Video kits in this range include a 7-inch colour touch screen, with an audio and picture memory and 7-inch and 3,5-inch colour display units.
The new two-wire system can be integrated and combined with Legrand's MyHome automation system applications. The advanced graphic interface of the MyHome screen 10 allows the user to control and monitor all home automation functions and enables navigation by room.
This two-wire solution also facilitates the installation of small home CCTV systems which connect several entrance panels and cameras to the system for improved security.
The switchboard of this system provides access to various services, including video door entry system functions, the door lock, stair light management and monitoring of alarms. Programming can be done directly from the device or from a PC using the Softswitchboard software supplied.
The flexible design of this video door entry system, with two non-polarised wires, allows easy refurbishment of existing systems. An old panel can be removed and the two existing cables are used to easily connect the new entrance panel, subject to cable thickness.
Legrand's DA45 high performance system is suitable for installation in residential complexes with a large number of apartments or homes. The use of UTP cables and RJ45 connections for all devices ensures quick and easy installation for the requirements of backbone and riser devices and various system networks.
Functions of this system include an anti-tamper function and emergency pushbutton on indoor handsets, an intercom between all apartments of the riser and the possibility to connect an additional camera to the switchboard, which also has alarm management and recording and storage functions.
There are three different entrance panels in this range – digital call keypads and pushbutton call modules for large buildings and single pushbuttons call units for smaller installations.
Access control functions of flush mounted digital call keypads are via numeric or alphanumeric codes. Pushbutton control units are available with 10 and 20 pushbutton models, with 16 and 32 pushbutton extension models. These units are also flush mounted and are fitted with name plate modules as standard. Single pushbutton units, with an aluminium alloy panel, are designed for wall mounted installation.
These robust entrance panels have an IP54 index protection rating to guard against the ingress of dirt, dust and water. Internal units in the D45 system can be integrated with alarm sensors, include colour and black and white hands-free video systems and a black and white handset device. Wall mounted black and white audio handsets have a door lock pushbutton facility and an external emergency pushbutton option.
Legrand has designed advanced YouDiagram software for the configuration of the two-wire and D45 video door entry systems. This system is used by professionals for the installation, design and selection of devices, as well as for configuration and validation of each system's current absorption.
Credit(s)
Further reading:
Enhanced biometric technology for mines
September 2019, ZKTeco , Mining (Industry), Access Control & Identity Management
Biometric identification and authentication are currently used at various mines in South Africa and in the SADC region.
Read more...
---
Improving access in mines
October 2019, Astra Fasteners , Mining (Industry), Access Control & Identity Management, Products
The VP1 controller provides full access control and remote monitoring of intelligent locks without having to wire into a network or install, manage and maintain software.
Read more...
---
Invixium and Pyro-Tech partner in South Africa
October 2019 , News, Access Control & Identity Management
Invixium, a manufacturer of IP-based biometric solutions and Pyro-Tech Security Suppliers have announced a new distribution partnership.
Read more...
---
Suprema receives FBI PIV/FAP30 certification
October 2019, Suprema , News, Access Control & Identity Management
Suprema has announced that the company's BioMini Slim 3 has received FBI PIV (Personal Identity Verification) and Mobile ID FAP30 certification.
Read more...
---
Frictionless access with a wave
October 2019, IDEMIA , Access Control & Identity Management, Residential Estate (Industry)
IDEMIA was the Platinum Sponsor for the Residential Estate Security Conference 2019 and set up its MorphoWave Compact frictionless fingerprint biometric scanner at the entrance to the conference.
Read more...
---
Streamlined access and reporting
October 2019, Comb Communications , Access Control & Identity Management, Residential Estate (Industry)
The main focus of the Comb stand was its practical demonstration of the MK II Lite intercom system with third-party integrated products.
Read more...
---
Customised and integrated solutions
October 2019, Suprema , Access Control & Identity Management, Residential Estate (Industry)
iVisit offers both high-end and low-end residential complexes a cost-effective visitor management solution that is fully integrated into Suprema's offerings.
Read more...
---
Access solutions for every estate
October 2019, Impro Technologies , Access Control & Identity Management, Residential Estate (Industry)
Impro's flagship Access Portal solution comprises one of the most user-friendly software solutions on the market.
Read more...
---
SALTO achieves Environmental Product Declaration (EPD)
October 2019, Salto Systems Africa , News, Access Control & Identity Management
SALTO Systems has announced that it has received the first Environmental Product Declaration (EPD) for XS4 smart locking solutions, including the XS4 Original model for the European and Scandinavian standard ...
Read more...
---
Managing staff effectively
September 2019, dormakaba South Africa, iPulse Systems , Integrated Solutions, Access Control & Identity Management
Workforce management solutions allow organisations to track the relationship between productivity and the cost of employment, incorporating issues such as health and safety, T&A, rostering and more.
Read more...
---