printer friendly version
Fire detection inside the box
March 2015
Fire & Safety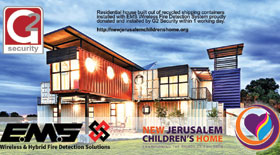 New Jerusalem Children's Home (NJCH) is located in Midrand. Two sisters, Anna and Phina Mojapelo established the New Jerusalem Children's Home with help from volunteers, government, corporate and donations.
The centre is a place of safety for abandoned, abused, orphaned and vulnerable children. It has sheltered more than 1000 children since its establishment in September 2000. The home presently accommodates 80 children from 0 to 18 years of age. It is a small entity with a big vision. It aims to become one of the best children's homes in Africa with the provision of holistic and integrated quality care to orphaned, abandoned, abused, traumatised, vulnerable and HIV positive children.
The current facilities comprise nurseries for the babies; dormitories for the older children; communal kitchen and dining facilities; a creche; a Montessori pre-school; play and sports facilities and a substantial permaculture vegetable garden. The first eco-friendly house was officially opened on the 24 of February 2012. New Jerusalem's mission is located within an environmental sustainability framework and the home has committed to use any means possible to reuse and recycle and to minimise its carbon footprint.
Built out of 28 recycled shipping containers, the container house provides accommodation for 40 children complete with bathrooms, communal areas and kitchen. In addition, there is a new 20 seat computer lab that has recently been set-up to provide access to computers to develop the necessary IT skills for the children to enhance their education and provide the skills for when they leave the home. A number of off-line content systems have been installed to provide access to educational material.
Background to the project
It was while assisting with the setup and donating towards this computer lab that G2 Security became involved with the children's home. As with many facilities in South Africa, the inclusion of fire detection in facilities is commonly overlooked, but obviously being a building accommodating a large quantity of children the risk to life from fire is substantial. As such G2 Security surveyed the premises to determine what would be the best solution to provide suitable fire detection.
With a large number of systems to choose from, including standard conventional and analogue addressable systems, designs were drawn up to see which system would be the most cost effective and easy to install so that a budget could be created to seek funding.
Due to the architectural makeup of the building, the major challenge was cableways as the container house has been fully established for nearly two years and there are very few voids to utilise for cabling this two-storey building. Any cabling would need to run inside conduits and because of the many individual rooms this would require either additional engineering through the container walls or untidy conduit runs. In addition to the cost implications of this, it would also lead to many days on site for installation teams and cause unnecessary disruption to the children in the home.
For these reasons it was decided to look at a fully wireless detection system to overcome the wiring issued associated with the project. The initial feeling was that the unique fabrication of this building would make it very difficult to facilitate a wireless solution.
In order to establish the feasibility of the wireless solution, Ryan Lawrence of G2 utilised the wireless survey kit to quantify the design feasibility. Remarkably, the entire container house could be serviced from a single radio module connected to the fire detection panel. All points tested provided excellent results in this survey. This meant that the use of a totally wireless solution was a very realistic option. When compared to the pricing of a standard wired solution along with the necessary conduits, the prices were comparable. With the added advantage that the installation team would only need to be on site for a single day to install and commission the system meant that it was by far the more desirable solution.
Wireless means fireless
FireCell is a sophisticated yet easy to use wireless and hybrid fire detection solution from UK-based EMS. Wireless is not new and is now accepted as being every bit as reliable and robust as traditionally wired alternatives yet it offers so much more in terms of flexibility making it an ideal choice.
FireCell is a flexible integrated and scalable fire detection system that can be 100% wireless, where cables just cannot be accommodated, or in a hybrid combination of wired and wireless dependent on the building and customer requirements. Fully certified to EN54-25, FireCell can provide protection for a single building or a number of properties using wireless or a conventionally wired network infrastructure, again dependent on specific requirements. FireCell enables fast installation reducing interference on day-to-day activities, almost no impact on internal decoration and seamless installation based on your agenda all without any compromise on the level of protection.
When approached, EMS donated all of the FireCell components to the system. This meant with a little bit of extra funding from G2 the entire container house was fitted with a full wireless solution, including addressable fire panel, optical smoke and heat detection, manual call points and sounders. The entire installation was completed in less than eight hours, including testing and commissioning.
The FireCell wireless fire detection system is a perfect fit for the New Jerusalem Children's home. As the wireless fire system devices run on batteries the drain on electricity usage is considerably reduced, working in harmony with the eco-friendly philosophy of the home, while providing reliable fire protection for all the occupants.
For more information, contact G2 Security, +27 (0)87 940 9322, info@g2security.co.za, www.g2security.co.za
Credit(s)
Further reading:
Linear heat detection under difficult conditions
Issue 5 2020, Technoswitch , Fire & Safety
Securiton's SecuriHeat ADW535 linear heat detector prevails where conventional fire detectors reach their physical limits.
Read more...
---
High-precision aspirating smoke detectors
Issue 5 2020, Technoswitch , Fire & Safety
The SecuriSmoke ASD range by Securiton offers three VdS approved models and makes the lightning-fast detection of fires both scalable and cost-effective for any area.
Read more...
---
Competency in the fire industry
Issue 5 2020, FDIA (Fire Detection Installers Association) , Fire & Safety
Persons who design, commission, install or service fire protection equipment or systems should have the required level of competence for the task they perform.
Read more...
---
Public address/voice alarm partnership
Issue 5 2020, Johnson Controls Global Products , Fire & Safety
Johnson Controls customers now have single-source access to a complete line of fire detection products, including high-quality PA/VA systems.
Read more...
---
Hochiki Europe's L@titude system distributed by XtraVision
Issue 5 2020, XtraVision , Fire & Safety
Hochiki Europe's L@titude range of fire alarm control is both sophisticated, yet simple to use.
Read more...
---
Hochiki shines a light on luxury
Issue 5 2020, XtraVision , Fire & Safety
Luxury hotel chooses fire safety equipment from Hochiki as part of extension and restructuring works.
Read more...
---
Self-test for fire alarms
Issue 4 2020, Johnson Controls Global Products , Fire & Safety
Johnson Controls notification appliance self-test technology receives UL Verification Mark.
Read more...
---
New FireClass addressable fire alarm panels
Issue 4 2020, Johnson Controls Global Products , Fire & Safety
Johnson Controls has introduced two new FireClass addressable fire alarm panels, the FC702 and FC708, to its range of fire detection solutions.
Read more...
---
University of Sudan tackles heat and dust with life safety solutions
Issue 4 2020, Hochiki Europe , Fire & Safety
To guarantee the safety of students, staff and visitors, Sudan University chose fire safety devices from Hochiki with the ability to withstand the harsh Sudanese environment.
Read more...
---
Managing the fire risk of transformer explosions
Issue 2 2020 , Fire & Safety
While a simple solution is to install adequate fire detection and suppression systems, this is hampered by the lack of necessary funding.
Read more...
---