printer friendly version
Fire detection inside the box
March 2015
Fire & Safety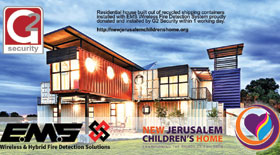 New Jerusalem Children's Home (NJCH) is located in Midrand. Two sisters, Anna and Phina Mojapelo established the New Jerusalem Children's Home with help from volunteers, government, corporate and donations.
The centre is a place of safety for abandoned, abused, orphaned and vulnerable children. It has sheltered more than 1000 children since its establishment in September 2000. The home presently accommodates 80 children from 0 to 18 years of age. It is a small entity with a big vision. It aims to become one of the best children's homes in Africa with the provision of holistic and integrated quality care to orphaned, abandoned, abused, traumatised, vulnerable and HIV positive children.
The current facilities comprise nurseries for the babies; dormitories for the older children; communal kitchen and dining facilities; a creche; a Montessori pre-school; play and sports facilities and a substantial permaculture vegetable garden. The first eco-friendly house was officially opened on the 24 of February 2012. New Jerusalem's mission is located within an environmental sustainability framework and the home has committed to use any means possible to reuse and recycle and to minimise its carbon footprint.
Built out of 28 recycled shipping containers, the container house provides accommodation for 40 children complete with bathrooms, communal areas and kitchen. In addition, there is a new 20 seat computer lab that has recently been set-up to provide access to computers to develop the necessary IT skills for the children to enhance their education and provide the skills for when they leave the home. A number of off-line content systems have been installed to provide access to educational material.
Background to the project
It was while assisting with the setup and donating towards this computer lab that G2 Security became involved with the children's home. As with many facilities in South Africa, the inclusion of fire detection in facilities is commonly overlooked, but obviously being a building accommodating a large quantity of children the risk to life from fire is substantial. As such G2 Security surveyed the premises to determine what would be the best solution to provide suitable fire detection.
With a large number of systems to choose from, including standard conventional and analogue addressable systems, designs were drawn up to see which system would be the most cost effective and easy to install so that a budget could be created to seek funding.
Due to the architectural makeup of the building, the major challenge was cableways as the container house has been fully established for nearly two years and there are very few voids to utilise for cabling this two-storey building. Any cabling would need to run inside conduits and because of the many individual rooms this would require either additional engineering through the container walls or untidy conduit runs. In addition to the cost implications of this, it would also lead to many days on site for installation teams and cause unnecessary disruption to the children in the home.
For these reasons it was decided to look at a fully wireless detection system to overcome the wiring issued associated with the project. The initial feeling was that the unique fabrication of this building would make it very difficult to facilitate a wireless solution.
In order to establish the feasibility of the wireless solution, Ryan Lawrence of G2 utilised the wireless survey kit to quantify the design feasibility. Remarkably, the entire container house could be serviced from a single radio module connected to the fire detection panel. All points tested provided excellent results in this survey. This meant that the use of a totally wireless solution was a very realistic option. When compared to the pricing of a standard wired solution along with the necessary conduits, the prices were comparable. With the added advantage that the installation team would only need to be on site for a single day to install and commission the system meant that it was by far the more desirable solution.
Wireless means fireless
FireCell is a sophisticated yet easy to use wireless and hybrid fire detection solution from UK-based EMS. Wireless is not new and is now accepted as being every bit as reliable and robust as traditionally wired alternatives yet it offers so much more in terms of flexibility making it an ideal choice.
FireCell is a flexible integrated and scalable fire detection system that can be 100% wireless, where cables just cannot be accommodated, or in a hybrid combination of wired and wireless dependent on the building and customer requirements. Fully certified to EN54-25, FireCell can provide protection for a single building or a number of properties using wireless or a conventionally wired network infrastructure, again dependent on specific requirements. FireCell enables fast installation reducing interference on day-to-day activities, almost no impact on internal decoration and seamless installation based on your agenda all without any compromise on the level of protection.
When approached, EMS donated all of the FireCell components to the system. This meant with a little bit of extra funding from G2 the entire container house was fitted with a full wireless solution, including addressable fire panel, optical smoke and heat detection, manual call points and sounders. The entire installation was completed in less than eight hours, including testing and commissioning.
The FireCell wireless fire detection system is a perfect fit for the New Jerusalem Children's home. As the wireless fire system devices run on batteries the drain on electricity usage is considerably reduced, working in harmony with the eco-friendly philosophy of the home, while providing reliable fire protection for all the occupants.
For more information, contact G2 Security, +27 (0)87 940 9322, info@g2security.co.za, www.g2security.co.za
Credit(s)
Further reading:
Vital fire detection for ODE
Johnson Controls Global Products Editor's Choice Fire & Safety Logistics (Industry)
Johnson Controls' solution meets stringent safety audits and makes it easier for ODE to obtain building and contents insurance.
Read more...
---
Effective messaging and voice alarm
Johnson Controls Global Products Fire & Safety Security Services & Risk Management
Why do you need a public address and voice alarm system (PAVA) as part of your fire detection alarm system?
Read more...
---
New Rapid Install Sprinklers
Johnson Controls Global Products Fire & Safety
Johnson Controls, the architect of OpenBlue connected solutions, is releasing two new Tyco early-suppression, fast-response (ESFR) Rapid Install Sprinklers (RIS) for protection of warehouse and storage facilities.
Read more...
---
Beat the heat
Fire & Safety
Addressing these fire safety mistakes will help prevent the crippling effects of fires on business operations and avoid serious injury or even death.
Read more...
---
The value of proper engineering in fire protection design
Spero Sensors & Instruments Fire & Safety
Fire protection systems are some of the most important but often overlooked, undervalued and underestimated parts of complex mining and industrial facilities, but are often treated as afterthoughts in the long design processes.
Read more...
---
SAQCC Fire and the need to ensure compliance
SAQCC (Fire) Fire & Safety News Associations
One of the fundamental objectives of SAQCC Fire is to establish the necessary procedures for the education, training and registration of all appropriate personnel actively involved in the fire industry.
Read more...
---
Fire detection in warehouses
XtraVision Fire & Safety
The fundamental criteria to address when selecting a detection technology for any location are appropriateness of location, choice of detection coverage and ease of installation and maintenance.
Read more...
---
Fire safety in warehousing
Technoswitch Fire Detection & Suppression Technews Publishing Logistics (Industry) Fire & Safety
Warehouses are generally large spaces with high ceilings, making them difficult to effectively protect from fire safety risks, especially when one wants to identify a fire in its initial stages and stop it before damages are incurred.
Read more...
---
Early warning is essential
Editor's Choice Fire & Safety Logistics (Industry)
The trend is for larger, taller and more flexible warehouse constructions with dense and complex racking systems and an increasing level of warehouse automation, which pose a number of challenges for fire safety.
Read more...
---
Future-proof facility safety
Johnson Controls Global Products Fire & Safety
Zettler Profile Lite addressable fire alarm control panels offer with new colour LCD screens with 32 zonal LEDs ensures intuitive operations for all users, as well as a robust loop protocol can operate in the harshest environments.
Read more...
---