printer friendly version
Camprosa conference a success
January 2015 Education (Industry), Conferences & Events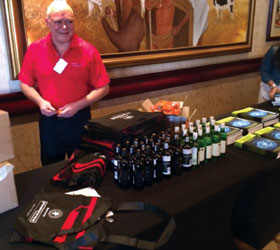 Camprosa, the Campus Protection Society of Southern Africa, held its annual conference for 2014 at the Sun International Hotel in Gaborone, Botswana. The 2014 conference, hosted by the University of Botswana and Camprosa, was held under the banner Protecting Educational Institutions and Ensuring a Safe and Secure Learning Environment. Sponsors of the event included the University of Botswana, Salto, Powell Tronics, Impro, Securitas and Sukema.
Camprosa is associated with the International Association of Campus Law Enforcement Administrators (IACLEA), an international organisation focused on campus safety and effective investigations. The organisation provides educational resources, advocacy, and professional development services to its members, which today represents more than 1200 institutions in 20 countries. Attendees to the conference were presented with a quick overview of the organisation and its goals.
The presentations offered at the conference were filled with information relating to different aspects of campus security, from specific problem areas found on campuses around the world today, through to best practices and solutions, and more. Below, Hi-Tech Security Solutions summarises a few of the presentations.
Identity theft
Conrad van der Merwe, a director of Justicia, delivered a presentation on identity fraud and some methods of prevention. He explained that identity theft is a crime in which an imposter obtains key pieces of identifying information, such as ID numbers and driver's licence numbers, and uses them for their own personal gain. In other words, when someone uses your personal information to commit fraud or other crimes.
Van Der Merwe listed a number of ways in which identities can be obtained, from losing a wallet or handbag, through to phishing or computer viruses.
In order to protect oneself from identity theft, Van Der Merwe offered some tips:
• Only carry essential documents with you,
• Take care when giving personal information out over the phone,
• Shred personal information, such as receipts and bank statements, instead of throwing them in the garbage: 'Your trash is their treasure', and
• Ensure that others with your personal information, landlords, employees etc., keep your information safe.
He advised educational institutions to educate staff and students about identity theft, and to screen applicants and their academic background properly – among other suggestions.
White collar crime
David Loxton, director, ENSAfrica, offered some insights into white collar crime (fraud), noting that fraud is a universal problem and that institutions of higher learning are just as vulnerable to white collar crime as any other organisation. He explained that the concept of fraud includes issues such as corruption, bribery, theft, cybercrime and misuse of company assets.
Looking at the actual fraud activities in educational institutions, some of the crimes we see include:
• Deans and chairpersons create false positions and hire friends and family,
• Theft of inventory items,
• Identity theft by employees or students,
• Cyber crime attacks,
• Financial aid fraud,
• Plagiarism,
• Using university funds to purchase personal products and services, and
• Conflicts of interest.
Loxton then offered a few examples of fraud in universities and highlighted some of the results of white-collar crime (apart from the obvious losses). These include damaging morale, the reputation of the institution etc. To assist in detecting possible fraud, he also highlighted some of the red flags administrators should look out for; he then mentioned fraud prevention practices that will assist institutions in pre-empting these crimes.
Living and learning communities
Dr Kitso Sedisa, director of student welfare, University of Botswana, offered some advice on Living and Learning Communities (LLC). He said safety and security are important features of every tertiary institution around the globe. He also noted that university authorities, not just security personnel, should be vigilant and employ every possible means to ensure the safety and security of people and property on campus.
He went on to discuss security and safety in the context of a community: "It is often argued that for successful safety and security of communities, individual members should play an active role in their personal safety."
Living and learning communities can be used as one of the approaches to enhancing the safety of students. Universities around the world are incentivised to implement LLC programmes because research has shown that they improve both the performance and retention rates of students. Moreover, one of the enduring features of the LLC programme is that it is an "arrangement that intends to integrate curricular and co-curricular experiences that complement and extend classroom learning."
After another successful conference, Camprosa announced that the 2015 conference would be held at the Table Bay Hotel Cape Town from the 6th to the 9th September 2015. For more information, go to www.camprosa.co.za
Further reading:
ESDA's annual charity fundraiser
ESDA (Electronic Security Distributors Association News Conferences & Events Associations
The ESDA Annual Charity Fundraiser, part of the Electronic Security Distributors Association's Golf Day, will take place at Benoni Lake Golf Course on Wednesday, 21 September 2022.
Read more...
---
Securex back with a bang
Technews Publishing Editor's Choice News Conferences & Events
After a long absence, Securex 2022, the 29th edition of the event, went ahead without a hitch and received positive reviews from visitors and exhibitors.
Read more...
---
Salient Systems manages campus security
Education (Industry) CCTV, Surveillance & Remote Monitoring Access Control & Identity Management
The University of Massachusetts Amherst relies on Salient Systems for video, access control operations for flagship campus as it standardises on IP surveillance.
Read more...
---
Hytera showcases security communications at Securex
News Conferences & Events Products
Hytera will be at Securex South Africa 2022 in Hall 2, Stand A07, where it will showcase a variety of security communications solutions, including its latest DMR communications solution, body-worn cameras and Push-to-Talk over cellular.
Read more...
---
Touchless school access control
neaMetrics Suprema Editor's Choice Access Control & Identity Management Integrated Solutions Education (Industry) Products
Wolverhampton Grammar School deployed a Suprema access control solution, integrated with Paxton to resolve its legacy access control challenges.
Read more...
---
Protecting people and infrastructure
Cathexis Technologies Education (Industry)
Effective security and infrastructure management enhances every aspect of an educational facility. Students and staff can prioritise their educational and operational goals because they trust that the ...
Read more...
---
Touchless access to education
ZKTeco Education (Industry)
Visible light facial recognition technology gives one an endless platform to create a full security system without people, especially intruders, having knowledge of them being monitored.
Read more...
---
Installation is only a third of the job
Technews Publishing Education (Industry)
Fire safety is often ignored in student accommodation once the building is completed and the fire safety installation certified, says Michael van Niekerk, CEO of ASP Fire.
Read more...
---
Schools and universities deserve smarter fire detection
Education (Industry)
Gaining more time is a key reason for changing from the familiar point-type fire detectors to aspirating smoke detection (ASD), also known as air sampling detectors.
Read more...
---
Complete campus control
Gallagher Education (Industry)
Creating a secure yet welcoming environment can seem like a complicated task, especially when considering the additional challenges of managing campuses spread across multiple sites and the necessity of reducing energy use.
Read more...
---