printer friendly version
New digital signature technology
September 2014
Access Control & Identity Management
Pitney Bowes South Africa, in partnership with ARX Cosign has launched an integrated solution that streamlines and digitises document signing processes. Called CoSign Click, this technology streamlines how companies on-board new customers. This is achieved through the elimination of the cumbersome and time-consuming manual process of printing out forms, signing in pen, scanning and uploading or emailing the document.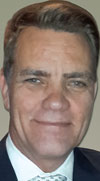 Leon van der Merwe
Leon van der Merwe, business development manager at Pitney Bowes South Africa, explains: "CoSign Click is a digital signature solution which enables a company's customers to sign on-line documents and forms electronically without them requiring a digital signature or any hardware signing device.
"Until now, signing electronically with a digital signature was only available to licensed subscribers of digital signature applications. This new technology is great news for companies requiring customers to provide a once-off signature on a document or form.
"In South African law there are certain statutes that require a signature before a document can be considered valid. If this signature is to be applied electronically, the Electronic Communications and Transaction (ECT) Act of 2002 refers to an Advanced Electronic Signature (AeS) and is the only type of electronic signature that is recognised as legally acceptable.
"The partnership with ARX offers our customers a legally compliant solution for digitally signing documents which can then be seamlessly integrated with their electronic document management system," says van der Merwe.
He explains how it works: "There are three areas in which the technology ensures compliance, which we refer to as the three 'Is': intent (to sign), identity (of the signer) and integrity (of the document). After a person electronically signs a document the content of the document is protected. If changes are made to the signed document, the signature will no longer be valid."
From 7 days to 40 minutes
One business has been able to reduce its customer on-boarding process from a time-consuming paper-based system taking five to seven days, down to 40 minutes.
CoSign Click provides an alternative to what has historically been a paper-intense and inefficient process. This requires no printing or scanning, does not waste time, and essentially provides an end-to-end solution which completely digitises the customer on-boarding process.
"Form-filling can be a very cumbersome process, for both companies and their customers. In the light of this, our collaboration with ARX offers South African businesses very real and tangible benefits. We offer companies a quick, safe and efficient system that we believe will transform the way in which many organisations interact with their customers – which in South Africa has historically been a very paper-based business culture."
For more information contact Pitney Bowes SA, +27 (0)11 516 9400, [email protected]
Further reading:
Smart parking management platform
Access Control & Identity Management Asset Management, EAS, RFID
Parket builds a seamless bridge between supply and the ever-increasing, but fluid – and often temporary – demand for parking bays.
Read more...
---
Visible-light facial recognition terminal
ZKTeco Access Control & Identity Management Products
The SpeedFace-V5L [P] is a visible-light facial recognition terminal using intelligently engineered facial recognition algorithms and the latest computer vision technology.
Read more...
---
Facial and palm verification
ZKTeco Access Control & Identity Management Products
The ProFace X [P] supports both facial and palm verification, with a large capacity and rapid recognition.
Read more...
---
Glide Master High Security 90° Sliding Gate
BoomGate Systems Access Control & Identity Management Products
Boomgate Systems was asked to make a sliding gate that can turn 90 degrees. The gate had to offer high security and be vandal-proof.
Read more...
---
Informing, entertaining and communicating across your landscape
Evolving Management Solutions Access Control & Identity Management
For the first time, the attraction of large shopping malls with many stores, entertainment and food courts no longer offers enough appeal to attract customers.
Read more...
---
Suprema's new BioStation 3
Suprema Access Control & Identity Management Products
The brand new BioStation 3 is not only Suprema's smallest face recognition device to date, but it also comes packed with the largest variety of features.
Read more...
---
Suprema renews international privacy and security standard certifications
Suprema News Access Control & Identity Management
Suprema has simultaneously renewed two important international standard certifications regarding information security management (ISO/IEC 27001) and privacy information management (ISO/IEC 27701).
Read more...
---
SuperVision biometric access control
Integrated Solutions Access Control & Identity Management Products
SuperVision is a time & attendance (T&A) biometric access control system Fourier IT has been developing and enhancing for 18 years.
Read more...
---
Manage energy usage with Paxton access control
Paxton Access Control & Identity Management Products
Paxton provides access control systems that can integrate with existing infrastructure and manage a building's energy-consuming activities to save energy and costs.
Read more...
---
Why Multi-Factor Authentication, universal ZTNA and Zero Trust matter
Access Control & Identity Management Cyber Security
Malicious cyber actors are experimenting with new attack vectors and increasing the frequency of zero-day and other attacks, according to Fortinet's 1H 2022 FortiGuard Labs Threat Landscape report.
Read more...
---