printer friendly version
SAEFIA gearing up to be a professional body
September 2014
Associations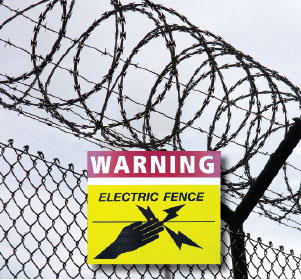 Following the first exploratory meeting with SAQA and the Department of Labour (DoL) in mid-July, it is clear that the South African Electric Fence Installers Association (SAEFIA) is en route to becoming a recognised professional body.
The electric fence industry in South Africa is large with hundreds of companies offering installations in both city and rural areas. Unofficially there are over 4000 electric fence installers operating in the country and it is a hard task to find homes or estates that don't make use of electric fencing as part of their security solution.
Hi-Tech Security Solutions speaks to Jacob Malatse, electrical and mechanical director at the DoL and Cliff Cawood, the chairperson of the EFCMA (Electric Fencing and Components Manufacturers Association) and the convener of the SAEFIA steering committee, about this matter.
The DoL has been regulating electric fences since 1988 and has recently started with the registration of electric fence system installers in terms of regulation 14 of the Electrical Machinery Regulations, promulgated under section 43 of the Occupational Health and Safety Act.
Today, Malatse says the DoL supports SAEFIA in its endeavour to become a professional body, however he adds that it is not only the DoL's support that is required. "It is the mandate of the South African Qualifications Authority (SAQA) to recognise professional bodies. SAQA is a government entity and was also present at the first exploratory meeting that was held in July. The reason for the DoL's support is because of the registration of electric fence system installers by the Department."
As a professional body, the association will be able to certify people according to set specifications that are recognised by government and discipline those members who do not live up to the standards the association sets. This is something many in the security industry are trying to achieve, with SAEFIA taking the lead as it did in setting standards for electric fence installations (see www.securitysa.com/7963a).
There are those who question why the DoL is involved instead of PSIRA? Malatse says there "is nothing stopping PSIRA working with the DoL."
"They are two different regulators, like two sides of the coin," adds Cawood. "We chose to work with DoL instead of PSIRA because the Department has created a path for us to become a professional body. PSIRA on the other hand does monitored registrations, and not all installed electric fences are monitored, but the DoL will help us monitor those."
The DoL's role is with the electric fence system installers and not with the private security industry per se. However, it is already engaging with the industry. This will ensure compliance with the Occupational Health and Safety Act and improve the safety of electric fence systems in South Africa. The electric fence system installers will be competent and will deliver a professional service.
"Standards are crucial in this sector. Due to the new education dispensation, we as a body are going to also work with the Quality Council for Trade and Occupation, and the DoL is going to help in the process of ongoing ethics, safety and the quality of workmanship of all registered installers," says Cawood.
This industry has been under fire in the past for poor workmanship and poor quality, so industry leaders decided to do something about it themselves, taking the lead in the industry and bypassing the politics around PSIRA by working with the DoL.
Further reading:
ESDA's annual charity fundraiser
ESDA(Electronic Security Distributors Association) News Conferences & Events Associations
The ESDA Annual Charity Fundraiser, part of the Electronic Security Distributors Association's Golf Day, will take place at Benoni Lake Golf Course on Wednesday, 21 September 2022.
Read more...
---
FFETA Charity Golf Day raises R100 000 for Children of Fire
Fire Fighting Equipment Traders' Association Editor's Choice News Associations
At the recent charity golf day hosted by FFETA (Fire Fighting Equipment Traders' Association), an amount of R75 000 was raised for Children of Fire. FFETA rounded this up to R100 000, which went directly to the charity.
Read more...
---
ASIS International appoints first president from South Africa
Technews Publishing Editor's Choice News Associations Training & Education
Malcolm C. Smith has been appointed as the 2022 president of ASIS International, the first president of the organisation from Africa as well as South Africa.
Read more...
---
SAQCC Fire and the need to ensure compliance
SAQCC (Fire) Fire & Safety News Associations
One of the fundamental objectives of SAQCC Fire is to establish the necessary procedures for the education, training and registration of all appropriate personnel actively involved in the fire industry.
Read more...
---
Tips for women to build a career in cybersecurity
Associations
Representation of women in the cybersecurity industry has grown over the past years and while this is positive, there is still room for improvement.
Read more...
---
Leaders in risk & security: Honesty and no BS!
Associations
Tony Botes has had a long career in the South African security industry from owning his own security company to now being the national administrator of SASA.
Read more...
---
A balanced, fair industry
PSIRA (Private Security Ind. Regulatory Authority) Residential Estate (Industry) Security Services & Risk Management Associations
PSiRA is focused on supporting the effective promotion and regulation of the private security industry.
Read more...
---
Service station security basics
Associations Integrated Solutions Retail (Industry)
It comes as no surprise that the petroleum and retail industries are targeted by criminals as these businesses receive, to a great extent, cash in exchange for their products and services.
Read more...
---
Magtouch Electronics joins ESDA
Associations News
Magtouch Electronics, a manufacturer of high-tech monitoring systems for the security and cleaning industries has joined ESDA, the Electronic Security Distributors' Association.
Read more...
---
Access wherever you are
ADI Global Distribution Associations News
ADI Global Distribution, a South African distributor of security and fire technology products has joined ESDA, the Electronic Security Distributors' Association.
Read more...
---